Two Hong Kong residents and a Malaysia resident have been jailed over a fake marriage after appearing in the Sha Tin Magistrates' Court on Tuesday.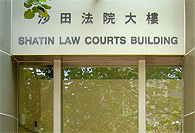 According to the Hong Kong government's news web site news.gov.hk, Malaysia resident Derek Chong, 29, and Hong Kong residents Andrew Lam, 51, and Edward Lai, 43, were convicted on a joint conspiracy charge. Chong was jailed for eight months, Lam for eight months and Lai for five months.
The court heard that Lam had agreed with Lai to arrange for his boyfriend, Chong, to enter into a false marriage with a female Hong Kong resident for HK$25,000 (US$ 3,223). The idea was for Chong to use the false marriage to apply for a dependant visa to enter Hong Kong to live with Lam, and eventually for settlement.
In March 2006, Lai introduced Lam to a middleman and the middleman subsequently recruited a Hong Kong woman for money.
In September 2006, Chong and the woman went through a marriage ceremony at City Hall Marriage Registry, witnessed by Lai and the middleman with the presence of Lam. Soon after the marriage, Chong and the woman approached the Immigration Department to apply for a dependant visa and the application was successful.
A year later, Chong again contacted his "wife" for an application for extension of stay in Hong Kong. With her assistance, Chong was granted a three-year extension of stay in Hong Kong in November 2007.
"The department has been very concerned with non-Hong Kong residents obtaining the right to stay in Hong Kong by means of marriage of convenience," a department spokesman said. "A special task force has been set up to gather intelligence through various avenues and a thorough investigation will be conducted once evidence comes to light. If there is enough evidence, the department will launch a prosecution."
"For people who have obtained their residence in Hong Kong by fraudulent means, their Hong Kong identity card and residence status will be declared invalid according to the laws of Hong Kong. They will also be subject to removal back to their place of origin," the spokesman said.
Under the laws of Hong Kong, anyone who commits the offence of conspiracy to defraud is liable to prosecution with a maximum penalty of 14 years' jail.
According to an AFP report on Wednesday, an immigration spokesman was quoting as saying that the woman involved in the scam had also been prosecuted, but no verdict had been reached.
Source: Info.gov.hk press release dated Feb 17, 2009 with minor edits.
================================================
Gay activists in Hong Kong have campaigned for recognition of same-sex partnerships for several years. In 2004, civil rights lawyer Roddy Shaw, who also heads the non-governmental organisation Civil Rights for Sexual Diversities, and his partner, Nelson Ng, unsuccessfully sought to have their marriage under Canadian law recognised by the Inland Revenue Department and be granted the spousal tax rebate. See Fridae articles linked below.