Organisers of what was to be Chiang Mai's second gay pride parade called off the event late Saturday evening following a confrontation with some 30 red-shirted protesters identified by the Nation newspaper as "Rak Chiang Mai 51." The group is said to be loyalists of former prime minister Thaksin Shinawatra for whom Chiang Mai is his home city.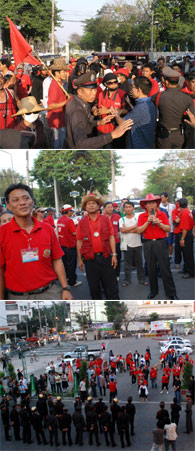 Top of page: Photo from Thai-language newspaper Matichon; above: images posted on thaivisa.com.
According to the Thai
Nation
newspaper, the protesters launched verbal attacks through a megaphone saying the event tarnished the city's reputation. They also reacted angrily to remarks made by the organisers that the "Rak Chiang Mai 51" group was acting like thugs.
Fearing violence, the organisers Mplus, Chiang Mai's largest HIV/AIDS group, called the march which was to start from Buddha-sathan through Night Bazaar before ending at the Tawan Trendy Mall.
The confrontation reportedly lasted an hour before the organisers agreed to dismantle the stage and cancel the activities in the area. The report noted that 150 policemen had been mobilised for the parade.
Petchawat Wattanapongsirikul, a leading member of the "Rak Chiang Mai 51" group was quoting as saying in the report that said local residents disagreed with the parade as it was against the old city's culture and could tarnish its image. He added that Phuket or Pattaya, which were tourist entertainment cities, would be more suitable to host such events.
"Chiang Mai people cannot accept this and will stop the parade by all means, even violence," he said.
Organisers did not respond to queries when contacted by Fridae on Sunday.