Based on the notorious arrests of 12 gay men in a police entrapment exercise in 1993, the 19-minute Tanjong Rhu features a fictional character recounting his arrest and how the incident had affected his life a decade on.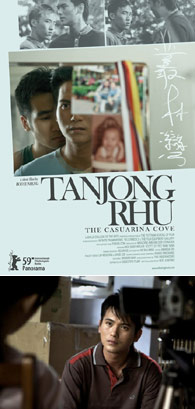 Top of page: Female Games; above: Tanjong Rhu
"I think the Fort Road Incident was one of the most publicised and blatant examples of persecution of gay people in Singapore. Yet, it has only been 15 years since its occurrence and many have already forgotten about it," director Boo Junfeng told Fridae.

At the time, The Straits Times published the names, occupations and photographs of the arrested men alongside details about their sexual offences and descriptions of the encounters with the undercover police officers. Six of the 12 men who pleaded guilty received sentences ranging from two to six months' jail and three strokes of the cane each.

The 25-year-old filmmaker said he came to know of the case in secondary school when his civics education teacher warned the boys in his class about perverts who frequent the park.

Explaining his decision not to base the film on a true-life account of the incident, he said: "I did not want any part of my film to be exploitative of someone else's true-life experiences, especially when I imagined those to be the kind one would choose to forget. I also feared that basing the film on one man's story would subject him once again to media scrutiny."

The film premiered at the 59th Berlin International Film Festival in February and was nominated for a Teddy Award - the official queer award at the festival.

Advertising itself as "the first contemporary Singaporean film to boldly portray female homosexuality," Female Games tells the story of a young Singaporean model, Alexia, and her female friend who leave for Kuala Lumpur to meet a casting agent. The two eventually find themselves falling in love after a number of pitfalls on the road.

"Through the journey, Alexia grapples with what it means to be pan-Asian and lesbian," said Kan Lume who directed and wrote the screenplay. Kan told Fridae that he expects his film Female Games to be banned in Singapore for its lengthy, explicit sex scenes between two women.

Solos which was directed by Kan and Loo Zihan was withdrawn from the same festival last year after the censors demanded three cuts to the 77-minute dialogue-less film. The film about the relationship between a junior college student and his male teacher later bagged the Premio Nuovi Sguardi Award at 2008 Torino GLBT Film Festival. It was never shown in Singapore.

The Singapore International Film Festival will screen 193 films from 34 countries including 25 world premieres and 34 Asian premieres.


Female Games trailer



The production of Tanjong Rhu was partially funded by Fridae. Fridae.com is a Supporting Media of the Singapore International Film Festival.

Tickets: $9.50
All the prices are inclusive of GST but exclusive of SISTIC fee
Date of sale:
From March 14 onwards
From March 1: Special early bird sale exclusively to Citigold clients and Citibank Credit Cardmembers only
From March 7: Special early bird sale exclusively for NTUC members.
How to book:
SISTIC hotline: 6348 5555 (for Singapore only)
Online booking: www.sistic.com.sg

Next page, films of LGBT interest at the SIFF.
---
Films of LGBT interest at the SIFF:



From the top: Boy, Dim Sum Funeral, >Girl Inside and JAY.
BOY
By Auraeus Solito / Philippines / 2009 / TBA / 80 MIN
Cast: Aeious Asin, Aries Pena, Madelaine Nicolas

World Premiere

A coming-of-age story about a boy who falls in love with a Macho Dancer.

A young budding poet, who is unnamed, observes lip-synching drag-queens and dancing rent-boys in a gay bar one evening and finds himself attracted to Aries, who comes from a poorer part of town. Selling his action heroes and comic books so as to be able to afford Aries for one night, he buys Aries at the bar and brings him home for the new year. Sparks fly while celebratory fireworks go off outside the house and the boys forge a fragile connection that neither of them is certain will last. This is an idealistic, coming-of-age tale of a sensitive boy who arrives at his first lesson about love and who learns to grow confidently into his own sexuality.

Auraeus Solito's first feature film The Blossoming of Maximo Oliveros won 15 international awards. A gay love story set in Manila, Solito's film was a part of the 2006 Sundance Film Festival, the Las Palmas Film Festival, and the Cinemalaya Independent Film Festival and won three awards at the 2006 Berlin Film Festival. His film also earned a Best Foreign Film nomination at the 2007 Film Independent's Spirit Awards. Circumcision, his second feature film, won Best Picture and Best Director at the Digital Competition at the 2005 CineManila Film Festival and the NETPAC Jury Prize at the Berlinale, International Forum for New Cinema; 2nd Prize for Best Feature Film at the Montreal Film Festival. He made Philippine Science, his third dramatic feature film, in 2007, which won awards at the 14th Vesoul International Film Festival of Asian Cinema in France.

The Substation, 19 Apr, 11:30am
The Substation, 24 Apr, 7:15pm
Filmfest.org.sg link

DIM SUM FUNERAL
By Anna Chi / Canada / 2008 / TBA / 95 min
Cast: Russel Wong, Bai Ling, Steph Song, Lisa Lu

A warm, humane comedy-drama that brings together second-generation Chinese-Americans at their mother's funeral.

When the matriarch of a Chinese-American family, known to her grown-up children as 'The Dragon Lady' is pronounced dead, the estranged siblings gather at her Seattle home to be told that they have to go proceed with traditional funeral rites. This highly Americanised clan reluctantly accept the task, and over the following week, we come to know them and their problems, as they in turn begin to communicate with each other. Bai Ling plays the lesbian lover of actress Steph Song, a couple who want to have a child together; while her older sister (Julia Nickson) harbours a tragic sadness, and their brother (Russell Wong) is a successful surgeon with a collapsing marriage. The family who bicker and bond at a parent's funeral is a familiar scenario, but this film gives it a distinctly fresh, ABC take.

National Museum of Singapore, 23 Apr, 7:15pm
Filmfest.org.sg link

FEMALE GAMES
By Kan Lume / Singapore / 2009 / TBA / 78 min
Cast: Evelyn Maria Ng, Shen Qiaoyun, Dean Kuan

World Premiere

Two Singaporean models cross the causeway for a casting job and become closer than they could ever imagine.

A pair of young and naive Singaporean models travel to Kuala Lumpur to meet a dubious casting agent, leaving behind a suspicious boyfriend and a lesbian lover respectively. Both girls begin as strangers, grow into allies, and launch into a fight after one of them decides to seduce the agent. Things veer horrifically out of hand when the agent attempts to rid himself of the models, forcing them to confront him with drastic consequences. Not unlike Thelma and Louise, the ladies run from the law and flee to Penang to save themselves. Soon they begin to fall for each other. The first contemporary Singaporean film to boldly portray female homosexuality, Female Games is shot in a style that frames the experiences of the protagonists within the much larger world, emphasising how the lives of its characters are dwarfed and shaped by their societal environment, even as the girls eventually find the will to take control of their lives again. Severe naturalistic lighting, as well as the camera's coolly detached perspective, heighten the pair's increasing sense of helplessness and vulnerability, as they discover how an excursion over the causeway can turn out to be more than either of them had bargained for.

The Substation, 20 Apr, 7:15pm
Filmfest.org.sg link

GIRL INSIDE
By Maya Gallus / Canada / 2007 / TBA / 70 min

Asian Premiere

A heart-warming and funny film portrait of one Madison B, as she undergoes a three year transformative journey - spiritually, emotionally, physically and sexually.

Madison B is a typical down-to-earth, twenty six year-old Canadian woman with everyday interests: she likes to swim in her grandma's pool and rollerblades. Except that "she" is a "he": Madison is actually Matthew, a transgender. Girl Inside is a feature documentary which follows Madison in her three year transition from a man to a woman. Rather than sensationalising Madison and the subject of gender identity disorder, director Maya Gallus humanises Madison by focusing on her relationships with her parents, her siblings, her male best friend, and her grandma, Vivien Parkhill, a glamorous, Martini drinking octogenarian. Short and sweet, the docu-feature is a must-see for anyone who is or knows, a girl inside. Gallus won the Gemini Award for Best Direction for a Documentary Program in 2008.

National Museum of Singapore, 18 Apr, 11:30am

JAY
By Francis Xavier Pasion / Philippines / 2008 / M18 / 94 min
Cast: Baron Geisler, Coco Martin, Flor Salanga

Television reality and real-life blur in the making of a sensationalist documentary about an anti-gay sex-crime.

Jay, a gay schoolteacher, is stabbed in an apparent sex-crime. But this is not what this film is about. Even before his family hears about the death, another Jay, a conniving TV producer, moves inside the family house with his crew to document their reactions. This new Jay convinces the family to let them shoot the dead man's wake and funeral for a "reality show", even up till the moment when the murderer is found. The plan goes so well that even the grieving mother is willing to redo the scene when she first confronts her son's corpse. Director Francis Xavier Pasion explodes the gap between onscreen reality and real-life in this debut feature, which critiques sensationalist journalism by revealing what is entailed in the making of a documentary. The truth is never quite what it seems. Jay took the Best Film and Best Actor prizes at the Cinemalaya Film Festival.

National Museum of Singapore, 16 Apr, 9:15pm

MOMENT IN JUNE, A / NA KANA RAK
By O. Nathapon / Thailand / 2008 / R21 / 106 min
Cast: Shahkrit Yamnarm, Sukosol Clapp

Set against a lush theatrical backdrop is a story of two sets of lovers, whose lives are intertwined through forsaken love and regret in more ways than they suspect.

An affair between young Arunya and Krung that began 30 years ago comes alive again when their love story is taken to stage by a young theatre director. "Things will be different for me tomorrow when the sun comes up", the now older Arunya tells a young man on the train. The young man on the train is contemplating his own love life with his former lover, a man whom he longs to be with.

The Arts House - Screening Room, 17 Apr, 7:15pm
The Arts House - Screening Room, 24 Apr, 9:15pm

SINGAPORE PANORAMA SHORTS 1
By Various / Singapore / 2009 / TBA / 74 min
TANJONG RHU

Singapore / 2008 / 19 min
Director: Boo Junfeng
Producer: Marjorie Ann Van Der Straaten
Screenplay: Boo Junfeng

Tanjong Rhu is based on the notorious arrests of 12 gay men in a police entrapment exercise back in 1993. Recently selected for the 59th Berlin Film Festival.

The Substation, 18 Apr, 2:00pm

Film synopses provided by SIFF. Fridae.com is a Supporting Media of the Singapore International Film Festival.