Hong Kong's Fringe Club, 4pm on a Friday, and Tony Wong Lung-pun relaxes after completing a gruelling month of rehearsals for his new show, Moments in the Palm of Your Hand. Fresh from the downpour outside in Central, he takes breath and a Coke, and tells me how he came to be one of Hong Kong's leading actors, one of its small band of producer/directors as well as one of its best known glamorous gay icons.

But first he wants to tell me about what he regards as important, which is not, surprisingly, his glittering stage life but his work in teaching diversity in schools. I confess to being taken aback; Hong Kong's schools are currently more in the spotlight for the malign influence of their fundamentalist staff. Tony agrees: "I heard of a teacher whose Fridae profile was sent to his principal and he was fired. So I adapted the story and wrote the play we show at schools to teach tolerance and the effects of drug use. I built it around a doctor who helps a boy with AIDS but rejects his sister, who tells his boss he's gay, and he's fired. In the Q&A we ask the students what they think of being gay, and we get a really good response."

I asked him if he'd ever been attacked for this by staff or pupils. "No, never", he laughs. Tony spends a good deal of his time working with this production company touring schools all over Hong Kong, part of his commitment, as he sees it, to using culture to change our society. I asked him to take up this theme again later, as I wanted to ask him about his career and moved the questioning on.

I was born and educated in Hong Kong, and took my first degree, a BFA with an acting major, at the Academy for Performing Arts (APA)." He's too modest to say so, but he and his future collaborator, singer/actor/director Pichead Amornsomboom made such a name for themselves at the APA that they were snapped up on graduating by the Chung Ying Theatre, Hong Kong's only professional theatre company. There, they honed their performing skills for four years before taking the momentous, and then undoubtedly very scary, decision in 2001 to add to their experience by going freelance. Three hard years of acting, back stage work and teaching followed, during which he and Pichead learned to watch each others' backs, but the jobs kept coming in and they survived and thrived, so that in 2004 they decided on the next step, the formation of their own theatre company, 2onStage.

"We wanted to move forward," Tony says. "A lot of Hong Kong playwrights start as performers, and we work very much like many of them do, by brainstorming together with a fag and a drink and starting to use our bodies to move, to improvise, so its quite a physical process before we write it down."

The first fruit of this venture was the Cantonese production, 2 of Us, staged in 2005. "The show was about relationships, how they are more important than careers. We got the ideas from looking at our own relationships with our parents and our lovers over the years." They took 2 of Us down to Singapore, where they played at the Esplanade. The show was a success, won awards, and encouraged the duo to tackle the weighty themes of birth and death in 2 Come to Pass, which showed in 2006 and enjoyed a re-run in 2007.

"I'm not in the business just to get the applause of the audience," Tony confesses. "Drama for me is about discovering myself on the stage. It's the process itself I enjoy of setting up problems on stage and solving them. Birth and death are particularly interesting topics for me, particularly with their problems of religious interpretation." The poster for the show, with Tony tied erotically to a post, limply hanging whilst arrows are shot into his flesh, harks straight back to the portraits of St Sebastian for which the gay world, not least Derek Jarman, has always had a fascination. "We'd started to add small gay parts to our show by then," Tony explains, "and intended to do more gay things later on, so we wanted to catch the gay community's attention."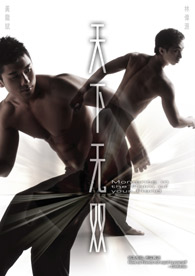 Top of page: Pichead Amornsomboom (left) and Tony Wong in Homo Superus. Above: Wong (left) and Allen Lam in Moments in the Palm of Your Hand, now showing till Apr 19 at the Hong Kong Arts Centre.
This they certainly did with what Tony and Pichead offered them next, the gay extravaganza,
Homo Superus
, which exploded onto the Hong Kong arts scene in 2008. Amazingly given a grant by the Hong Kong Leisure and Cultural Services Department, despite the fact that they knew it would be a gay show, this was initially tucked away in the local theatre at Choi Hung (appropriately enough, as this can translate as 'rainbow' in Cantonese) but was such a roaring success that it moved to the Arts Centre in the middle of town for a second run.
Tony had nurtured the dream of producing a gay show since leaving the APA. Recalling what he had told me about his dedication to school touring, he sees it as his mission to change Hong Kong's view of diversity through the experiences he introduces to theatre audiences. With Shakespeare, he agrees that "the play's the thing," but it's not the attention of the king he's seeking, rather that of the Hong Kong people.
For the large and expensive
Homo Superus
, Tony and Pichead teamed up with musical director Frankie Ho, lyricist Renson Chan and a big cast to produce one of the campest, most flamboyantly in your face gay shows I have seen anywhere (look up the preview video on
Youtube
to get the flavour).
Homo Superus
was partly inspired by the American film,
It's My Party
, in which AIDs victims are honoured with a farewell party then assisted to die, and by
Priscilla, Queen of the Desert
. So successful was the show amongst theatre goers, young and old alike, that it'll probably be re-staged later this year.
After this, Tony took a year out to get a masters degree in movement at Sydney's National Institute for Dramatic Art, the school that gave us, amongst many, Mel Gibson and Kate Blanchett. I asked him about his studies, and how he saw movement differing from modern dance.
"Movement can be anything that arises from the movements of daily life," he explained, "while dance is based on technique and form. In the physical theatre, movement needs to be essential, just like a crystal. The movements of the body are used to communicate the story to the audience," a replacement of drama's spoken word, perhaps, and something that flows naturally from the way he became a dramatist in Hong Kong, "writing" theatre by initiating physical movement. Theory and practice combine naturally in Tony's art, and now he is back in Hong Kong to show how. This time he has turned back to something quieter, still gay but more reflective. He has joined dancer Allen Lam in their new show,
Moments in the Palm of Your Hand
. I asked him to tell me about this.
"The show had three stages in its conception," he says. "The first grew from my time in Sydney, where I found out how gay people celebrate their lives in the gay scene and at events like Mardi Gras. Down there they are full of joy and have such a positive mind set about their gay style of living. It's not just about partying but about connecting to the society you're part of, something that has yet to happen here. The second stage grew out of my own life after I had left the Chung Ying Theatre, when it was nothing but party, party, party and I hung out in every gay bar in town." This stage was more political, and evolved from a conversation with Fridae CEO Dr Stuart Koe in Hong Kong.
"It was basically the feeling that we had to do something more than party. I had got to the stage of knowing I wanted to do more than that," he admits. The new show examines the theme of friendship. Tony and Allen Lam have been friends since the late '90s and came together again by chance in New York where Lam pursued his master's degree in fine arts after some years apart. They went together to Singapore's Nation Party and have been "really close ever since. I came back from Australia to be at Allen's celebration of his marriage to Greg Crandall, the Floatilla supremo, last year." It is this friendship which formed the third stage in the show's gestation. "Friendship is like a gene in shape," explains Tony, "the strands go forward together, sometimes parallel but apart, at other times twining around each other in embrace. I take some of the images in the show from this idea."
Friendship is also something very important to Tony, perhaps almost more important than the love which he feels all gay men spend too much time seeking. As is treating each other with respect, not just as meat to be pawed in a sauna. He's been out in Hong Kong since the age of 21, so has plenty of experience how things can work on the scene. "So, this show is quite special for me," he says. A sign of maturity, I think to myself, in an actor whose boyish looks and sunburst smile belie a sharp mind put to good effect.
After this, what next? "I'm putting on another 2onStage show at City Hall in the first two weeks of June with Pichead," says Tony. "It'll be called
Animal Geographic
. The animals in the show, all parts of life, really, from cockroaches and insects to flowers, will symbolise different aspects of human beings." There are few better known actors on the Hong Kong scene than Tony Wong, and even fewer whose work stimulates their audiences as much as his, so you'll need to move fast for tickets for both this and for his current show,
Moments in the Palm of Your Hands
.
Moments in the Palm of Your Hands
is showing at the McAulay Studio at the Hong Kong Arts Centre from April 9-19, 2009. Tickets at HK$180 (free seating) available from Urbtix at (852) 3172 1780.