More than two dozen demonstrators staged a "die-in" outside the Legislative Council Building in Central to draw attention to what they see as Chief Executive Donald Tsang Yam- kuen's indifference and inaction despite attacks by anti-gay legislators.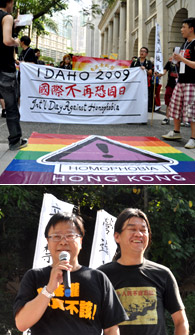 Bottom: League of Social Democrats members Raymond Wong Yuk-man (left) and Leung Kwok-hung (nicknamed 'Long Hair'). Photos courtesy of IDAHO HK committee.

The demonstration is part of the city's fifth IDAHO (International Day Against Homophobia) march.
Organised by a coalition of groups including Women Coalition of HKSAR, Rainbow of Hong Kong and Amnesty International Hong Kong Section, marchers called on the government to implement laws which prohibit discrimination on the basis of sexual orientation and gender identity.
The march also drew attention to Christian fundamentalist legislators such as Democrat Party Legco Member Nelson Wong Shing-chi and independent lawmaker Priscilla Leung Mei-fun both of whom strongly oppose the inclusion of same sex couples in the Domestic Violence Ordinance which is currently under review.
The groups also hit out at Secretary for Labour and Welfare Matthew Cheung Kin-chung for his refusal to meet with gay groups to discuss the ordinance.
At the rally, members of League of Social Democrats (LSD) Raymond Wong Yuk-man and Leung Kwok-hung (nicknamed 'Long Hair') pledged to continue to champion the issues in Legco and highlighted that the LSD is the only party to include equal rights for sexual minorities in its manifesto.