Almost every Singaporean guy's been through the army – it's one of those shared experiences we bond over, whether we're cursing the wasted years or fondly gabbing about the good old days (seriously, I've met gay guys who enjoyed the army.)
So it wasn't a big surprise last year when Own Time Own Target (OTOT) became the first show at the Singapore Theatre Festival '09 to completely sell out its run. This showcase of new plays about life in the army came from two first-time playwrights, Laremy Lee and Julian Wong, and though it was a little wobbly and bloated at three and a half hours, it got good enough feedback from audiences that Wild Rice theatre company resolved to restage it this year.
Which is why OTOT is playing again this month - and I can tell you from firsthand experience that it's better than ever: more polished and streamlined, with a bigger set and stage for its actors to monkey around in. Directed by Jonathan Lim, the guy who's been behind the Chestnuts evening of madcap comedy, it's witty, hilarious, occasionally very moving and – why else would we review it? – pretty gay.
There's two plays in this production (the third one was deadweight, and got cut). The first is Full Tank by Laremy Lee. It's an absurd comedy about a sergeant who suddenly decides to drive his tank away from a military exercise into the streets of Singapore at night, little knowing that there's an escaped terrorist on the loose at the same time.
There's quite a few laughs here: the soldiers in the tank bickering with each other while caricaturing Singapore's main races, the buffoonery of the generals and ministers in charge of the terrorist recapture operation, and the convenient gag of the female roles all being played by men in drag (including secretaries, karaoke lounge hostesses).
Still, it's not very gay, or even very gay-friendly – there's a lot of casually homophobic joshing between the soldiers about "not being that kind" whenever they accidentally touch. The comedy doesn't always work, either, and at times it's a little slow. I'll leave it to another media to do an in-depth review of this one.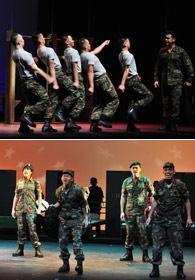 This us to the second play – a clear audience favourite - Botak Boys by Julian Wong. This hour-long piece tells the story of a bunch of 18 year-old boys of different ethnic and socioeconomic backgrounds entering Basic Military Training – not unlike the classic 1987 Michael Chiang play Army Daze.
There're two main differences, however, between Botak Boys and Army Daze. The first is that this show's a musical (and there are some seriously hummable tunes in here, also composed by Wong, such the 5BX co-ordinated Why Are Our Superiors So Mean? and the sweet guitar ballad Cheer Up Buddy, Please Don't Cry).
The second difference is that the main character, Recruit Justin, is gay. And he doesn't reveal this until about halfway through the show, when he comes out to his buddy about why he's been moping all day long. Turns out that he's left his boyfriend back in London, where he's been studying, and the boyfriend wants to break up.
Now, I'm not crazy about the portrayal of Justin, probably the fault of both the playwright and actor Terence Tay: the character comes off as weepy, weak and a wee bit annoying – not the best role model for a gay soldier I'd like to see. His own attitude towards the army's discriminatory policies is also perplexing: why the hell is he scared of being downgraded on the grounds of sexual orientation? He'd have more a chance to see his boyfriend that way, after all.
Nonetheless, I am officially stoked by this show, because I know that a lot of the audience did not sign up to watch a gay play – it's supposed to be an evening of manly-man-army-culture, after all. And by this point, most of the viewers have been won over by Tay's heart-melting rendition of I Am Your Boy, a love song to make the most homophobic of 'phobes shed a tear.
Basically, Botak Boys fights for gay rights, terrorist-style: it leaps into the public and explodes an empathy bomb, so that innocent people end up caring for gay characters before they know what hit them.
What's also great is that most of Justin's bunkmates are pretty cool when he gets outed to them – after the initial shock, they accept it as just another one of their quirks, assure him of their camaraderie and then tease the hell out of him over which of the PTIs he likes best. It's actually pretty close to what really happens among young people today: being gay is no longer such a big deal.
It's especially touching that the token Bible-clutching character manages to deal with it in his own goofy way. When he says "I can pray for you" or "I hate the sin, but I love the sinner", you actually feel more of the love than any sense of judgmental condemnation.
Oh, and just in case you thought the musical wasn't gay enough, there's also a lurid dream sequence involving Brendon Mark Fernandez and Koey Foo in bare-chested bondage gear. Just to let you know.
Of course, Botak Boys is in its own way out of touch with what's happening in the army regarding gay soldiers today: I've managed to figure out that they actually stopped asking people directly if they were gay during initial medical checkups back in 2007. They will still downgrade you if you officially declare your sexuality, but the authorities aren't really very eager to do that – they need all the manpower they can get.
Us gays are pretty integrated into the army already. It's just that the army doesn't want the public to know that.
There have been complaints from audiences about Own Time Own Target, but surprisingly the ones printed in the Singapore Straits Times haven't been about the gay themes. Instead, there've been two mothers horrified at the "coarse language" of the show, one of whom says her sons were shocked to realise they would be bullied and cursed at in the army – "nothing gentlemanly at all", she says of this government-sanctioned rite of passage.
Yes, my lady, there are more scary things than gays that await your sons when they enlist in the army. And if they're learning about the experience now, then so much the better. These plays are lessons in irony and tolerance, and we all need plenty of both – whether we're trying to survive two years of military service, coming out, or just living in this mad-assed 21st century.
Own Time Own Target is playing at the Drama Centre from 8 to 25 July 2009. Shows are at 8pm from Tuesday to Friday; 3pm and 8pm Saturday and Sunday. Tickets are available from Sistic.com. 20% discount for all NSFs.