Just months after a sensational showing at gCircuit's recent New Year and Song Kran parties in Bangkok, DJ Tye will make his Singapore debut at the Top 5 Nightclub at Singapore's infamous Orchard Towers – internationally renowned for its bustling nightlife.
Tye, who currently holds three world-wide residencies: Reflex Afterhours, Rich's San Diego and G-Circuit Thailand, remembers a "small and cute" Christina Aguilera making a song request at his booth, and tells more about how he got his foot into the door and landing the residency at the famous Abbey in West Hollywood.
æ: How and when did you get started DJing?
Tye: I actually took a job as security at the world famous Abbey in West Hollywood with the intention that if they got to know me, should the opportunity arise, that I would be the natural choice to take over as the resident DJ. And that's pretty much what happened. It turned into a four-year residency. It also gave me the opportunity to meet and play for some of Hollywood's A-Listers. I will never forget the moment when Christina Aguilera came up to my booth and made a song request. She's so small and cute!
æ:Where and how did you get you first big break as DJ?
Tye: I first decided I wanted to be a DJ at the age of 21. I attended my first 'circuit event' in Palm Springs, CA which was the White Party Pool Party. All I remember was dancing on the floor looking up at this beautiful girl who was DJing some of the most amazing feel good music I had ever heard. I made my mind up right then and there. I was going to be a DJ, I wanted her to teach me how, and I wanted to spin that pool party. A couple months later, after having bought record after record, somehow, I befriended that beautiful girl, DJ Kimberly S. We hit it off and she took me under her wing and helped me get started. About a year into my residency at the Abbey, Jeffrey Sanker decided to have a pool party competition for White Party that year. Jeffrey was very familiar with my music and asked me to compete. I remember stepping up to the platform and just looking out at the 1,500 or so people my hands shaking… realising that it was literally two years to the hour that I had made my goal which was now, a reality. To my excitement I walked away with the win that day.
æ: What is it about DJing that you love?
Tye: There is just nothing like taking a group of people who want to be there, on a journey. As cliché as that might sound, when I play, I truly am tapped into the people on my floor. I watch what they're responding to and build on that continuously. It is the most exhilarating feeling to have that much energy directed at you.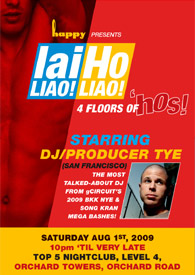 æ: Who are your influences? And what inspires you?
Tye: As a DJ my biggest influence is DJ Abel. His legendary sets at the Mayan theater have inspired me with the courage I need to drop tracks I wouldn't normally play. As a producer, I would say I pull my inspiration from Ralphi Rosario and Paulo. All masters at their craft. Nuff' Said.
æ: How would you describe a "classic DJ Tye set"?
Tye: A classic DJ Tye set would begin around 9pm and end sometime when the sun came up. The longer, the better. I believe in creating a beautiful soundscape that traverses a very broad spectrum of music. Something you can always expect from me is; peaks and valleys, direction, energy, and a new experience every time. For those of you who 'get it', I think the experience is that much greater.
æ: You wrote on your Myspace page: "The artistry of DJing is more than technical mixing and song selection - it's also performance, energy and the ability to read the dance floor." What you would be looking out for on the floor and how do you choose what tracks to play?
Tye: Every event and group of individuals is different. I think a great DJ can find a path to taking those individuals and making them bond into one moving force. I know that I have achieved 'stasis' as I like to call it, when the floors energy is no longer sporadic but, has this uniform rolling movement. There are a number of ways to achieve this; it takes attention and a willingness to flow like water down a stream. It doesn't stop when it hits the first rock, it moves around it and keeps on truckin'.
æ: And having played in Bangkok (Fantasia and Songkran II) this year, do you have any thoughts about the gay circuit/dance scene in Bangkok/Asia and LA and/or elsewhere you've played?
Tye: I really enjoy playing for the boys in Asia. The energy of the events there have been some of my most favorite. You guys just 'get it'. I think that much like the music I play, you go where the rhythm takes you.
æ: Which DJs get you out on the dancefloor?
Tye: DJ's Abel (and/or Rosabel) and Paulo. (I'm picky…)
æ: Name your top 5 essential dance floor classics? And why?
Tye: Oh man. Tough one! So much good music out there. If I had to chose:
1. Hola Hola Hola (Johnny Viscious Dub) – This track just drives the floor crazy. The progressive synths, energy, middle eastern vibe it has… it's a staple in my sets.
2. Tribal Adventure Pt. 2 (Dr. Kucho Mix) – I think the only other person I know that plays this is DJ Abel. I remember what it did to me on the dance floor when I first heard him play it at the Mayan. Unbelievable peak time track!
3. You make the World Go Round (Jamie J Sanchez Mix) – Somewhat overplayed, but still a true classic that gets the boys all riled up no matter how many times they've heard it. That rolling baseline is a sure bet.
4. Break for Love / I love the Base – (Alexander & MVDH Unreleased Private Mix) – This is the track that just blows away the dance floor every time. Alex and Mark worked some true magic here.
5. House Blend 69 (Angelo Kortez Private Mix) – This mix is just cool. It has three different vocals layered into classic Angelo drums with those signature sinister synths and really gets the dance floor ready for late night.
æ: What is your "guilty pleasure" in the pop music sphere?
Tye: Actually, I am not a huge pop music fan. I'm a country boy. I love my country music! If I had to chose a pop artist I would chose Madonna. I really like a lot of her older stuff.
æ: Do you think the economic situation in the us has put a downer on the party circuit?
Tye: I think that is a part of it. I don't think you can pin it on just one factor. I think a new generation is coming up with different needs and tastes. I think that were in a state of change but in the end, it will all balance out.
æ: What projects and/or gigs are coming next?
Tye: Well without going into too much detail I believe there are some things coming up with gCircuit very soon that I am excited about. Tom and Oui are two of the most professional guys in the industry and I always enjoy playing for their events. The time and precision they put into planning their events, is exceptional. I have some tracks on deck with my production partner Robert Kane we're pretty excited about which will be released in the coming months as well as a new promo CD.
æ: What would you be doing if you weren't a DJ?
Tye: I actually own a marketing and branding company called Zen Creative, back in the States that is doing very well. I feel fulfilled when I am creating things, whether it's an evening of music, a killer track, or design.
æ: Tell us about a cause that you support.
Tye: The Bill and Melinda Gates foundation. I think it is amazing what they are doing. It's actually comprised of smaller foundations which are working non-stop to find a cure to HIV/AIDS, teach people how to feed themselves, send people to college, and disaster relief.
æ: Who would your dream date be if you were straight for a day?
Tye: I am actually happy and completely content being who I am, but hypothetically if I were straight and had my pick of girls I would have to choose Carrie Underwood. (I'm a country boy at heart and straight or gay, she is drop dead gorgeous.) Her music really lifts my soul; and the girl has a set of pipes to die for!