First held in 2005 to protest the banning of the Nation parties in Singapore, the annual Indignation festival which is held in the same month Singapore celebrates its National Day will feature some 32 events this year. The festival will feature art exhibitions, talks, film screenings, book launches, parties and forums.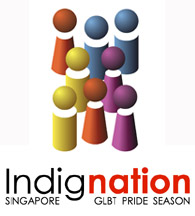 Familiar events include a night hike organised by gay sports group Adlus on Aug 7; ContraDiction, a queer literary event on Aug 30 and the "Unofficial" Pink Picnic at the Botanical Gardens on National Day, Aug 9, named as such after the National Parks Board banned the picnic in 2007. Despite the ban, several hundred picnickers turned up in pink for an "unofficial" picnic.
At the opening reception on Aug 1, co-organisers People Like Us, a gay advocacy group will announce the winner(s) of the Rascals Prize, the first ever award for research work related to the subject of LGBT and Singapore. PLU spokesperson Alex Au told Fridae that 10 submissions were received last year. The winner will take home S$2,000 (US$1,500); should there be more than one winner, the prize will be spilt. The winning papers will be published by PLU at a later date.
PLU will also present the 2nd Dignity Award on behalf of the lesbian, bisexual and transgender communities to recognise the contributions of an individual in Singapore who has spoken up for equal rights for LGBT people.
The first Dignity Award was presented to Rev Yap Kim Hao at the Hope Concert on 13 December 2007. The 80-year-old retired Bishop of the Methodist Church in Singapore and Malaysia, and current the Honorary Pastoral Advisory of the Free Community Church has notably spoken out frequently on the gay issue including writing numerous letters to the press.
Other highlights of the festival include OutRace: Racing Through History, an urban race for youths between the ages of 18-24 to demonostrate their knowledge of Singapore queer history and geography; Apprehending the Gentlemen, the first open forum on female-to-male transsexuals on the Indignation calendar; and a "debate"on whether LGBTQ communities can work together towards the same goals despites their differences on Aug 29.
Fridae is proud to a principal sponsor of Indignation.
---
Highlights at a glance
All events are open to free public admission unless otherwise stated. Events marked private require prior registration. Click on to
indignationsg.wordpress.com
for the FULL schedule of events, registration details and latest updates.
1 August, Saturday
Opening Reception, 7.30pm @ 72-13 Mohamed Sultan Road
Along with finger food and wine, this year the programme for the evening includes: (1) the presentation of the 2009 Dignity Award, (2) the announcement of the winners of the Rascals Prize, (3) the launch of a Coming Out guide by Sayoni, (4) poetry by Koh Jee Leong.
2 August, Sunday
Rascals Presentation I, 2pm @ Post-Museum (107 Rowell Road)
Audrey Yue (U of Melbourne) will speak on "The Illiberal Pragmatics of Creative Queer Singapore: Cultural Policy as a Technology for Sexuality." Phil C. W. Chan (National University of Singapore) will speak on "Shared Values of Singapore: Sexual Minority Rights as Singaporean Value."
7 August, Friday
ADLUS Night Hike: Southern Ridges, 8pm @ TBA
9 August, Sunday, National Day
The 'Unofficial' Pink Picnic, 5pm @ Singapore Botanic Gardens, in front of the Shaw Foundation stage
15 August, Saturday
OutRace: Racing Through History, 2pm @ Play (21 Tanjong Pagar Road)
Rev. Oyoung Wenfeng (Mandarin Talk), 2pm @ 72-13 (Private)
Rev. Oyoung Wenfeng (Christianity Talk), 7pm @ Free Community Church (Private)
Apprehending the Gentlemen, 7pm @ 72-13
SgButterfly, the group for transgenders and transsexuals will be holding an open forum discussion on Female-to-Male transsexuals. Four trans-men will share their journey of transitioning.
16 August, Sunday
Male, female or neither?, Mandarin forum, 7pm @ 72-13
A discussion by four distinguished speakers from the media and academia on the public perception of 'sissies' and 'tomboys'.
20 August, Thursday
同类 by Ken Ang, 8pm @ Same Pub (208 South Bridge Road)
The first anthology of Singaporean gay Chinese fiction based on true but fictionalised accounts of gay men in Singapore.
22 August, Saturday
Body 2 Body: A Malaysian Queer Anthology (book launch), 3pm @ 72-13 (Private)
From coming out to coming home, breaking up to breaking down, changing sex to changing heart, the book is the first of its kind in Malaysia. By invitation only. Please register by sending an email with the subject head "body2body" topluadmin@gmail.com.
Are we there yet?, 7.45pm @ 72-13
The AWARE saga and proposed Penal Code amendments provoked discussion about gender, sexuality and equality. Where were queer women in the discussions? Sayoni presents findings from its biennial national survey of queer women in Singapore and a panel of eminent queer women to start the discussion. All are welcome.
23 August, Sunday
Rascals Presentation II: Jun and Miak, 3pm @ 72-13
Jun and Miak will present papers on the recent political happenings on Thio Li-Ann and Thio Su-Mein respectively in the area of theological and sexual politics in Singapore. Jun investigates how the debate on Section 377A of the Penal Code morphed over the past two years in his paper From Homosexual to Homosocial.
29 August Saturday
United We Fall, Divided We Stand?, Debate, 2pm @ 72 -13
LGBTQ – an umbrella term that seemingly unites us, in our diversity. But can men and women really work together in the gay rights movement? A panel of men and women experienced in working with the community take on this question in a debate format.
30 August Sunday
StagNation: gay history… gay history?, 3pm @ 72-13
As part of our focus on gay history in Singapore, this is one of three events historicising the happenings and moments of Singapore's history in the 60s and 70s.
Memorial Service for Anthony Yeo, 5pm @ 72-13
ContraDiction, 7pm @ 72-13
Curated and emceed by Ng Yi-Sheng, the fifth edition of ContraDiction will feature poetry, fiction, song, slam, drama and invective by a range of LGBT writers. Guests include Jasmine Seah, Zhuang Yisa, Chrystal Wang, Lee Yew Leong, Irfan Kasban, Iris Judotter and Leona Lo. This culminates in the official closing party with a surprise act in store for IndigNation 2010!