Rainbow of Hong Kong (香港彩虹), a LGBT-community centre located at the busy junction of Nathan and Jordan Roads in Kowloon, is finding itself in a precarious situation and is at risk of having to shut down if its hope to raise additional funds doesn't materialise.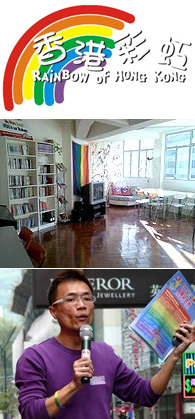 The drop-in centre located at Flat D, 7/F, National Court, 242 Nathan Road. Tel: (852) 2769 1069. Bottom pic: Co-founder Kenneth Cheung is one of Hong Kong's most prominent gay and HIV activists, and the only openly gay candidate to stand for public office (twice). Read more in From personal trauma to activism: Kenneth Cheung Kam-hung.
In a statement appealing for funds, co-founder of the centre Kenneth Cheung Kam-hung, who's known to many by his nickname Ken-jai (Ken仔), said the organisation had been unsuccessful in its applications for grants from various agencies and had not received any funding from government sources since May 2009.
Since then, the centre has stayed open with donations from supporters but may not be sufficient in the long-term. The rent is about HK$11,000 (US$1,420) a month and the centre does not have any staffing costs as its committee members, Wai Wai, Timothy, Tommy and Ken volunteer their time to run the centre.
"We perceive the approach of a difficult and cold winter through which we are striving to keep this LGBTQ Community Centre open, not allowing it to close again." Ken said.
The group launched its first centre in Mongkok in 2000 with grants from the Equal Opportunities Commission and AIDS Trust Fund (ATF) but was shut down after a year due to lack of funding.
In 2007, the centre was given a second lease of life with funds from the AFT to cover one year's HIV prevention work with MSM, though not for HIV testing or counselling, Ken told Fridae in an interview published in June.
In addition to being a drop-in centre that attracts about 200 visitors every week, the space is used by LGBT groups including the Women's Coalition of HKSAR, Hong Kong AIDS Foundation, Unitarian Universalists Hong Kong and CD (Cross Dressing) Family, and the organising committees of International Day Against Homophobia HK Parade and Hong Kong Pride. (The second pride parade will be held Nov 1, 2009.)
The centre also provides AIDS education programs and HIV blood testing service on Saturdays.
If you would like to make a donation, you can do so via one of the following channels:
- Mail a local cheque (issued by a Hong Kong bank) to Rainbow of Hong Kong, Mongkok P.O. Box 78882, Kowloon, Hong Kong
- Cash deposit / transfer to their bank account [Hang Seng Bank, Account no: 356-142059-001, Account name: Rainbow of Hong Kong]
- Make a transfer via PayPal [Cheung Kam Hung (info@rainbowhk.org) "Rainbow of Hong Kong"]
Rainbow of Hong Kong requests that donors mail the receipt to the centre with your name and contact information.
---
Ken and Tommy were recently interviewed by JOY 94.9, Australia's only gay and lesbian radio station about the Rainbow Centre and Ken's HIV+ status.
Author: JOY 94.9
Subtitle: Two radical gay activists in Hong Kong, and the Hong Kong Rainbow Centre
Summary: Ken jai and Tommy jai are two somewhat radical, yet committed and caring gay activists in Hong Kong, and the co-founders of Rainbow Hong Kong, and the Hong Kong Rainbow Centre. Ken is well-known for his radical activities in conservative Hong Kong, arising as a result of discovering he was HIV+ in 1995 while he was still in secondary school. Tommy is also not publicity-shy and has taken some radical actions that many of us in the West would not even be prepared to do. He became famous for his 'Rainbow Actions' in the Roman Catholic Cathedral, and for chaining himself to the Hong Kong Central Police Station. Here are two radical gay activists, yet who are also very genuine, committed, and deeply caring young Chinese men who just want to make for a better place for gays & lesbians in Hong Kong.
Duration: 39:46