I fear that most of the English-speaking gay community (and so many of the Hong Kong readers of this piece) will never have heard of Gayradio.hk. And that, whilst not surprising, perhaps, in our linguistically divided city, is a pity, for to our Chinese-speaking fellow tongzhi, Gayradio.hk is one of the principal props of the community. I went up one lazy Sunday summer afternoon to Gayradio's studios in Shatin to find out about them and to meet the station's founders, Henry Lam (better known by his radio sobriquet 'Reporter A') and his partner on the air and in life, Samuel Wong, the station's Chief Executive.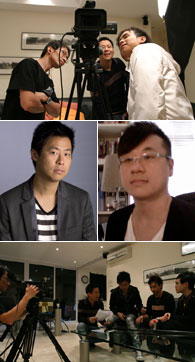 Behind the scenes: Henry Lam (left) and Samuel Wong, partners on the air and in life.
The duo has been running Gayradio together since they set it up from the sitting room of their flat in 2004. Until then, Henry had enjoyed a media career, so had good experience of both script writing and reporting. He'd worked for TVB as a production assistant and script writer on their serial soaps for three years, after which he worked as a reporter for a weekly entertainment magazine. He followed this with a move into the commercial worlds of TV games and shipping, but never lost his love of broadcasting and in so his spare time became host of an internet radio show. Despite being a net channel, this still called for strict scheduling, something he found difficult to fit in with his day job. Some years before, he'd met Samuel (online, of course!), who also worked in Hong Kong's commercial sector but had a passion for computing and the net. Together, they decided that the only way to carry on broadcasting whilst coping with their time issues was to launch out on their own and make listen-on-demand programmes. Samuel would make the technical side work and Henry would run the programmes.
Nearly five years on now, the station has grown like topsy. From Henry and Samuel's own flat the studio has moved to occupy an entire floor (eight flats) of their block. At the start they had just two other friends to act as committee members, but by now they have been joined by over forty volunteers, who write, prepare, coordinate, edit and record a series of programmes about gay life, mostly in Cantonese. Each volunteer puts in between five and six hours a week and many put in a good deal of their own money as well. The station makes a little money from advertising and has some indirect funding by NGOs whose programmes they assist, but most of the expenses are paid from personal income.
From the very first programme, which Henry wrote about pets, they have spread their wings to cover almost everything in Hong Kong's gay spectrum, including bodybuilding, make up, literature, film, and even a Thai language session which Henry co-hosts with his mother! Henry has written several radio dramas for the station, one of them an adaptation of local writer Ip Chi-wai's first gay novel of 2003, Suddenly Single. Two of their presenters act as film critics on a show reviewing gay porn.
Henry, it should be said, is also a published author, naturally of a gay novel, which is entitled The Shoes and Running Tracks and was published in Taipei in 2005. It's about a school boy love affair, and is unlikely to be Henry's last.
Henry and Samuel still run the station together with their volunteers informally as friends, though they are beginning to find that some more business-like structure will be soon needed as everything gets more and more complex. About seven of the volunteers work with Samuel on the technical side. They now record more than 50,000 downloads per month on their show sites, and from analysis have found they have listeners all over the world. Seventy percent are, of course, Hong Kongers, 10 percent are on the mainland and the rest are in Canada, the USA, Malaysia, Singapore, Macau and Taiwan.
Most recent ventures have included a foray into English language broadcasting. Henry is co-chair and also one of the founding members (with Reggie Ho and myself) of Hong Kong's Tongzhi Literature Group (the TLG). This encouraged him to create the English site, Reading Gay, a site dedicated to the investigation of Hong Kong authors who write on gay themes, both in English and in Chinese.
Henry and I have great fun interviewing local literary celebrities like Xu Xi, Peter Moss and Aileen Bridgewater. We've also widened our remit to take in journalism and music; we've talked, for instance, to Joe Lam, proprietor of Hong Kong's Dim Sum magazine, Dr Stuart Koe of Fridae and cabaret artist Rick Lau. The site, if you'd like to check it out, is at gayradio.hk/eng and gayradio.hk.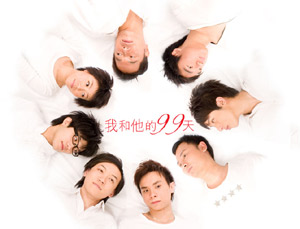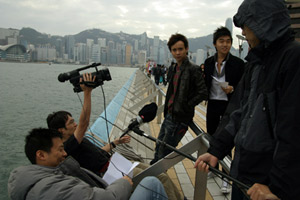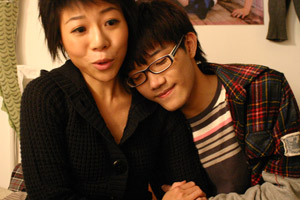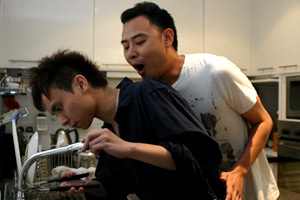 The making of 99 Days, Gayradio's first online video programme
Henry and Samuel have now progressed to making video programmes, their first show, in Cantonese, a comedy drama written by Henry and called 99 Days (我和他的99天). This stars volunteers from their own team, some of them rather easy on the eye, and has shots taken in many spots in Hong Kong which viewers will recognise instantly (even if they don't wish to own up to doing so!). It's got English subtitles, so have a look at it at: gayradio.hk/99days/eng. Gayradio's new website, where you'll find all these, was recently re-designed and installed by Samuel. It's stylish and sexy, and is itself worth a look.
Gayradio.hk is clearly a tremendous asset for the tongzhi community and both Henry and Samuel are serious about their contribution. Henry was out and active while an undergrad studying biology at the Chinese University of Hong Kong, where he joined tongzhi activist groups and, with his then boyfriend, who was a Christian, attended meetings of the Blessed Minority Christian Fellowship, Hong Kong's tongzhi church.
Samuel came out even earlier, recognising his orientation as early as Primary 5 and making friends at around the age of twenty on the net while he was at University studying politics and public administration. They see their creation of a gay radio station as crucial to the development of gay culture in Hong Kong. Up until recently, everyone had been concentrating on the development of political activism.
"This wasn't enough," says Samuel. "We need to diversify our interests to shape the gay city. We have to develop our cultural activities to help people to understand us, to see us as we are, and so get closer to us."
"There's more to gay activism than politics," adds Henry. "We need to entertain and to support the community, to share our gay life. We also need to have our hopes and fears reflected on the radio and TV. This is especially important for young guys coming to terms with their sexual orientation and coming out for the first time, who feel so alone at first. We may be their very first step into the community."
This idealism drives them both and will ensure that Gayradio.hk will continue to change and to grow. Ideas for the future include more radio dramas, one as a prologue for their video show, 99 Days, and something with a Boy Love theme (the Japanese sub-culture derived from animations and comics). They've opened a blog with a bilingual system at gayradio.hk/blogs. They're also always looking for volunteers with new ideas and time to invest. If you want to have fun and contribute to the community at the same time, give them a call or drop them a line at info@gayradio.hk.