Singapore-born Glen Goei got his big break playing the title role in the Tony award-winning play
M. Butterfly
opposite Anthony Hopkins in London's West End. For his role, he was nominated for the Laurence Olivier Award for Best Newcomer in 1990. He soon after established Mu-Lan Arts, the first Asian theatre company to be established in the United Kingdom and was its Artistic Director from 1990 to 1998.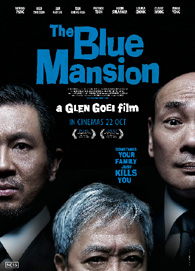 His debut feature, Forever Fever, premiered at the Sundance Film Festival in 1999, and had been shown in over 30 countries worldwide.

Filmed entirely on location in Penang at the Cheong Fatt Tze Mansion - an indigo- blue Chinese courtyard house and winner of the UNESCO Conservation Award, The Blue Mansion's technical crew includes director of photographer Larry Smith (Eyes Wide Shut), who had most notably worked with Stanley Kubrick for over three decades, and production designer Ian Bailie (Atonement, and Pride and Prejudice).

The film stars prominent stage actors from Malaysia and Singapore including Patrick Teoh, Huzir Sulaiman, Claire Wong, Tan Kheng Hua, Emma Yong, Neo Swee Lin, Pam Oei, Adrian Pang and Lim Kay Siu. The latter three also starred in Forever Fever.

It will have its world premiere at the 14th Pusan International Film Festival on Oct 10, and its Singapore premiere and fundraiser for AWARE (Association of Women for Action and Research) on Oct 15. It will also be shown at the Tokyo International Film Festival later this month.

Goei is currently the Associate Artistic Director of Wild Rice and has most recently directed The Dim Sum Dollies: History of Singapore (2007) and The Importance of Being Earnest (2009) which featured an all-male cast.

The Blue Mansion stars prominent stage actors from Malaysia and Singapore including Patrick Teoh, Huzir Sulaiman, Claire Wong, Tan Kheng Hua, Emma Yong, Neo Swee Lin, Pam Oei, Adrian Pang and Lim Kay Siu.
æ: What's the story behind The Blue Mansion? What inspired it?
Glen: The Blue Mansion is a quirky murder mystery about a wealthy tycoon who dies suddenly under mysterious circumstances and returns as a ghost to uncover the secret of his death with the help of his family and the police. This may sound twisted (but then I do have a twisted mind!) but I was inspired to make this film after I attended the wake of a friend's mother. Chinese funerals are sometimes like melodramatic soap operas and are a microcosm of society. I thought this will make a good premise for the movie.
æ: Can you tell us what elements of this story you are particularly drawn to?
Glen: The struggle between the individual's desire to choose the life they want to lead and the pressures of family and society's expectations of them.
æ: This question has probably been asked to death but it has been 11 years since Forever Fever, what's the film making process like for you?
Glen: For me, the film making process takes a long time because it has to start with a good script and it has taken me 11 years to find the story I want to tell.
æ: You'd described the film as a "quirky black comedy about a dysfunctional Asian family." What makes this family dysfunctional - aren't all families somewhat so?
Glen: I absolutely agree but patriarchy and Confucianism compound the dysfunction in Asian families.
æ: As a filmmaker and theatre director, do you think putting these issues under the microscope makes us more aware of our dysfunction and is it your aim to do so, or does it just make for good drama?
Glen: Both. It is the job of every artist to distill the societies they live in and express them in their art to provoke soul searching.
æ: In the trailer, it seems that the dead man's family is not certain if he was a Christian or Taoist and ends up having both a Christian and a Taoist priest performing funeral rites. What is the significance of this layer of the story?
Glen: It highlights the 'kiasuism' in our culture. I have witnessed it in several funerals. It also reflects the fact that in our multi-religious society many families practice several religions, whether it is different members of the families with different beliefs but also individuals who may profess to one religion but still practice the traditions of their forefathers.
æ: Yourself and the cast will make a special appearance at the film's charity premiere to benefit AWARE on October 15. Why did you choose AWARE?
Glen: I chose Aware because they stand for gender equality, diversity, and the dignity of every individual to live the way they choose. These are some of the themes I explore in my movie.
æ: Can you elaborate on some of these themes in the movie and what do you think gay/Singaporean/Malaysian audiences will connect with?
Glen: Without revealing too much I would prefer if the movie speaks for itself. The movie highlights the suffering from not being able to honestly choose one's own path but also challenges the choice to conform.
æ: What is your vision for the gay community?
Glen: That they be allowed to live the life they choose with dignity and without persecution.
æ: What other projects are in the works?
Glen: An original musical based on a famous Chinese historical figure. And a dance piece with the Teng Company and Ah Hock and Peng You. And a play about a lift.
æ: What's your biggest guilty pleasure?
Glen: Bak Chor Mee! I'm still scouring the island for the best one. Any suggestion?
æ: Tell us one of your fantasies?
Glen: A gay prime minister in Singapore.
æ: Who would your dream date be if you were straight for a day?
Glen: Gong Li. She is all-woman to me!
æ: As it was asked in the trailer, what to you is worse than being dead?
Glen: Living a life in fear of death.
The Blue Mansion Singapore premiere and AWARE fundraiser will be held Oct 15 at Great World City. For more details, click onto www.aware.org.sg.