Boyzone singer Stephen Gately died Saturday while on vacation in Majorca, Spain. The cause of death is not yet known.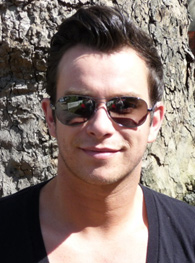 Stephen Gately in a photograph posted on his official website with a statement from his Boyzone bandmates.
The Irish band confirmed the singer's death on their official website on Sunday. "We are truly sorry to confirm that Stephen tragically died yesterday whilst on holiday, with his partner Andrew in Majorca," the site said. "We are unable to give any other details at this time."
Gately and his internet businessman partner Andrew Cowles wed in a civil union in 2006. The 33-year-old Dublin-born singer was the first member of a "boyband" to come out as gay in June 1999. He was at the time in a relationship with Dutch singer Eloy De Jong who was himself a member of Europop boyband Caught in the Act.
According to the Guardian (UK) newspaper, Gately didn't come out of his own free will. He was approached by the Sun, a tabloid newspaper, with a story sold to them by a former bodyguard working for the group on their European tour, alleging the singer was gay.
Gately's bandmates Ronan Keating, Keith Duffy, Mikey Graham and Shane Lynch said in a statement: "We are completely devastated by the loss of our friend and brother, Stephen. We have shared such wonderful times together over the years and were all looking forward to sharing many more. Stephen was a beautiful person in both body and spirit. He it up our lives and those of the many friends he had all over the world. Our love and sympathy go out to Andrew and Stephen's family. We will love you and will miss you forever, 'Steo'."
The group had 17 UK top 10 singles, including six number ones, from 1993 until the split in 2000. The band reunited in 2008 with Back Again... No Matter What and a UK tour. A new Boyzone album had been scheduled for 2010.