Police said in a press release that an altercation took place between Chris Skinner and the occupants of a black sport utility vehicle (SUV) on Oct 18 where Skinner was knocked to the ground, according to media reports. The attackers then returned to their vehicle and ran Skinner over with it. He was taken to hospital where he died of his injuries.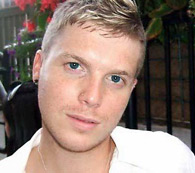 Chris Skinner, 27, died in hospital after he was beaten and run over by a SUV
Hours earlier, Skinner and his fiancé Ryan Cooke had been celebrating Skinner's sister's birthday in the entertainment district. Skinner decided to leave the party and walk home alone.
Toronto police have since released video footage that suggests Skinner may have struck the SUV with his hand while trying to hail a cab. Skinner is also gay and the slaying has triggered speculation as to whether the graphic designer might have been the victim of a hate crime.
The police haven't drawn that conclusion.
"No, there's not at all any indication that there were homophobic elements to the attack," gay newspaper xtra.ca quoted Det Stacey Gallant as saying.
On Oct 25, hundreds gathered at Church and Wellesley Sts in Toronto to hold a vigil and march raising candles and retracing the fateful walk Skinner took a week ago.