Around 150 Filipino lesbian, gays, bisexuals and transgender people, some clad in t-shirts emblazoned with IMMORAL (pun on "I'm Moral") gathered in the heart of Manila's historic district of Intramuros and protested a decision which barred an LBGT political party from running in the coming national elections.
On Nov 11, the Philippine Commission on Elections (Comelec) - the statutory guardian of elections within the Philippines - rejected an application from Ang Ladlad, a political party representing the Filipino LGBT community, for political party accreditation. A statement from Comelec the said their decision was made on "moral grounds" because Ang Ladlad advocates "sexual immorality", "immoral doctrines" and poses a threat to youth.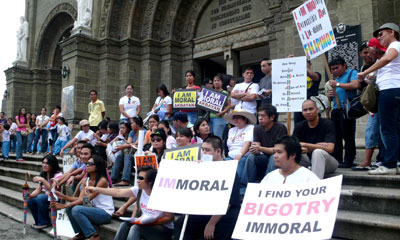 Protest group gathering at the steps of Manila Cathedral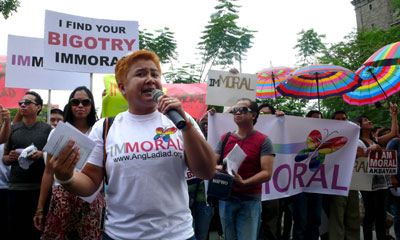 Community leader Ging Cristobal calling out to Comelec officials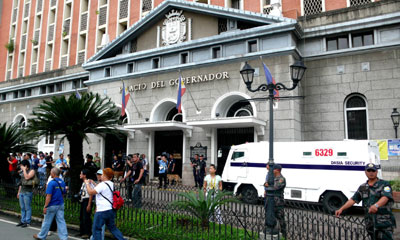 Comelec Office Building, Intramuros, Manila
Angry voices from protesters on the street urged Comelec to reverse their decision with chants of "gays and lesbians are not immoral" echoing through the cobble-stoned square in which government buildings stand adjacent to some of the oldest church buildings in the Philippines.
In recent weeks Ang Laglad has found some surprising allies with mainstream news outlets reporting that even "macho" mayors and other community leaders support the fledgling party's political plight. The debate has become an opportunity for clichéd representations of gays and lesbians to surface in political cartoons and satire as commentators struggle to find a way to make a hero out of a less-than-desirable stereotype that has been stigmatised for generations.
The struggle for recognition and equality before the law continues with calls for Ang Ladlad leaders to bring their complaint before the Supreme Court. For today, the struggle ended in an appropriately Filipino way, with a song.
In a country renowned for its colourful, celebrity-laden elections, and with campaigning for the Presidential office already underway, the well-being of minority groups like the LGBT community is likely to be a low-priority political football. Yet the symbolism of this battle has not gone unnoticed and all eyes are now focussed on front-running election candidates and their ability in handling such a delicate issue. As the pace of announcements about who is running for Presidency, Senate or Congress increase everyday, the Pinoy (local lingo for Filipino) LGBT community wait impatiently to see who will be their saviour.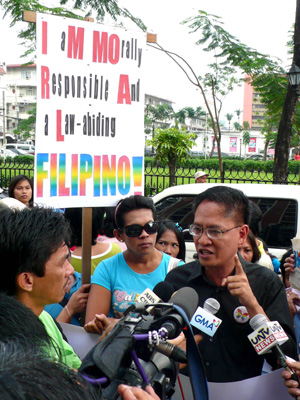 Danton Remoto, President of Ang Ladlad, speaking to the
press. He vowed to run as a senator in 2010 after the group
was denied accreditation based on "moral grounds.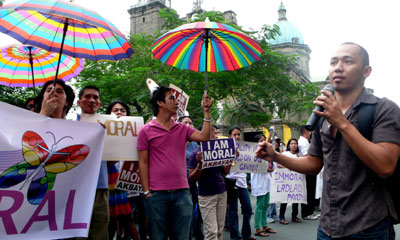 Community leader Jonas Bagas speaking to the crowd.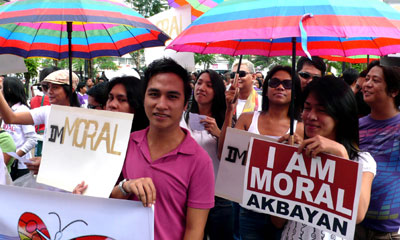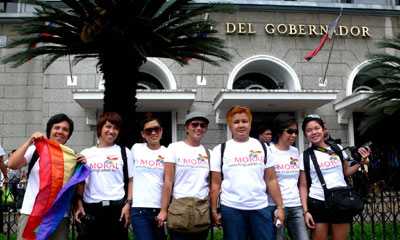 Members of ImmorALLIANCE in front of Comelec Office building