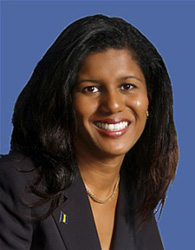 Barbados Minister for Family, Youth and Sports, Esther Byer-Suckoo, condemned homophobic violence in speech where she announced that gays, lesbians, and transgenders will be protected under legislation against domestic violence.
Gays, lesbians, and transgenders will be protected under legislation against domestic violence, said Barbados Minister for Family, Youth and Sports, Esther Byer-Suckoo.
In a completely unexpected announcement made in the course of a speech, the minister told her country that "We realise there is not only violence against women, but violence against men; and then also those persons who are transgender are also subjected to serious violence.
"Regardless of our personal views towards transgenders, it's about respect for a persons's life," she said.
"We have to take into account the realities of the situation. Right now, we have seen violence, with men against men, in homosexual relationships, women against women [and other] transgender issues.
"The law has to protect all its citizens. If we're amending legislation or drafting new legislation, we have to take into consideration the nuances of the environment in which we live today," Byer-Suckoo explained, condemning homophobic violence.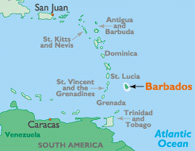 Homosexual sex is illegal in Barbados, a former British colony.
I met with Elizabeth, a 1.8-metre tall, broad-shouldered male-to-female transgender from Barbados, asking her if there was any recent scandal that brought about the minister's decision.
There was none that she could think of. Barbados is not a place where violence is particularly commonplace. It's a small island country in the Caribbean, with about 300,000 people. It's one of the more prosperous islands in the region, with tourism, financial and call centre services as the backbone of the economy. Traditional industries such as fishing are still doing well.
Elizabeth herself faces no serious threat. She goes to work, goes shopping, walks down the street with little more than surprised turning of heads.
"It's how you behave," she said "and how you conduct yourself. Society will respect you if you behave nicely."
Christianity is the major religion in Barbados, and like in so many places, there is a fundamentalist strand that uses gay people as metaphorical punching bags. So it's not as if Barbados is a completely gay-friendly place.
Moreover, domestic violence is something that tends to be invisible, taking place mostly in the home, and until people come forward to report it, it is hard to say how bad the situation really is.
As far as attacks against LGBTs in public spaces go, there is only one from recent memory.
A couple of years ago, three transvestites who had just finished a lip-sync performance at a show, were at a gas station, refilling their car when shots were fired at them. Fortunately, none were hurt. The shots came from one of three guys who were loitering at the gas station, probably intoxicated. The police arrested the perpetrators who were charged in court and jailed.
However, there could well be more such instances that are not reported, and this is where the very public announcement by the minister will go a long way to giving LGBTs more confidence to come forward if they are abused or attacked.
Director of the Barbados Bureau of Gender Affairs, John Hollingsworth, acknowledged that few LGBTs have to date come forward to report incidents of domestic violence, as they were doubly stignmatised as being gay and battered. Hopefully, this unequivocal announcement by the minister will mark a major change in attitudes, both among LGBTs and society at large.
Alex Au has been a gay activist and social commentator for over 10 years and is the co-founder of People Like Us, Singapore. Alex is the author of the well-known Yawning Bread web site.