The following is an extract published by Canada's National Post on January 3, 2010. Click on the link below to read the article in full.
Junaid Bin Jahangir was such a devout Muslim that when he arrived in Canada he ate only yogurt for two days until he was sure which food followed halal dietary rules.
The university student prayed five times a day, and joined a local mosque.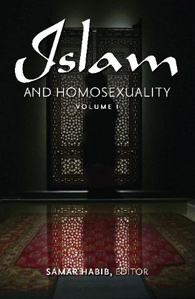 Jahangir who grew up in Dubai and studied to earn a bachelor's degree in Pakistan went to Canada for his master's and PhD in economics. Junaid Bin Jahangir contributed a chapter to an anthology on homosexuality,
Islam and Homosexuality
, edited by Samar Habib and published by Praeger Publishers.
Then one day, at age 27, he started to wonder why he had never been with a girl. "Why don't I like women that way?" he asked, and it led him to a counselling office, where he sat, sobbing, with the realization that he was gay -- a pariah to his community.
Mainstream Islamic leaders say gay men should be shunned and some around the world are killed each year.
Mr. Jahangir's world imploded; work on his PhD ground to a halt.
But out of that despair, Mr. Jahangir began to work on another project: Understanding the teachings of Islam on homosexuality. From his office at the University of Alberta, he contacted experts, read everything he could on the subject and studied the scriptures intensely for two years, rebuilding his own identity in the process. His work is starting to be recognized internationally.
Now he argues Muslims misinterpret the Qur'an if they consider the ban on homosexuality to be as firm as bans on alcohol or pork. The common story from which most Muslims draw their teaching is about violent homosexual rape, he says, and it's time to rethink the possibility of consensual, supportive relationships.
Although his PhD in economics is still incomplete, Mr. Jahangir was asked to contribute a chapter to a new anthology on homosexuality compiled by a noted Australian academic. The book, Islam and Homosexuality, edited by Samar Habib and published by Praeger Publishers, appeared recently in bookstores.
But he remains fearful of talking about the subject. He doesn't want his face shown in photographs, and when he agreed to do a presentation at the University of Alberta in the run-up to the book launch, organizers asked campus security and a local newspaper to attend in case someone wanted to cause trouble.
The meeting went well, and it appeared that some Muslim students attended, judging by the half-dozen head scarves among the crowd. But he still complains no Imams or professors with the university Islamic Studies department will speak with him or about the topic. The silence is so deep it's frustrating, he says.
"The apathy is unbelievable. How many more marriages do we want to fail as we pretend this doesn't exist?
"Gay youth are committing suicide," he says. "The 13- or 14-year-old girls, they are the ones who need this. [If they believe they are lesbian], what do they do? Get married and follow through the motions? What joy do they have in their lives?
"Let's at least talk about the issue because it affects us all."
Mr. Jahangir wrote his views in an opinion piece (Hope exists for LGBT Muslims) published in the Gateway, the University of Alberta student newspaper.