The Agence France-Presse (AFP) reports via The (Hong Kong) Standard: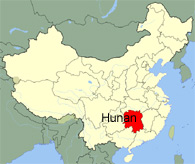 A gay pub singer in Hunan is facing six murder charges after he allegedly killed six men in elaborate, sado-masochistic sex games that involved hanging his victims.
Zhou Youping, a singer in bars in Changsha, posted personal ads on gay websites asking people travel to his home to be his "slave," the Sanxiang City Express said.
He wanted to play erotic asphyxiation games - the intentional restriction of oxygen to the brain for sexual arousal - and met the men in hotels.
"At first I wanted them to be my slave. But when they met me they wanted money or had special requests. I didn't like that and wanted to use the hanging asphyxiation method to kill them," Zhou said