Nineteen-year-old contestant Liu Zhu stunned judges when he appeared on stage dressed like a woman and sounded like one when he sang at a singing contest for men.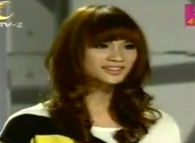 Liu Zhu, a 19-year-old contestant and male student at the Sichuan Conservatory of Music: "This way is more natural, if I purposely dress like a boy just for this contest, I think it would be very fake."
The video clip has attracted almost four million views and 8,700 comments on Youku, a China-based video hosting service; and over 56,000 views on YouTube since it was uploaded on May 1, 2010.
Despite having expressed her doubts and quizzing the contestant about his hair and asking for his identity card prior to his performance on the "Super Boy" or 快乐男声 singing contest held in Chengdu, Sichuan Province, one of the judges, Anni Meigui or Annie Rose, stopped Liu twice in the middle of his performance and asked if he preferred for a male judge or a female judge to verify his gender.
Liu told the Anni Meigui, a guest judge on the show, that he was not lying about his true gender.
The judge then asked Liu, a student of the Sichuan Conservatory of Music, to show his identity card and suggested that Internet users should search for his true sexual identity.
Liu was interrupted a second time with the judge asking for his full name, home address and details of the school he is attending.
During an interview backstage after his performance, Liu was quoted as saying that he has dressed this way since he was young, and his family has already accepted him.
When asked why didn't he try to appear more masculine since he was taking part in a contest for men, he said: "This way is more natural, if I purposely dress like a boy just for this contest, I think it would be very fake."
When pressed about not appearing more masculine since he is a male, Liu replied: "I am indeed a boy, and I dress like this every day, but I think everyone has their own choice, their own way of life." When asked if he is upset with the questions, he said he is used to them and that being asked questions about his gender and appearance is "normal."
China's Global Times reported that despite cross-dressing, Liu said he has not considered a sex-change operation because he likes his body the way it is.
The report noted that "cross-dressing is gaining acceptance in the country after boyish-looking Li Yuchun, winner of the 2005 'Super Girl' contest, inspired a wave of gender-ambiguous fashion."
Chen Sixuan, a psychologist who writes about gender issues, told the Global Times that it is not much of a problem as long as Liu is not confused by his gender.
"If he is not confused, then I don't think cross-dressing is much of a problem. It won't do harm to other people," she said.
Xie Jinchuan, a sociologist from the Communications University of China, told china.org.cn it is irrational to attack the show as some conservative commentators have accused the show for spreading "unhealthy values."
He added: "Performance is performance. They are simply men playing women's roles on stage. They are following in the footsteps of many famous performers."
Translation provided by China Hush blog:
Judge Annie Rose (安妮玫瑰) first asked if his hair was real then asked to see his ID, and then even asked to examine his gender.
"I am still suspicious about your identity. Can we examine your gender?"
"How do you examine?"
"Do you choose a male judge or a female judge to verify? I still have doubts about your identity. I think you are a girl."
"I didn't lie. Thank you."
"But I feel if you are lying, you are playing tricks on us and the viewers."
"I didn't lie or play tricks on you."
"Then I hope the netizens will human flesh search you! Can you swear on your dignity?"
"I can swear on it on anything…"