In the past few months, we've heard a lot about Marla Bendini. This 24-year-old Singaporean university student first came into the media spotlight when she was thrown out of a nightclub, China One on 29 April – a bigoted act by the manager, based solely on the fact that she's a transgender woman.
Marla didn't just go to the media with her story. Approached by well-known transgender activist Leona Lo, she co-founded Sisters In Solidarity (SIS), a group centred on countering discrimination against transgender persons in Singapore.
And boy, do they have their work cut out for them. Transgender people here face prejudice in the workplace, in society and in the press (in fact, all printed news sources referred to Marla as "he", and occasionally "Mr Bendini"), even in the gay community itself.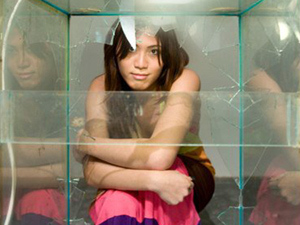 In this article, however, we're also going to look at another side of Marla: her career as an artist. Since last week, she's been holding a solo show in the Substation Gallery, titled Conversations Between Father and Son, featuring her photography, installation works, video art and performance.
There's some good stuff – her self-portraits, for instance, are blurred photos of herself writhing half-naked between pride and vulnerability, with paint spattered across the image: rainbow flecks bursting from her hair, a storm of white particles threatening to engulf her.
Her video work is also pretty moving: it shows a Buddhist ceremony with her family by the seaside, followed by a sequence of her digging in the wet sand with her hands in commemoration of her father.
What really gets people talking, however, is her performance art – she strips down to a flesh-coloured G-string and transparent stiletto heels, showing off her flat "masculine" chest, then binds herself in a corset of clear sticky tape. After crawling through dried flowers and smashed glass, she cuts herself free, leaving two halves of a hollow cocoon behind as an installation.
(Personally, I thought the piece needed more tension structurally, and better linkages to the video work. Still, she's still a very young artist – I expect her to develop.)
One of the greatest pleasures of the exhibition, however, is the chance to talk to the artist herself. Our full interview covered a swathe of topics: her family; her two major inspirations, the writer Quentin Crisp and the painter Francis Bacon; her comfort as a pre-operative transsexual (who has no intention of having sex-reassignment surgery); her ex-boyfriends; her early experiments with genderfucking (i.e. mocking gender stereotypes through costume and performance); and her status as a being a "bad feminist" and a "chor lor" (Hokkien for rough or crude) transsexual.
Though I can't agree with everything she says, it's clear that she's the kind of the uncompromising, outspoken young person this country needs more of. I've condensed what I can below. Turn up to Marla's exhibition if you can, and buy a photo or print – she's trying to save up to buy herself a pair of breast implants.
Also, click here to sign the Sisters In Solidarity petition, telling local nightclub owners to stop discriminating against transgender people. Trans folk are the most visible and most persecuted meMarlaers of the LGBT community – we owe them our support.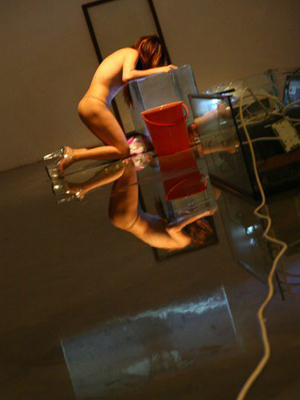 Marla Bendini's Conversations Between Father and Son
is on display at the Substation Gallery, 45 Armenian Street,
from Thu 13 May to Sat 22 May from 12pm to 9pm daily.
Performances at 7:30pm on Fri 21 and Sat 22 May.
Admission is free.
æ: Age, sex, location?
Marla: 24 this year; transgender woman (when I'm shaved), transgender when I'm not; Singapore.
æ: How did you become an artist?
Marla: I've always been doing art from primary school, from kindergarten, and my dad is kind of like an artsy person. He taught me stuff like wood carving and drawing especially… he was very good with the pencil. (laughs) He kind of just encouraged me to pursue this craft, and when I went to JC, I took up art for the first time as a subject, as a major, and… Here I am! (laughs)
And also I think art is very important for me because it's a way of expressing myself. I kind of like, blog through art.
æ: And when did you realise you were transgender?
Marla: Even when I was a boy [her original name was Bendini Ong], from as young as five or six, for as long as I could remember, I knew I was different. But it didn't bother me at all, and it didn't bother my family because no-one said anything about it. I was wearing denim hot pants since I was five, and wearing Mary Janes. But I didn't see myself as a girl, I saw myself as a boy. I didn't feel like I was born in the wrong body. And I just knew that I'm being myself.
The first day I went to secondary school, I felt out of place for the first time. Because for six years in primary school, everyone knew that Bendini is Bendini: 'he' shrieks like a girl, 'he' prances around, 'he' has a huge group of friends who are all girls. Suddenly I had to change, I had to conform just to be accepted, just to be left alone.
This whole charade basically went on until junior college, and I decided I would come out, [tell people] that I'm a homosexual; I like men; I've always liked men. And I came out and it wasn't that hard. One day I came out, and there was no turning back. I still had my friends… though I lost some of them.
I went on to the military and that's when I started genderfucking. I put on my first pair of denim hot pants in like, what, twelve years? And I went out. And the response and the experience was exhilarating, because I'm 5 foot 10, I was bald, and I was wearing these pants, and everyone was just freaking out on the streets. And I felt like I was back to when I was just a boy and nothing else mattered besides just being yourself.
That's when people stated telling me I have nice legs. And then I progressed to starting to use makeup – to look special. Not different. Because I don't think I'm different, I think I'm special. And then it went on to high heels. I wasn't doing drag; I was genderfucking. Back in those days transgender meant to me that I was not defined by any gender. I was free to do whatever I want.
My gay relationships started to fail and I realised that the men I was with wanted a girl in bed but a boy out of it, you know? And I was unable to tolerate that, because if you want me, you take the whole package. And that's when straight people started to like me. And I started having relationships with "straight" people.
And I put on my first dress in May 2007. And after that I went full time. So I wasn't taking hormones, and I wouldn't say I was cross-dressing full time, but Marla Bendini came and stayed.
æ: I find it interesting that you don't identify 100% with the word "woman".
Marla: I don't have a gender identity disorder. I mean, to put it simply, I am my physical appearance is male-to-female, but I feel right now, this is the most comfortable place to be in. It's not about genderfucking anymore, it's just being at ease physically.
I started to explore hormone replacement therapy a year ago and it helped to basically ease my body into transitioning. Because I don't want to be fully female, but I'm comfortable not being fully male too. I'm not androgynous either, so it is a very grey zone but it's an ongoing exploration for me.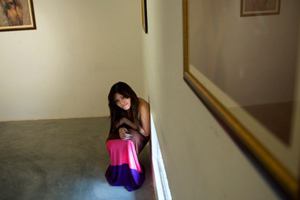 æ: Tell us about this exhibition.
Marla: This exhibition started with the thought of my dad, because he passed away in March last year and I wanted to do a eulogy for him. When he passed away I was still transitioning and I was unable to basically, you know, send him off his last journey as who I really am. I had my hair cut short, because in Chinese families, funerals, there's a lot of decorum going on and people were telling me "Don't do this, don't do that."
People don't realise that my relationship with my father was actually very special, very comfortable, despite being a transgender here. I was the last person to talk to him before he passed away, and we were having a conversation because he was telling me. He thought I wanted to go for a sex change because I'm transgender and I told him I didn't want to, and he explained his concerns about being a pre-operative transgender here in Singapore. So in a way, I wanted this exhibition to express what I was unable to one year ago, and to make things right.
æ: I thought the video was the strongest part. Was that an image from the funeral, the scattering of his ashes at sea?
Marla: That was not actually the actual ceremony, but it was a year after he died. So we went back there to pay our respects, and I decided to document it and do a performance there. My relatives knew there was a camera involved and when I was doing the performance they were around me and they were making a hell of a noise… I had to edit their voices out of the film!
But it's kind of interesting, because when I was doing the actions, my mum had a few questions, like she was just standing there and commenting on why am I doing this: "The water is dirty, you should wear gloves, your skirt is getting wet." And my grandma was shutting her up, saying, "This is art, if she's digging she needs to show her sincerity, so she shouldn't be wearing gloves."
æ: Do you see yourself as an activist as well as an artist?
Marla: No. I'm not an activist because I don't see myself doing much. I see myself doing something because I have to. I'm not an activist, but I'm not passive. If something is wrong, then I'll say something, you know?
We [transgenders] don't want to just take things in our stride just because we chose this path. People are always telling us, "You choose this path, you know it's difficult, you should tolerate because it's your own choice." I say yes, it's our own choice, but it doesn't mean that you get to oppress us.
æ: I'm quite amazed by how outspoken you are, though. Most transgender people I know say the aim isn't to come out, but to blend in.
Marla: I respect those sisters who blend in and who want to blend in, but there's a difference between blending and hiding. If you're blending in, you're just not standing out. But if you're hiding…if you want to be in stealth, by all means, I respect your decision, but if someone questions and you tell a lie, then you're a freaking fraud.
I came out as a gay man at 17 because I didn't want to live a lie, so transitioning into this transgender body makes me even more aware how I don't want to live a lie at all. I want to be comfortable in my own skin, being who I am no matter what social context. In public, in school, at work, and I feel transgenders in Singapore who are in stealth are compromising themselves because you've gone through so much to become who you are, to become comfortable with what you are and what you look like, and you throw that all aside just to become a pseudo-woman.
æ: Are you sure you want to use the word "pseudo-woman"? A lot of people are going to get pissed off…
Marla: People already are! Do you want to see the hate mail I've got? I mean if you're transsexual, you should be… I don't even know how they manage to hide that they're transsexuals. I mean, you can be passable as you are, but if you're basically, you can't erase your existence. You can't erase your life before your female persona. Why would you do that?
æ: For the sake of survival.
Marla: Then that's fine. If it's all about survival… at the end of the day, regardless of your decision making process, I respect your decision. But you have to respect yourself. And living a lie is not self-respect. Honestly, I would rather be an open sex worker and be comfortable with who I am than to live a lie.
I mean, it applies to gay men as well. How happy would you feel if your boyfriend introduces you as his "cousin" to your friends? LGBTs have fought so much for us to be comfortable now, and we're still going to keep hiding? It's like Jews in the Holocaust, you know?
æ: But the Jews had a good reason to go into hiding. They were escaping genocide.
Marla: Basically, to deprive us of equal work opportunities based on discrimination against LGBT people is a form of genocide against us. Because you can't find a job, you have no money to live, you have no money for food. You're basically trying to eradicate our existence. It is genocide.
I'm not a pistol. I'm not trying to push any buttons, I'm just speaking my mind. There goes my NAC grant. (Laughs)
Fridae is a sponsor of Conversations Between Father and Son.
Marla Bendini's Conversations Between Father and Son is on display at the Substation Gallery, 45 Armenian Street, from Thu 13 May to Sat 22 May from 12pm to 9pm daily. Performances will take place at 7:30pm on Fri 21 and Sat 22 May. Admission is free. For more information, click onto the Substation website.