The last time I stepped out in public in full drag was during Halloween when I decided to hit the gay clubs as Sailor Moon – complete with blonde wig and her signature screech: "In the name of the moon, I shall punish you!"
On my way to the clubs, I struck up Sailor Moon's pre-battle pose in front of a young girl who promptly burst into tears – no doubt overwhelmed by the appearance of her favourite anime character in the flesh!
(Editor's note: I feel that it is my responsibility to point out that Alvin Jenny Talia Tan's capacity for delusion remains unrivalled in the Fridae office.)
Despite the obvious resemblance, my gay posse looked at me with Gollum-like pity and said that the only way I would ever pass off as the lithe moon maiden is if she speaks in a baritone, spots a moustache, and sprouts hair on her arms and legs.
Undeterred but needing advice, I decided to talk to Singapore's drag doyenne, Rima S, to find out more about the "ins and outs" of life as a drag queen before embarking on my next public drag-venture.
æ: As a drag debutante, I found the whole experience a tad trying, but from your perspective, what is life like as a drag queen in Singapore?
Rima S: I guess it's almost the same as in New York or San Francisco or London… but with like a tenth of the places to go to. Or less.
æ: How would you describe Rima S's signature look?
Rima S: Oh, I'm a classic beauty, I guess (laughs). Actually, if Barry Humphries (Dame Edna) and Joan Rivers had a child... The only constant for me when creating my look is that there will always be a reference to the past, the 70s, the 60s or sometimes earlier.
For me, the whole exercise is about the creative process and I don't usually want to impose any limits except for basic rules like big hair and high heels because they have become synonymous with me. Even so, I've been experimenting with shorter and younger hair.
æ: On behalf of other drag queens-in-training, could you tell us how long it takes for Rima S to get ready for a night-out in town and what items will Rima S never leave home without?
Rima S: It takes me about two hours to get ready, sometimes a little longer because I usually don't prepare my outfits down to a T and only start putting things together after makeup. On a good night, things go on real easy and I can get my act together much faster.
I've left home with nothing in hand before! The more I've done this, the easier it gets to just "up and go"! I suppose I will always carry my little compact and lip-gloss – which usually stuff into my bra! It's so much easier than carrying a purse or bag! Oh, and my American Express card, of course.
æ: Besides the ability to accessorise and pirouette in heels, what do you think are the requisite attributes and skills required for a drag queen to be successful?
Rima S: A desire to perform, a love for music, the ability to lip-synch and a major sense of humour. Knowing and making use of what you've got and what you're good (or bad) at… and an audience that can connect with you.
æ: So has Rima S performed in front of an audience lately?
Rima S: A few years ago at the now defunct Happy, I had a weekly show where I basically lip-synched and did standup comedy. Recently, I started work on some recording projects with my music collaborator, George Leong and now Rima has her own voice!
But I haven't staged any shows recently except at the launches of my singles. I guess I'm in transition right now (no pun intended) and will only put together a show when I have enough material. I'm not in any hurry right now because I'm loving what we're doing.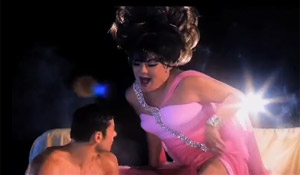 æ: What's the story behind the "Love To Love You Baby" music video? Are you muscling in on RuPaul's territory and harbouring aspirations to be the next international drag diva?
Rima S: There will always be comparisons with Ru since I guess I'm the only one on this side of the world doing it. But Ru is not the only drag diva because there are quite a number of other really fabulous performers in the West who have been doing this for a long time!
The music video was something George and I had been discussing but were simply too busy to do. When we finally got down to it, it was wonderful to work with all these amazing people. I absolutely LOVE IT! If you noticed, "Love To Love You Baby" isn't terribly camp at all. We wanted to tone it down because this is Rima S's debut and we wanted to ease the public into it. I suppose as we make more videos, things will get more and more crazy!
æ: Speaking of RuPaul, do you think you'll "chante" away with the crown in Drag Race or be asked to "sashay away'?
Rima S: You know, that contest is not as easy as it looks because it is basically two existing shows rolled into one – America's Next Top Model and Project Runway. The poor bitches have to sew their own costumes as well!
At this point I would never join the show. I don't have exactly the same goals as an emerging drag queen and I am grateful that some of my successes have exceeded anything that a competition can offer. So I guess we'll never know.
æ: And finally, what do you think is the biggest misconception that the gay community have about drag queens?
Rima S: I suppose for some gay men, it never occurs to them that there is a difference between drag queens and transvestite hookers. We're absolutely not the same thing! It's a whole different lifestyle and a completely different approach. We are thinking HA-HA. They are thinking UH-UH and MULAH.
Now listen carefully, drag queens are men who dress up as a caricature of a woman specifically for shows or to party. We are UNLIKE men who cross-dress and who may or may not live as women full-time, or transgender women in transition.