Chinese Male Homosexualities: Memba, Tongzhi and Golden Boy
by Travis S. K. Kong
Binding/Format: Hardback
ISBN: 978-0-415-45189-5
Publish Date: 7th July 2010
Imprint: Routledge
Pages: 320 pages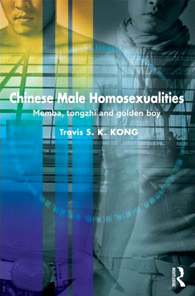 It is good to be able to relate that we have seen a steady stream of academic books on Asian LGBT subjects emerging over the last two years. Admittedly, they are often not every one's cup of tea, and are often far from easy reading; queer theory coupled with sociology can make for an indigestible verbal brew from which the gobbets of meaning have to be fished with long chop sticks! Cheap jibes aside, though, these are books by academics for other academics and have to conform to the formats, styles and protocols imposed by their disciplines, so the general reader must expect to be confronted with the occasional technical difficulty when opening their covers. You might ask, then, should the general reader be reading these books at all? It is a question, no doubt, of personal interest and taste, but my own answer is that it can be worth the effort. Academia stands back from the daily fray and from fashion and can give a fresh perspective and a deeper analysis which we get nowhere else. We may live in a society, but that does not mean we have a handle on all of its aspects, and if we want to understand our world, then, as Shakespeare's nurse advises, we 'must to the learned'. For the activists amongst us, academic analysis can produce frameworks and vocabulary that can organise and validate arguments. Academia also brings us news from abroad; cross-cultural or societal comparisons can help open local doors. My personal approach: to arm myself with a series of strong cups of coffee or a glass of wine or two and get stuck in when it's too hot or wet to go out, skimming the theoretical bits and fishing for the nuggets they hide.
It was a pleasant surprise, then, to find that I devoured Travis Kong's new book, Chinese Male Homosexualities, in just a couple of sittings. In the majority of the book where Kong lets go the chains of academic sado-masochism, he writes lucidly, fluently and, at times, even amusingly. In fact, his new book is an excellent exemplar of the contrasts in the way his area of study is written, not only due to its own structure, but also because it is a very good introduction to the theory of the subject.
Chapter 1 sketches very neatly the history of the field, both in and about the west, then later in Asia; from the sexologists of the early part of the twentieth century, through psychiatry to the sociology of deviance in the '60s, the (constructionist) sociology of homosexuality of the '80s, on to the post-structuralist/deconstructivist 'Foucauldian Deluge' of the '80s to '90s then to the (postmodernist) queer academic theory of the '90s, which is about where we are at present. If that is not enough to take your breath away, Kong throws in anthropological developments, postcolonialism and the rise of the postcolonial queer theorists of the present day, who, despite this deluge of 'isms and 'ologies, have come up with the remarkably simple and attractive idea that everyone is different due to the local circumstances pertaining everywhere, that everyone has a different idea of what kind of 'sexual citizen' they want to be, and that therefore everybody is as equally worthy of study as anyone else. Kong tacks on here a very useful historiography of writing about Chinese homosexualities. If nothing else, this book will long be a handy crib for generations of university undergrads.
The meat of Kong's study, one which has taken him well over a decade (he began interviews for it in 1997), is an investigation of the plight of gay men in three places: Hong Kong, London and Mainland China (where he conducted interviews in the major cities of Beijing, Shanghai and Guangzhou – as well as some in other places in Guangdong province). In Hong Kong, Kong meets activists (and again he gives a very useful potted history of Hong Kong activism up to about 2000) from many of the Hong Kong LGBT groups (amongst whom, by the way, he is well known as one of the principal academic supporters of their fight for gay rights). He approves (he cannot help but let slip in this study his personal preference for radical assaults on the established status quo) their refusal to accept the marginalisation of their own more marginal communities (such as transgender, bisexual etc), albeit they may be seen by the majority, straight or gay, as transgressive (male prostitutes, for instance). He examines the way he believes the struggle for gay citizenship has been sublimated in the arts; once again, his book is a very useful guide for a student of gay culture in Hong Kong.
In this city, as Kong points out, few see themselves as political (he offers reasons for this, which are not the usual ones of greed and political apathy often thrown at Hong Kong people by outsiders). Public society in Hong Kong revolves to a large degree around conspicuous consumption, and Kong examines how this plays out in the bars and saunas thronged by the glittering 'memba', the Cantonese adaptation of the English 'member' and the local term for a gay man. He examines the outward conformity of body beautiful and designer label fetish to which this leads. He is largely convincing here, though I have to confess that I think his description of the gay glories of the seedy places that pass for 'the scene' in Hong Kong is a bit overdone. There are more scraggy tshirts and scuffed shoes in the 'queer spaces' I frequent (more 'normal' people, in effect) than there are in Kong's philosophy. His next chapter, on the effect of family lives in the constricted space on gay mores is more telling, and he expounds clearly the strategies that are needed to cope with what he calls the 'biopolitics of the family' and the difficulty, if not impossibility, of coming out in this goldfish bowl of an SAR.
Kong's next stop is London, where he bemoans the constrained choices open to gay men of the Chinese diaspora when faced with the overpowering conformism of body, age and clothes you see around Old Compton Street. The freedoms that London's liberal society allows are contrasted with the constraints of the role of 'the golden boy', a sort of 'partial sexual citizen', whose shape and character are undervalued and whose sexualities are so often misinterpreted by the gay community. He's a bit depressing here, and much reminds me why I'm in Hong Kong!
In the last chapters of the book, Travis examines two areas of Mainland Chinese society. Once again, this book is a good, brief guide to the history of gay homosexuality in China. In what is I think the best section of the book, he describes the changes going on in the tongzhi community in China as state control relaxes, economic neo-liberalism replaces communism and the economic power of the country is liberated. In effect, he shows, the individual is becoming valued and empowered, and this includes the tongzhi.
Many Chinese gay men, he finds, see themselves as part of the increasingly affluent, stylish and individualistic new Chinese urban man (and he is not talking of small town China here). There are still enormous issues to face. Coming out may not be possible to many in this generation and marriage may have to be negotiated. The state has loosened some of the reins but still looks on disapprovingly and can revert to earlier forms of coercion without warning. So, the style of being gay alters accordingly. A tongzhi citizen is like no other gay man on earth.
The last section of Kong's book looks at the money boys (MB) who form such a large population in China's major cities. Why do they take up prostitution? What discrimination do they face? Kong's answers indicate a situation that is far from the expected. Yes, money boys are despised as migrant workers, country unsophisticates. Yes, they engage in homosexual acts, and so are looked down on by most of society. Yes, they do it for money, and prostitution has no good name in China and is a trade sanctioned neither by the state nor the tongzhi community. On all these three counts, money boys find themselves at the bottom of the pecking order. On the other hand, many of them become money boys to escape the worse homophobia of the countryside, to avoid the poorly-paid drudgery of the migrant worker, to be free of the constraints under which every Chinese day-labourer lives. Some do it even because they enjoy the sex. Only a few manage to make money out of it and thereby climb to better things, but the ones that do are a lure to the rest. The liberation experienced by many sex workers is one of the surprises of Kong's book.
Three places, multiple ways of existence and all in 207 pages with a full academic apparatus of references and bibliography. The quality of the research and argument, coupled with Kong's ability to straddle successfully three very different gay worlds, is impressive. As proof, were any to be needed, that western views of gayness are but one of the many fruits in the bowl, this study is perfect. China is different, Chinese gay men are different, and everywhere they are being gay they are being different. The segments of the fruit that Travis Kong has so very neatly dissected are but shades of the rainbow. He has shown just how diverse the world can be.