Ever since I saw the movie Monga, I have made it my life mission to sleep with either Mark Chao or Ethan Ruan – preferably both. But as the two Taiwanese tenderloins are reportedly straight, the only way I can entice them to the bedroom is to do a convincing Crying Game.
Unfortunately, since I resemble Wesley Snipes' Noxeema Jackson in To Wong Foo, Thanks for Everything! Julie Newmar more than the devastating drag goddess Rupaul, I decided to be more realistic and made a vow to be the next Mrs Wilbur Pan.
As I prepare to travel to Taiwan to ensnare my Pan shuai (Mandarin to mean handsome), I decided to find out more about the country's drag scene from one of Taiwan's most notorious, I mean, celebrated drag queens – Magnolia La Manga!
æ: Be honest now, is it difficult for an English Rose such as yourself to bloom in Taiwan?
MLM: Across the board, the Taiwanese are extremely drag-friendly, everyone wants photos, and Taiwan is a safe and welcoming environment, from the streets to the venues – gay, straight, and mixed. So far, it has been truly wonderful, and I feel honored to serve the citizens of one's of Asia's most vibrant and tolerant democracies!
A case in point, a few years ago, I was stumbling through my local park just after dawn, on my way back from a club, ostensibly. As you can imagine, I didn't look my best what with the cigarette butts in my wig, and one of my tits having gone AWOL. But as I staggered past a large crowd of middle-aged women doing tai-chi, they burst into spontaneous applause. That's what it's like being a drag queen in Taiwan. The Taiwanese appreciate anyone who makes an effort; even if you actually look like something the cat threw up. It's perfect!
æ: That's heartening to hear – especially for drags with atrocious hair and makeup skills such as myself! Now, how would you describe Magnolia's signature look?
MLM: Well, ever since a local newspaper had the audacity to describe my look as "linebacker in a skirt", I've worked extra hard to play down my Krystal Carrington shoulders and have been moving towards a more retro-kitsch look, inspired by Rosalind Russell in Auntie Mame but in effect more trannie-ho-meets-Dame-Judy-on-crack.
æ: I love it! "Damaged beauties" is THE look on the catwalks this season!
MLM (shoots Alvin Tan a look that could curdle milk): As I was going to say, I'm not like those Asian drag queens who can simply tuck their junk away and suddenly they're Lucy-ladyboy-Liu. Oh no. My signature look is one that works equally well both on the stage and in the gutter. It's performance art with cocktails. In fact, I bring some of that uniquely English pub landlady glamour to the streets of Taipei, fused with a touch of Eurotrash sparkle, and just enough indefinable familiarity to make you want to buy me drinks. Lots of drinks, ideally.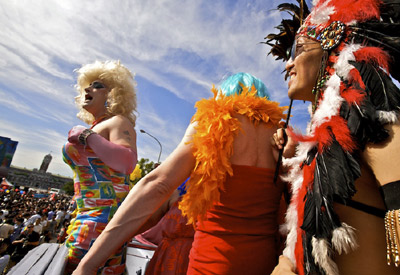 Ms Magnolia at the Taipei Pride Parade
æ: A signature look that relies on the beer goggles effect! Sheer genius! But how have the gay citizens of Taiwan taken to the presence of Magnolia?
MLM: Why, everyone simply adores me, darling, of course! Why would you even ask such a thing? Did somebody say something? Give me the bitch's name! No, really... The gay community in Taiwan is amazingly diverse, and incredibly mixed. I generally get a good reaction from everyone – gay, straight, Asians, and westerners alike.
æ: So besides a warm reception for drag queens with the bone structures of the Russian women's swim team, what's the drag scene in Taiwan really like?
MLM: Well, if you call getting dragged up, shit-faced, and posing for photos a "scene", then YES, and it's GREAT! But, actually, despite what my Facebook photos might suggest (Magnolia La Manga – add me!), the drag scene in Taipei is getting more and more creative. Most of the hot-drag-mess action happens in the bars and cafes of the Red Square (紅樓) Gay Village in Ximenting, such as Dalida, but there are many venues scattered about Taipei where you just might be unlucky enough to catch an impromptu drag performance.
While us western girls tend to specialise in the old mix-and-mingle kind of affair, we've done a few performances, and on an actual stage, too, not just in the alleys where the drunks urinate. There are local drag performers, also, that put on great fun Chinese language shows in some of the 2F bars at Red Square. The thing to remember about the drag scene in Taipei is that most of us are not professionals and we don't get paid – unless people want to pay us to leave.
æ: So when's the best time for Jenny Talia and other aspiring drag queens to make our debuts in Taiwan?
MLM: Mommy Magnolia would suggest during the Taipei Drag Season which runs yearly from September to Chinese New Year or thereabouts (the remaining months being too humid for makeup and boned undergarments) and encompasses big events at Taiwan LGBT Pride, Halloween, and New Year's Eve, interspersed with scattered birthday parties, one-off promotional events, and any other excuse we can find to drink copious amounts of champagne whilst wearing fabulous frocks.
In fact, this year's Taiwan LGBT Pride (30 October) looks to be the biggest yet, and we are hoping to put on an especially spectacular bilingual drag show on the Main Stage after the Parade. While it will certainly be hard to top the unabashed shambles of our "Mags and the Slags" show last New Year (sponsored by Singha Beer, no less), we are going to try. So book your flights now!
The magnificent Ms Magnolia will be making an appearance at the Tokyo Pride Parade on 14 August 2010 and can be contacted at magnolialamanga@yahoo.com.