Dear Readers,
Firstly, I have to thank you for reading my column. I would also like to thank Fridae.com for inviting me to do this. It gives me tremendous satisfaction to be of service to a discriminated and marginalised community in Singapore.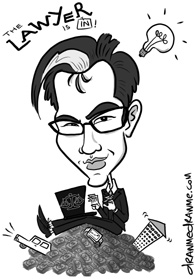 Originally, we were going to tackle "Sex in SIN City" for the first column. This is because the LGBT community is defined by sexual orientation or gender identity, regardless of whether it forms as much or as little of their lives as any other sexual human beings. However, we found more questions related to asset and wealth management or questions on how to live like two committed individuals than any others. Since the purpose of this column is to assist people who dare to be themselves and lead the lives of their choice, I have decided to answer them first. Before doing so, I need to state that I do not believe in marriage, least of all hold any interest in same-sex marriage as a human rights issue.
For the following months, we will be looking at other issues affecting LGBT. Instead of grouping them into textbook classification e.g. criminal law, tort or contract, each month, we will look at issues from a real life perspective. This is because a myriad of laws could apply to one factual situation. Therefore, the other issues we will be looking at are: sex, health, work and immigration.
Since I am a lawyer qualified to practice Singaporean law, I will answer questions that have a Singaporean legal nexus or from an international perspective.
Of the questions coming in from couples living together, I have chosen to answer the ones below:
QUESTION FROM JON'S BF
My boyfriend Jon (not his real name) comes from a family of (hopelessly) religious conservatives and when it was found out, seven years ago, that he is gay, his widowed father disowned him, telling him never to return to the family unless he repents. His two siblings are more sympathetic towards his situation although they will never do anything against their father's wishes. When their father fell seriously ill last year, the siblings asked if they could bring Jon to visit him, but father resolutely rejected the idea, saying that Jon is no longer his son. Jon's father passed away recently without a will. Is he still entitled to the inheritance? And NO, I am not with Jon for his money.
Dear Jon's bf,
Yes, Jon should be entitled to the inheritance. Since his father did not make a will, assets forming part of his estate shall be distributed in accordance with the intestacy laws. In Singapore this is the Intestate Succession Act. The Act has a set of distribution rules. As Jon's mother predeceased his father, the estate should be distributed between Jon and his siblings equally.
I would like to think that Jon's dad is "a person whose mouth is harder than his heart". He did not make a will on purpose to show Jon that he is still his son. It is his way of telling Jon he still loves him.
More importantly, this question underlines the importance of drafting a will for those of us who want to give our material wealth to persons not within the contemplation of the Intestate Succession Act. Individuals who are able to inherit are mainly spouse, children, parents and family members. Same sex partners are not considered spouses in the eyes of Singapore's law. The Women's Charter was amended in 1996 to expressly exclude recognising same sex marriage as marriage. However, marriage with a post-surgery transgendered person is recognised.
QUESTION FROM FAY
I am a lesbian with a medical condition. I now have a partner and we are planning to buy a property in the future. How do I ensure that when I pass on, my siblings will not be able to fight for my property and my assets with my partner? I am intending to write a will for this but I have heard stories whereby siblings or family members are able to overthrown the will. How can I protect my partner's rights in the best way possible? Any good law firm that is gay friendly that can assist in will-writing?
Dear Fay,
The law in Singapore for wills is that it needs to be witnessed by two persons who are not beneficiaries or connected with them. Further, the information that a will has been made can and should be registered with the Registry of Wills. Therefore, it can be quite difficult to challenge, if done properly.
To pre-empt any arguments that you were mentally incapable of making your own decision when drawing the will, you should also execute a Lasting Power of Attorney ("LPA"). This is a new legal instrument created under the Mental Capacity Act, which came into force in March this year. This instrument appoints someone (called "the donee") to take care of your:
(a) personal welfare; and
(b) property and affairs
when you lose your mental capacity to do so.
The procedure includes having a certificate issued by either a lawyer, an accredited medical practitioner or a psychiatrist. The issuer will have to certify, amongst others, that the maker of the LPA understands its power and scope. Also, there is no undue pressure being exerted or fraud committed on the donor to execute the LPA.
Therefore, if the Will is executed contemporaneously with an LPA, there is a further guarantee if it is being challenged.
To fully pre-empt any challenges, you should manage your assets such that when you die, there will be no assets in your estate for inheritance. First of all, not all assets will form part of your estate. This will include your CPF. Therefore, please ensure that you have made your nomination. If not, the CPF will distribute it in accordance with the law of intestacy. This means that your parents and/or your siblings and not your partner will be getting your CPF money.
If you are filthy rich, you can create a trust. However, this means that you will need to part with your assets now. There will be a loss of control over these assets. Once they become trust assets, the assets will have to be managed and used in accordance with the trust set up.
For your property and bank deposits, you can explore the concept of joint-ownership.
Where property is concerned, you can own them as joint-tenants with your partner. This is different from tenants-in-common. In a joint-tenancy situation, the property passes to the other owner automatically, once you die. This is called the "right of survivorship". For tenants-in-common, your portion of the property will not pass to the other owner but form part of your estate.
For your bank deposits, most banks have joint accounts where either one of the account holders have the right to withdraw or close the account. Therefore, should you die, the bank will allow the other account holder to withdraw the money and close the account. Please read the fine prints in your account opening documents or check with your bank manager.
The problem with this manner of management is when the relationship sours. You will need to disentangle your ownership of assets. I have also witnessed wives running away with the money in joint-accounts, when they fall in love with another man. The same applies here.
QUESTION FROM DAN
First, it's a great idea to bring in a lawyer to do a regular column and I must commend Fridae for that. With our legal status in Singapore so uncertain, hopefully this can clear up matters.
Specifically, I would like to find out for those of us in committed long-term relationships, what are the legal procedures we can undertake to enable us to have as much of the rights that married couples can have? I'm thinking of inheritance issues, hospital visitations, among others. I'm sure there are others that have never crossed my mind but could suddenly become important when it arises. Also, what complications are there from the Syriah Law? (My bf is Muslim.)
Dear Dan,
To live like a hetero-married couple, there are at least three "wills" you need to execute. They are:
1. a Will;
2. an Advanced Medical Directive ("AMD"), sometimes called the "Living Will"; and
3. a Lasting Power of Attorney ("LPA").
A will covers the assets one owns. It affects inheritance of these assets. As your boyfriend is a Muslim, issues related to the inheritance of his estate are governed by Syriah Law under the Administration of Muslim Law Act. Like canon law, this is an esoteric area. I understand that a Muslim can only will away one third of his assets. You should look at some of the suggestions I made for Fay to avoid inheritance laws.
The AMD helps to facilitate your wish when you are terminally ill and do not want to be on a life sustaining machine.
The LPA is for your wishes when you are mentally incapable of making decisions. This very often includes questions on where you should live.
However, when the patient is not terminally ill, the AMD is not applicable. Though untested, the LPA may apply.
If an LPA has been executed, the person appointed ("donee") is empowered make decisions on the donor's (the person appointing) behalf, when the latter is judged lacking in mental capacity. This is when he is unable to make decisions for himself because of "an impairment of, or a disturbance in the functioning of, the mind or brain". A doctor friend (he wants to remain anonymous) thinks that "impairment" includes cases when a patient is unconscious after an accident. He does not have to be mentally disturbed.
QUESTION BY FRIEND OF A
My friend A is a local and his boyfriend B has been a permanent resident here for 12 years. They have been together for about eight years. Recently, B suffered serious injuries in an accident and has been put under critical care at the hospital. His family members are away in Europe and although his sister has come to visit him, none of his kin is able to stay over here for a long period of time. The doctor advised that B's condition is still unstable and visitation is restricted to family. What should A do to gain visitation rights and the ability to provide for and make decisions with regards to B's health, rehabilitation and medical condition?
Dear friend of A,
I like this question as it draws out the inadequacy of our legislations. It shows how important LGBT persons in same sex relationships need to:
1. plan their lives; and
2. "come out" to their family and friends.
Imagine the anguish and helplessness of A, if he is not able to visit his sick partner in hospital. Hospital visitation rights depend on the policies of hospitals, which varies. With the Women's Charter declaring that same sex marriage as void, there is no way A can insist on visiting B in hospital. A is at the mercy of B's family, let alone making decisions on how B should be cared and treated.
Thankfully, it seems that B is "out" with his family and A is on good terms with them. If this is the case, I suggest that he gets B's family to grant him a power of attorney to make decisions for B that a next-of-kin usually makes. . A power of attorney is basically a document delegating a task to an agent. The problem is that it is usually meant for property or financial matters.
I take this opportunity to wish my friend, Leigh Pascal, who got married on 14 Aug 2010, all the best. She is one of the unsung heroes who emerged out of nowhere during the "Repeal 377A" campaign and managed the public relations. As it is not a same-sex marriage, if she has a will, it will be automatically revoked.
My apologies to those whose emails I have not responded.
Until the next time, I dare you all to be truthful to yourself and be brave!
Bon Courage!
George Hwang
The Lawyer Is In is a monthly column. In the columns, George Hwang will answer questions posed by readers on subjects such as personal and civil rights, workplace issues, discrimination, immigration, sexuality, lasting power of attorney and estate planning. To submit a question, email editor@fridae.com. Responses will be made by placing your question (without identifying you) in an upcoming column, and answering it there. We regret that questions cannot be answered privately.
Disclaimer: The answers, opinions and other information in this column are, usually, of a general nature, even if you think the scenario is exactly the same. They are not legal advice. Neither the writer, www.fridae.com nor anyone involved shall be responsible to readers who rely on them as one. Readers facing legal problems should seek independent legal advice from a qualified lawyer.