"Seksualiti Merdeka is a much needed frank look at the very core of all us human beings, our sexuality, and the diversity that lies within. We need to accept and then celebrate." – Datin Paduka Marina Mahathir
Calling all Malaysians to join in a group hug of Love, Acceptance and Compassion!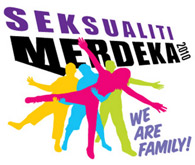 This year, Malaysia's only sexuality rights festival, Seksualiti Merdeka, celebrates the spirit of family. Exploring the bonds that bring us together, the festival aims to promote both the family and the community's role in embracing diversity.
As the nation strives to realise its full democratic potential, with Malaysians becoming more aware of our constitutional rights, let's not forget about our sexuality rights. It is our right to be responsible for our own bodies, to be free from discrimination, violence and injustice, and to be respected for who we are, regardless of gender, sexuality, age, class, ethnicity or beliefs. Each of us has these rights, as enshrined by the UN International Human Rights Charter, the Yogyakarta Principles, and promoted by many human rights organisations – local and international.
Whether we are straight, gay, lesbian, bisexual, transgender, intersexed, asexual, or simply fabulous, we are brothers and sisters on this great journey toward independence and equality for all.
Schedule
Sun, 10 Oct, 2pm
MEET THE FAMILY: COMING OUT WORKSHOP
Wed, 13 Oct, 8pm
SEKSUALITI MERDEKA LAUNCH
Thu 14 Oct, 8pm
HERSTORY FILMS PROJECT: LOVE, SEX & DESIRE
Fri 15, Sat 16, Sun 17 Oct, 8.30pm
RAINBOW MASSACRE 2010: WE ARE FAMILY!
Sat 16 Oct, 2pm
QUEER AS FILMS: FOCUS ON OUR FAMILY
Sun 17 Oct, 12pm
FARISH NOOR LECTURE: FROM MODESTY PLATES TO PERANAKAN LINGERIE
Sun 17 Oct, 2pm
QUEER AS BOOKS: THREE NEW TITLES
Sun 17 Oct, 4pm
EVEN EDUCATED FLEAS DO IT: SEX, SEXUALITY & DIVERSITY IN MALAYSIA
Free admission to all events unless otherwise noted
All events take place at The Annexe Gallery, 2nd Floor, Central Market Annexe (Behind Central Market), Kuala Lumpur. Tel: 03 2070 1137
Enquiries: seksualiti.merdeka@gmail.com
---
Seksualiti Merdeka 2010 Special Pre-Festival Programme
MEET THE FAMILY: COMING OUT WORKSHOP
Wish you could be honest with your parents but fear they may get a heart attack, or write you out of the family will, or worse, force you to get married to someone you don't love? Don't worry, it is not always as bad as you imagined. This session brings together a few folks who had told their parents or siblings about their sexual orientation and not only survived but had become closer to each other as a family.
MANAGING EXPECTATIONS!
This workshop will be facilitated by your friendly neighbourhood out gay man Pang Khee Teik, with some of his fabulous friends. Together, we will discover different ways of coming out to our family, and remaining a family still. Parents and siblings will also share their perspectives on managing your family's expectations and emotions. What's the right time? How to prepare them? How to prepare yourself?
ALREADY OUT?
If you had already come out to your family, then please come and share your stories. And bring your family members along too! Young LGBTs of Malaysia need some inspiring stories. And who knows, your parents might enjoy meeting other parents with something in common!
GUESS WHO'S COMING TO TEA?
The workshop will be followed by a pot luck afternoon tea, for us to get to know each other lah. So bring cakes, kuih or karipap, homemade or store-bought! And most importantly, don't forget to bring your supportive family members so that others can see that accepting families do exist! If you like to bring food or drinks, please email nabila.nasir@gmail.com
PLEASE REGISTER!
Please register for this event by sending an email to worldwithoutpangs@gmail.com with the subject: Coming Out Workshop. Please include your name, age, gender, how out are you (for example, to family, friends, colleagues, everyone, etc). Don't worry, the information will only be seen by me (ie. Pang!). Registration is to ensure we have a safe space to talk lah.
And don't worry, your name won't show in the guest list here on FaceBook if you click yes you are attending!
DATE & VENUE
Sun 10 Oct, 2010, 2pm
The Annexe Gallery
2nd Floor, Central Market Annexe
(Behind Central Market)
Jalan Hang Kasturi, KL
---
FULL PROGRAMME
Wed 13 Oct, 8pm
SEKSUALITI MERDEKA LAUNCH
Officiated by Edmund Bon, Chairperson of the Constitutional Law Committee at the Malaysian Bar Council & Speech by Representative of United Nations in Malaysia
Featuring the unveiling of SM Art Project: Portraits of the Unspoken & Family Outing: Forum Theatre
Refreshments sponsored by Albion
PORTRAITS OF THE UNSPOKEN
Art Project
Facilitated by Liew Kung Yu, assisted by Shieko
Artists: Hazri Haili, Jellene, Kal Idris, Ong Jo-lene, Tan Zi Hao
Acclaimed Malaysian artist Liew Kung Yu takes five young Malaysians, whose backgrounds range from artist to scientist, from straight to queer, on a journey of self-discovery and self-expression. After six weeks of workshopping, mind-mapping and connecting with each other, they present two installations, one revealing their fears, hopes and uncertainties about being who they are, and the other inviting you to do the same.
FAMILY OUTING
Forum Theatre
Writer: Alfian Sa'at
Director: David Lim
Cast: Johan Yusof, Lim Tiong Wooi, Sandee Chew, Tung Jit Yang
Written by award-winning Singaporean playwright Alfian Sa'at specially for Seksualiti Merdeka, this play is performed in the style of forum theatre, an interactive format which invites audiences to intervene and say what they would have said in those scenarios.
Synopsis: To his mother, Weiliang is the perfect son: he is acing college and going out with a lovely girl, Jeannie. What she doesn't know is that her son is actually gay and Jeannie is only pretending to be the girlfriend. Racked by guilt and indecision, he thinks it might be time to come out to his mom. Jeannie is relieved, but Weiliang's boyfriend, Freddie doesn't think the mom is ready. Should Weiliang do it? How would his mom react? How SHOULD she react?
Thu 14 Oct, 8pm
HERSTORY FILMS PROJECT: LOVE, SEX & DESIRE
Film Screening
Presenting five stories about love, sex and desire, as told by Malaysian women, and transformed into short films by writer-poet-photographer Bernice Chauly, filmmaker Crystal Woo, HerStory co-founder and filmmaker Mien.Ly, thespian Mislina Mustaffa, and film star Sharifah Amani in her directorial debut. The screening will be emceed by TV host Sarimah Ibrahim.
HerStory Malaysia is a women's arts collective dedicated to expanding safe spaces for women to come together to express themselves and share their stories using creative platforms. Our ongoing HerStory Films Project focuses on stories about love, sex, and desire from Malaysian women, with an emphasis on diversity and personal experiences of falling in – and out – of love in a distinctly Malaysian context. The screening will also travel to Penang & Kota Kinabalu. HerStory Malaysia is funded by the Friedrich Naumann Foundation. For more information on HerStory Films Project, please visit HerStoryMalaysia.com.
Fri 15, Sat 16, Sun 17 Oct, 8.30pm
RAINBOW MASSACRE 2010: WE ARE FAMILY!
Music Performance
Featuring your fabulous host SHELAH! With Aaron Khaled, Elvira Arul, Jerome Kugan, Kuah Jenhan, Maya Abdullah, Nikki Palikat, Peter Ong, Tony Eusoff, Zalina Lee, Nish Tham and band! Plus special cameos every night!
Admission by donation RM40 (At the door), RM35 (Online pre-show sale).
Avoid disappointment by purchasing your passes early at applause.org.my
Whether you're bent, straight or zigzag, somewhere out there is a queer anthem just for you. From Kylie to Siti to Pussycat Dolls , queer icons give us the soundtrack to dance to our tears, fight back the haters, and unleash our true fabulous selves. Their songs unite us in a worldwide group hug of love, from dazzling to nasty to just plain mushy.
This year, Rainbow Massacre presents three crazy and amazing nights of song and comedy that celebrate all the wonderful things that make us proud to be part of the great big rainbow family. Cause we are family! Get up brothers and sisters, and sing!
Sat 16 Oct, 2-6pm
QUEER AS FILMS: FOCUS ON OUR FAMILY
PT Foundation and Amnesty International Malaysia present two films and a discussion on how we can support LGBT children and their families. Moderated by AI Malaysia executive director Nora Murat and former 3R host Azah Yasmin, the panel consists of Dr Brian Ho (Psychiatrist and Associate Professor at UPM) and Vizla Kumaresan (clinical psychologist).
Family Fundamental, by Arthur Dong, is a documentary that follows three fundamentalist American families unable to accept their LGBT sons and daughters. Film critic Ken Fox remarks: "In each case, the violence is strictly emotional, but tremendously damaging; Dong shows how intolerance has the power to deform families, then tear them apart."
Ma Vie En Rose (My Life In Pink) is an award-winning French film about 7-year-old Ludovic, who dresses up as a girl and doesn't understand why everybody is so upset about it. The ways Ludovic's family and society attempt to correct "him" are both comic and heartbreaking.
A tea reception follows the second film.
This event is private and strictly by registration basis only. Please email to register for this event: queerasfilms@ptfmalaysia.org include your name, age, and who you are bringing along, if any.
Queer as Films is brought to you every month by PT Foundation and Seksualiti Merdeka at the Annnexe Gallery. It is a stimulating space to explore issues pertinent to the local LGBTiQs.
Sun 17 Oct, 12pm
FARISH NOOR LECTURE: FROM MODESTY PLATES TO PERANAKAN LINGERIE: A SHORT HISTORY OF MODESTY IN SOUTHEAST ASIA
Presented by The Other Malaysia
Modesty has always been relative and subjective in our part of the world, and this lecture will look at how notions of modesty, intimacy and attraction have evolved from the precolonial era to the present. Plus there will be a fashion show with babes in Peranakan corsets at the end!
Dr Farish Noor is Malaysia's sexiest historian and he likes to pull away the sheets to reveal that things were certainly more diverse and dynamic in the past than some folks would like us believe. His popular lectures at The Annexe Gallery have been recently published by Matahari Books under the title "What Your Teacher Didn't Tell You: The Annexe Lectures, Vol. 1". This lecture should make it to Vol.2. So come and be a part of history!
Sun 17 Oct, 2pm
QUEER AS BOOKS: THREE NEW TITLES
Orang Macam Kita
GASPP: A Gay Anthology of Singaporean Prose & Poetry
Collected Plays Two, by Alfian Sa'at
Last year's Seksualiti Merdeka featured one new book. This year is a triple threat! One book is Malaysian and the other two are Singaporean, so join us on the causeway of love. Orang Macam Kita (Matahari Books, edited by Azwan Ismail & Diana Dirani) is the first Malay-language anthology of new queer writing, and has 25 short stories and essays; they range from the charming to the scholarly, with detours into the surreal. The second book is GASPP: A Gay Anthology of Singapore Prose & Poetry (The Literary Centre, edited by Ng Yi-Sheng, Dominic Chua, Jasmine Seah & Irene Oh) a tome which compiles 30 years worth of queer writing in Singapore, including pieces that are translated from other languages into English. Last but definitely not least, popular Singaporean writer Alfian Sa'at presents Collected Plays Two (Ethos Books), featuring the taboo-busting and crowd-pleasing plays Asian Boys Vol 1-3. Representatives from all three books will be present to sign autographs and answer questions.
FORUM: QUEER WRITING IN MALAYSIA & SINGAPORE
The editors and writers of Orang Macam Kita and GASPP: A Gay Anthology of Singapore Prose & Poetry will discuss the history and evolution of queer writing in both countries. Where did we come from, and where are we going, and what shall we wear when we get there?
Sun 17 Oct, 4pm
EVEN EDUCATED FLEAS DO IT: SEX, SEXUALITY & DIVERSITY IN MALAYSIA
Talks
There is plenty of loose talk about sexuality and gender in Malaysia, mostly generated by individuals given too much media space. So here we give you short and snappy presentations by folks who have actually conducted research on sexuality, whether through observation or participation – or both!
Through understanding Malaysia's sexual his/her/story and current diversity, notions about narrow 'Asian family values' and the basis for deciding 'right' and 'wrong' can be exposed to some critical light. Here we can question and (re)discover the sexual terrain of which Malaysians are all a part. Bring your own discoveries and questions to share!
The session will be hosted by Jac SM Kee (APCWomen.org) and Julian C. H. Lee (Monash Uni).
Presentations:
Amir Muhammed (Matahari Books): Representations of sex and gender in Malaysian cinema
Andrew Ng (Monash Uni): "Bukak Api": Documenting Politics and Sexuality
Angela Kuga Thas (KRYSS): The lesbian community in KL
Jac SM Kee (APCWomen.org): The female fantastic: Monsters and ghosts, and the digital world
Julian CH Lee (Monash Uni): Sexual diversity in the natural world
Yeoh Seng Guan (Monash Uni): The Hijra and other sexually diverse communities in Malaysia