It is astonishing how long the Hong Kong Lesbian and Gay Film Festival (HKLGFF) has been going. It's actually the second oldest extant LGBT institution in Hong Kong, having been founded in 1989, three years after the establishment of the Ten Percent Club (Hong Kong's first gay club, now sadly almost extinct). This was two years before Hong Kong decriminalised homosexuality for men over 21 and it was at the height of the struggle to get the Crime Amendment Bill that finally achieved that through the Legislative Council. Back then, the Festival started out in the basement of the Arts Centre, a handful of films shown for just a few. Brave days and brave people.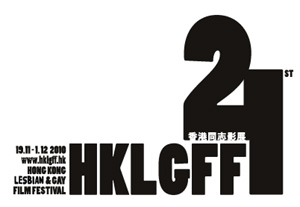 It's got enormous now, though, and has the support of the likes of the British Council, Propaganda (the disco), Volume (the bar), FINDS (the restaurant), GOD (the store) and, of course, Fridae.com. All over their smart new brochure are logos of organisations now queuing to have their brands displayed. The Hong Kong LGBT Interbank Exchange has a whole page ad displaying the logos of Bank of America Merrill Lynch, Credit Suisse, Deutsche Bank, Goldman Sachs, Morgan Stanley, Nomura and UBS. Though it's not opened its cinema doors every year since the start, the HKLGFF has managed to do so on most years, and in most people's memory it is always there for the LGBT community in the late autumn of each year. It's a totally voluntary event, run without profit and for the good of cinema goers, both gay and straight. This year it's running in Hong Kong's cinemas from 19 November to 1 December, based, as usual now, around the Broadway Cinematique in Yau Ma Tei, but also elsewhere like Broadway IFC in Central and AMC Festival Walk in Kowloon Tong. You can check out the programme and venues on www.hklgff.hk.
I tracked down Joe Lam, the Festival Director, and one of Hong Kong's best known gay figures, in the Foreign Correspondents' Club to talk to him about this year's programme and to get him to reveal a bit about himself for Fridae.com's readers. He will forgive me for relating, I hope, that he was looking mightily fatigued.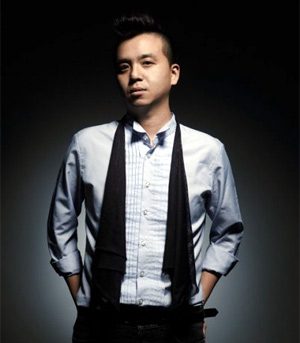 Joe Lam
"I've been sleeping only five hours a night for the last three weeks", he told me, "and we've been working on the Festival since April." I revived him with coffee. "It's a slightly unusual programme this year", he went on, "one with more international films (quite a few from South America) and less of the Asian films we usually spotlight. This is because we've got some really good films to show from outside Asia, and, strangely, as this year hasn't been that productive for Asian gay films."
The opening movie is Christoph Honoré's Man at Bath, a study of the perverse nature of love and the effect of distance on the heart (and body), starring the very well known French porn star François Sagat, who has now seemingly taken his amazingly tattooed head and rugby player physique into serious film. The Festival closes with Rikki Beadle Blair's British film FIT, which brings six students together through dance. In between there's the usual mix of love, lust and documentary, the latter category including Rob Epstein and Jeffrey Friedman's biopic of beat poet Allen Ginsberg, a film appropriately named Howl, which stars James Franco, Jon Hamm and Jeff Daniels.
Quite how Joe manages to juggle all this is beyond even my imagining. The films are all viewed by a team of international screeners who work for free in various countries selecting the films. Joe has to watch a lot of the more marginal ones to make the final decision. "So I always get to watch the shit films," he tells me ruefully.
Then the films have to be hired, shipped here and screened. Joe has a team of eight volunteer helpers in Hong Kong, two in the United States, all by this stage of the year working flat out. There are endless negotiations over cinemas and ticketing, so the brochure (which this year is a particularly fine one) can't get printed till the last t is crossed. It's issued for free, and it costs more than HK$30,000 (US$3,900) to print. Then there are guests that have to be brought in and paid for (François Sagat is coming this year; his hotel has not been disclosed so far, so you'll have to work that out yourself if you fancy stalking him). When shown, the films, of course, have to be paid for, and as cinemas take on average half of the ticket price, it's obvious the Festival needs to sell all the tickets they have to break even every year. Which, due to the reputation of the Festival, they pretty much do. It's just as well, as there's no Government or big cash sponsor to bail them out.
In between doing all this Joe runs his own business as an art director and fashion stylist, in which capacity he advises many of Hong Kong's entertainment stars. Born in Hong Kong, he trained as a graphic designer, but gradually established himself as a stylist.
"Art and fashion is my passion", he told me. Making a success of this allowed him to start Dim Sum, Hong Kong's first gay life style magazine, in 2002. Dim Sum wasn't the first gay magazine published in Hong Kong. The honour of this goes to the short-lived Contacts magazine published by Barry Brandon between 1992 and 1998. A few other attempts were made to start a journal after that and Hong Kong Magazine's G Mag (where this correspondent first launched into print) came out in the early part of this decade before it too folded back in 2007.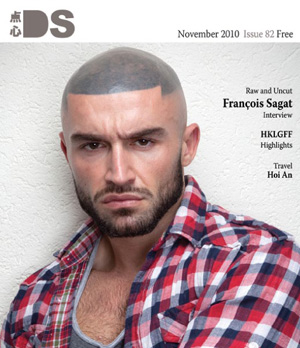 The November edition of Dim Sum magazine,
with French porn star François Sagat – the lead actor of
Christoph Honoré's Man at Bath – on the cover
Dim Sum is the only one to make a commercial success of the genre and Joe's still its owner and publisher. It's grown bigger in both size and content over the years and now has a circulation of some 10,000 copies every month. It's also spread to the net, where it's read by 28,000 visitors every issue. You can read it yourself at: www.dimsum-hk.com; this month's edition has an interview with François Sagat. Dim Sum has its serious side, too; it will be campaigning over the near future alongside Mr Gay Hong Kong (for which Joe is a back of house consultant) against homophobic bullying in Hong Kong schools. Dim Sum has become one of the pillars of the Hong Kong LGBT community.
I let Joe dash off, not to rest but to undertake more of all of the above, and went out to buy my tickets for the Festival. You're going to have to be quick. Many of the main shows are already sold out. You may just have to go to Les Peches's or Propaganda's opening and Volume's closing parties without seeing the films; and then what would you have to talk about?
For the full schedule of films at the Hong Kong Lesbian and Gay Film Festival, visit www.hklgff.hk.