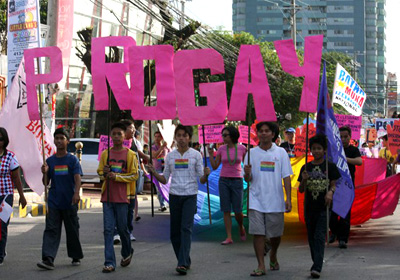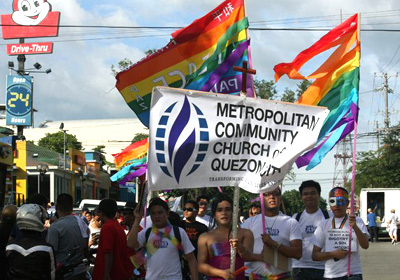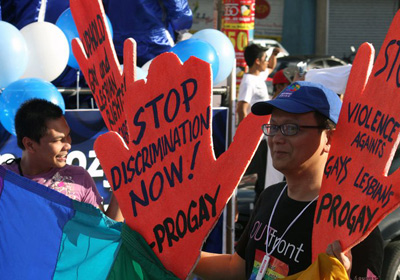 All photos are courtesy of Raymund B Villanueva/Kodao Productions
Philippines' Abs-cbnnews.com reported on Dec 5, 2010:
Gays, lesbians, bisexuals, transexuals and their supporters paraded around the streets of Quezon City wearing fabulous costumes and riding colorful floats to celebrate gay pride on December 4.
Collectively known as LGBT who are tolerated within the Philippine society, they are pushing for legal rights, including coverage in civil partnership, protection against discrimination at work, in school and hospitals, among others.
This year's theme is "One Love" to highlight that "we are all one humanity who shaare the same love," explains Rica Paras, a former reality show Pinoy Big Brother housemate who is currently the vice president of STRAP, or Transexual Women of the Philippines.
"We are in the streets because we want to declare that we exist while, at the same time, asking for compassion and sympathy [because] we are marginalized and we are seeking a quality life," Paras added.
"We are in the process of making sure that the anti-discrimination bill is passed in congress to protect the LGBT community," Paras stressed to ABS-CBN News.
Gatherings of the LGBT members and supporters are crucial to the efforts in pushing legislation like the Anti-Discrimination Bill, stressed Bayan Muna Rep. Teodoro Casiño.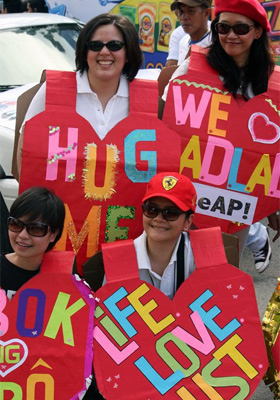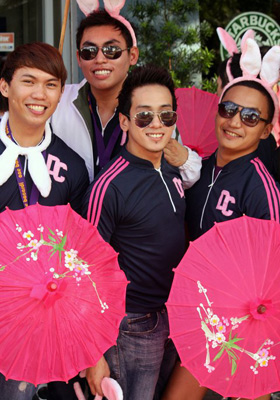 All photos are courtesy of Raymund B Villanueva/Kodao Productions
---
GMA News reported on Dec 10, 2010:
This year's march was the biggest yet since the first LGBT Pride March in Asia on June 26, 1994, organized by Progressive Organization of Gays in the Philippines (ProGay Philippines) and Metropolitan Community Church (MCC) Manila.
"We've been marching for more than 10 years, and this is the largest pride march ever. We have mobilized more than 80 organizers, and around 300 individuals have registered" said Task Force Pride (TFP) co-coordinator Ryan Silverio. This year's parade is a collaboration among Task Force Pride, the Philippine AIDS Society and the Quezon City government. The march is usually held in Malate, but TFP moved this year's parade to Morato after the QC Mayor's Office and Social Hygiene Clinic expressed interest to support the LGBT community's annual celebration.
TFP has been organizing the Metro Manila Pride March since 1999 and in 2003 decided to move the march from June to December to coincide with human rights activities.