The Malaysian Islamic Development Department (Jakim) says it will not take any legal action against a Malay-Muslim man who came out as gay in an online video two weeks ago. The video, which is part of Seksualiti Merdeka's It Gets Better 15-video campaign, had attracted over 150,000 views on YouTube and a flurry of news reports, blogs and comments by various political leaders and even death threats before it was removed on Dec 29.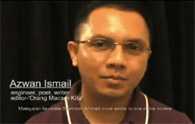 Azwan Ismail, 32
Organisers of the campaign Seksualiti Merdeka said it has decided to remove Azwan Ismail's "Saya gay, saya okay" video for "his safety as his life has been threatened by various comments and blogs, while the religious authorities have also been reported as saying they plan to charge him." Organisers also "regret that so far nobody in authority has denounced the threats of violence," the statement read.
In the 3-minute clip, Azwan Ismail spoke in Malay about coming out as gay as being particularly difficult because of "religious and cultural factors (that) have defined our lives, telling us who we can be and who we can't."
Recent media reports had highlighted that the Islamic Development Department of Malaysia (JAKIM) would be taking stern action against Azwan for his revelation.
Just days after its release, the video clip made newspaper headlines in the Muslim-majority country with Datuk Seri Jamil Khir Baharom, a Minister in the Prime Minister's Department, calling on the religious authorities to monitor the activities of gay groups.
"For Muslims, we must remember that being gay is against our religious teaching," he was quoted in the local media as saying. "We want this activity to be monitored closely by the authorities and appropriate actions to be taken to prevent it from spreading as it can tarnish the image of Islam."
However, according to The Malaysian Insider online today, JAKIM director-general Datuk Wan Mohamad Sheikh Abdul Aziz said that the organisation has "no power to take legal action, the ones who can do so are the state-level religious authorities as well as the police."
He said that Jakim could only take "precautionary" measures such as working with the Malaysian Communications and Multimedia Commission (MCMC) as well as other agencies.
"Well, our actions do not have to be a matte of legal recourse, more of preventing the gay culture from spreading throughout the country.
"We will take measures such as providing rehabilitation programmes for those affected," said Wan Mohamad.
To read what has been written in local newspapers, click on to seksualitimerdeka.org.