Two men in Beijing celebrated their union amongst some 50 friends in a restaurant on Saturday, according to media reports.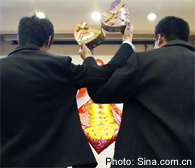 Although same-sex marriage is not legally recognised in China, it is reportedly the first publicly known wedding held between two men in Beijing. Previously two gay women held a ceremony in South China's Guangdong province.
Da Wen and Xiao Qiang (not their real names), whose marriage is not legally recognised under Chinese law, want to be an example to other gay couples in the country. Aside from it being an act of their commitment and love, they say their marriage is also a bid to strengthen the fight against HIV/AIDS, according to Shanghai Daily.
According to another report about the marriage in the People's Daily, the wedding ceremony was hosted by Xiao Dong, director of the Beijing Rainbow Volunteer Station on HIV/AIDS prevention, who was quoted as saying that same-sex marriage could help people in the gay community prevent AIDS as marriage could seal relationships and avoid rapid changes in sex partners.
"Their marriage is a remarkable move in the gay community because a settled-down relationship helps reduce the chances of AIDS infection," said Xiao.
He added that the lack of a law to regulate same-sex marriages in China made it difficult for gay couples to maintain their relationships.
People in gay communities would often have several sex partners due to the absence of law, thus dramatically increasing the risk of them getting AIDS, Xiao said.
Statistics from a 2010 Health Report conducted by the Beijing Health Bureau show among the 1,233 new HIV/AIDS cases last year in Beijing, the ratio of male to female was 7.62: 1, with 60 percent of new infections contracted by man-to-man sexual relations.
"Each attempt to fight the spread of AIDS is worth trying, including getting married," Xiao said in an interview with Beijing Times.
The Shanghai Daily also reported that Da Wen, a Beijing native, only came to the realisation that he is gay three years ago after he had married and become a father. He had told his wide and asked for a divorce but she refused, not wishing her child to be the product of a broken home. The report noted that Da's "marriage" to Xiao Qiang does not qualify as bigamy because Chinese law doesn't mention gay marriage.
The report additionally quoted a staff member of an organisation that provides help for sex workers who disagreed that marriage is effective in preventing HIV/AIDS.
Tony Zhen, director of Shanghai Leyi, was quoted as saying: "It's hard to understand the relation linking marriage and AIDS prevention."
Zhen said gay people might still have other sex partners even after marriage, and if a spouse found out about a love affair, there was no marriage law to protect him.