Bangkok Free Fall
(American title: 38 Million Dollar Smile)
Richard Stevenson
ISBN 13: 9789810864095
Binding: Paperback
Pages: 268
Released: 01/11/2010
Albany private detective Don Strachey is on the hunt again, this time with his cute if ethically challenging boyfriend, Timmy, along for the ride. This time the not-so-strictly monogamous duo are in pursuit of a sex tourist who has seen the light, rich American businessman Gary Griswold, who goes to Bangkok to find boys but, after the usual interlude with the odd characters for sale rather than love and with names like Mango, finds Buddha and something not quite approaching enlightenment. He also finds something which makes him disappear for six months. The trouble is, Griswold has taken with him 38 million dollars he's raised by selling off the stock he owns in the company he, his brother and his ex-wife, now sister-in-law, inherited from their parents, and the other two are mad as hell. So they hire Strachey to track down the missing link to their money.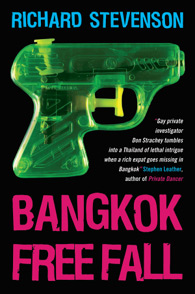 There's no family love lost here, more of a murderous feud, which takes Strachey first to Key West (where else as a US prelude to the East?) before he and his almost reluctant boyfriend fly off to what they are unsure is still 'the land of smiles.' They are right to be dubious. The mess their quarry has involved himself in includes several prominent persons freefalling without parachutes from high rise buildings and soon has them in danger of their lives. Boyfriend Timmy ends up tied for forty-eight hours to newly made katoey friend, Kawee, not tied so closely, though, as to prevent their whiling away what might be their last few hours exploring more than each others' philosophies (though, this being Thailand, they do that too).
Thailand, in this gay detective novel, has a more sharks swimming below its alluring surface than you'd find in the Andaman Sea; they smile as they spray you with bullets, and as the police are up to their ears in the plot, there's no use running to them. Instead, Strachey has the good fortune (well, this is a novel) to run into local private eye Rufus Pugh (really Panchalee Siripasarporn, but as this novel's largely aimed at ignorant farangs like this reviewer, he's acquired, by a rather roundabout route, another moniker). PI Pugh has contacts in every pie in Bangkok, and the other places they all end up in like Hua Hin, and has a private army only slightly smaller than the Bangkok police force, if a tad nicer. This is not a picture of Thailand that the Thai Tourist Board would ever want you to see. It comes complete with fraudulent fortune telling seers who fail to forecast their own demise and an army coup to round it all off.
There's a good deal going for this novel; plenty of gratuitous sex to match the violence and some nice one liners from the cast. Stevenson, here in the 10th of his acclaimed Don Strachey series, has done a lot of homework to get the detail right, though he's clearly not hung about in the classier parts of Thailand, and as for this being a real description of the country, well… There's just enough of the place, though, to make his a passable storyline and enough of the real scents to get the juices flowing, even if they are, in this novel, as Timmy remarks on one occasion, 'the scent of jasmine and the occasional whiff of raw sewage'. That's a line that might go for the novel, too.
Besides, if you pick this up in the departure lounge and are looking for an enjoyable few hours read onboard your flight, you'll not be looking for an in depth study of the country, and you'll probably settle for the easy read, the sassy lines and the rather enjoyable make-believe you'll find in Bangkok Free Fall.