æ: The last time you spoke with Fridae, which was two years ago, you were the opening DJ for Tony Moran for the Lah! Mardi Gras party in Singapore. You've since been travelling around Asia and the US playing gigs, tell us more about that.
Yeah, the last couple of years have been really productive! I've just come back from playing Scandal at The Factory in LA. Scandal is a major party on the LA circuit and The Factory is where I first started going out when I used to live in LA. So it felt like I was coming back one full circle, it was pretty surreal. :) My gig for the Shangri-la party at The EndUp in San Francisco was also an amazing experience. It was my second time playing there and I'm happy to say that there's a growing fanbase for my music in the States. I cannot say enough how much I appreciate that kind of response! Also, I finally made my debut in Sydney, Australia!
æ: It's quite an impressive line-up for Paradise Festival in Hawaii, this has to be a big milestone in your career. Are you nervous?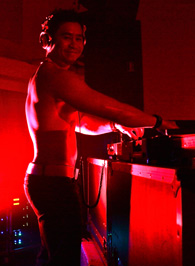 Johnson Ong aka DJ Bid Kid
I can say that this is one party I'm definitely looking forward to! I won't say that I'll be more nervous than usual. I always get the butterflies before going in the booth regardless, but by the third track I'm usually in the groove and having fun.
About the Paradise line-up, with over 20 of the biggest names from the US and around the world, it is pretty insane! People are saying there hasn't been a line up like this in years! I'm playing the VIP T-Dance party on May 13, sharing the booth with Brett Henrichsen, who is a superstar veteran and the man behind the Masterbeat music site and parties. It just blows my mind that I am sharing equal billing with all these amazing superstars, so I'm still trying to wrap my mind around it. Ok, now I'm REALLY nervous!
æ: It's rare for DJs from the Asian Party Circuit to be included in international or US events such as these, how did you manage to get in the line-up?
I'm still trying to figure that out. How does a little Singapore boy get himself to Hawaii to swim with the big boys? LOL. Ok, so the organisers of Paradise are the same guys behind Scandal in LA. This would be the third party I'll be playing for them, so I guess they must really like me! :)
More seriously, I think Asian DJs are coming into our own and bringing our own sounds and nuances to the international circuit scene. DJ LouisT, who is a good friend of mine, just played the Sydney Mardi Gras Weekend Homesexual Party which is a major party on the Australian party calendar. I've played a couple of international parties too and now Paradise Festival in May, so yes, I think we are making some progress here. There are also many newer Asian DJs coming up and trying to establish themselves, so I think it's just a matter of time. With more support from promoters and party organisers in Asia to elevate the status of Asian DJs and not just see them as second-rate talents, I think it will not only help Asian DJs break into the international scene, but will also create a more vibrant and sustainable scene in Asia itself. Now, with Louis and myself breaking through this imaginary glass ceiling by headlining international parties, I hope Asia will start believing that homegrown DJ talents are as good as any other!
æ: What else have you been up to, music-wise?
I've just been having a ton of fun working on productions. I feel I've got a much better handle on it and not struggling as much as when I first started about two years ago. I love how remixing or producing an electronic dance track is as much a technical process as it is creative. You gotta know your shit and be creative at the same time! It's all still a learning experience for me every time, and I'm still developing and fine-tuning my sound. Now I'm just waiting for that call from Lady Gaga or Britney to get me to produce an official remix. LOL.
æ: Who are you listening to these days?
Definitely a whole lot of Paulo. His sound is in a word: sophisticated. Everything he does in his productions is deliberate and counts for something and I love that. The whole hard-hitting booming tribal is great, but sometimes it gets too noisy and becomes really tiring. For Paulo, it's not just about the beats, it's about movement, it's about breathing space, and it's about telling a story. I'm also listening to Midnight Society, Chus & Ceballos, Chocolate Puma. Those guys are as incredible and amazing.
æ: Who are the other emerging DJs from Asia that we should be excited about?
There are several that are creating some buzz right now, including DJs Head, Spectrum K, Saru, Preeda Tony and the Filipino DJs, Brian Cua, Jay Santos and Toy Armada are making themselves heard. Brian is putting out some pretty great productions and is famous for his Glee remixes which the boys love!
æ: Last year was an especially trying year for you, what happened and how did you get through it?
In a nutshell, my Dad fell really sick with liver sclerosis and needed a new liver, and so I donated half of my liver to him. It was definitely a particularly trying period for me and my family but everything worked out. Except for a couple of complications, my Dad is recovering well. My recent blood tests and ultrasound checked out, so I'm totally fine. I'm also back at Pure Fitness gym, after three months post-surgery, working out with a really great trainer, who helped me with rehabilitative training and getting my strength back.
Through the ordeal, I received so much encouragement from friends and supporters and I'm really grateful for all of them. It really did help me get through that difficult time. Some people have said what I did was heroic, but I don't consider myself a hero at all. If anything, I don't want to be a hero! To me, it was not an option. Without a new liver, my Dad would have died, and so I was his best hope. If it was the other way round, either of my parents would have given up their liver for me. It is just the way the cookie crumbles.
æ: Has it changed who you are or affected you in any way?
In some ways I'm still dealing with it. Getting used to the huge scar on my body is one of it and having to come face to face with a parent's mortality also makes you think about your own. It's made me think about having kids and a family and also my spirituality. This could be a whole other interview altogether, so I'm just gonna leave it as that.
æ: You were one of the PinkDot Ambassadors in 2010, how was that experience for you?
PinkDot 2010 was an even bigger success than the inaugural year and I was very proud to be a part of it. It's just really great to see the whole community and our supporters come out in full force for one day a year to proclaim our "Freedom To Love!" This year's Pink Dot coming up on June 18 will have the Dim Sum Dollies as the 2011 ambassadors, and I hope the dot keeps growing! It's through events like these that give our community the confidence to be who we are and I believe it really helps individuals to live their lives openly, to come out at work and in schools. I get the sense that, among my friends at least, we are just going, "Fuck it! Enough of this s377A legislated bigotry bull-shit. We deserve the same amount of respect and equality like any other Singaporean." I'm using pretty strong words, but I know I'm not alone in this.
æ: What do you think is one of the biggest concerns for the LGBT community in Singapore? In the region? Is there anything you plan to do?
HIV education and prevention, definitely. The decriminalisation of homosexuality in Singapore is still a sticking point. The irony is that section 377A is proving to be a great hindrance to effective HIV prevention outreach, because technically you are not supposed to give out literature that promotes something illegal. So, educating gay men about safe sex is not allowed because the sex act itself is illegal in the first place. People think that leaving s377A on the books with a promise by the government not to enforce the law is of no consequence to anyone, but really, it has more far-reaching ramifications than people realise. We always think of ourselves as an educated, intelligent and practical society, but in this instance, we are really unenlightened fools who deserve a hard smack on our collective head.
I am just doing what I can, including mouthing off during interviews like this one, but I really don't see myself as an activist. But then again, I don't think you need to be an activist in order to bring about change in society. We all have the ability to influence friends, family and colleagues about matters that are important to us. Discussing issues openly has the potential to change people's hearts and minds. Being an Ambassador for PinkDot started a string of events that led to my recent coming out to my family (finally!), though I'll reserve that story for another time. For today, I'd like to encourage EVERYONE to come out to their families, colleagues and anybody, especially those you think are homophobic. Just stick it in their faces. Make no apologies, cos you were "Born This Way, Baby!" :) It begins with each one of us.
æ: When is the next MUSE party coming in Singapore? And what's next for you?
MUSE, yes, thinking about it. :) After Hawaii, I'll be heading to Beijing to spin at Destination on May 28. That's a great club and Beijing is a beautiful city so I'm really looking forward to be back there again! After that, I believe I'll be heading off to Shanghai again for D2. I'm truly blessed! :)