Thirty years since the discovery of AIDS, the world appears to be ready to look at the epidemic with a more optimistic lens: the death rate is going down in many parts of the world, thanks to innovation in anti-retroviral treatment, and there's a global decline in new infections. This week, in a high-level meeting of more than 40 heads of states and ministers, the United Nations will set a new direction in the battle to eliminate HIV and AIDS. There will be the usual political wrangling and hostile debates over the next global political commitment on HIV and AIDS, especially on the issue of funding the global HIV response, but there is no denying that sense of hope prevailing among HIV and AIDS activists.
Unfortunately, that spirit of optimism will not reach Philippine shores. Citing government reports, the United Nations said that the Philippines is one of the only seven countries worldwide that diverged from the global trend: the country is experiencing a sharp rise in HIV infection, from one new infection a day in 2007 to five to six a day in 2011. The Department of Health's official HIV registry is not showing an unusual rise in HIV deaths, but stories of deaths among young men (who had sex with men) due to AIDS-related complications are circulating within the gay, bisexual and transgendered community. These deaths, mostly a result of late diagnosis of HIV status and failure to access treatment, are increasing but remain undetected because of stigma: families of those who perished refuse to report the real cause of death.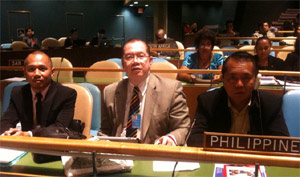 Jonas Bagas (left) with the Philippine Delegation to the
UN High Level Meeting on HIV and AIDS inside the General Assembly.
We can only blame complacency and the lack of political leadership for the emerging HIV epidemic in the country. The government has been warned that the Philippines has all the necessary ingredients for a full-blown HIV epidemic, but authorities have taken false comfort from the fact that it has not reached the general population yet. That there is no large-scale HIV epidemic in the country is a product of our moral values, thus proclaimed former President Gloria Macapagal-Arroyo in a statement that captures the attitude among politicians toward the virus.
But HIV experts have warned that it is just a matter of time for the epidemic to reach the general population. Migrant Filipinos, especially women, are still considered vulnerable, but government data show that the epidemic remains concentrated: 80 percent of new infections have been transmitted through unprotected male-to-male sex among young Filipinos, mostly in urban centers (more than half of new cases are in Metro Manila); injecting drug users are the drivers of HIV infection in Cebu, and in some areas, new HIV cases are being reported among people in prostitution or sex workers. Unofficial projection by epidemiologists indicates that in five years, three out of 10 men who have sex with men and transgenders would be infected by the virus.
Countries that were able to halt their HIV epidemic have shown the importance of reversing and stopping microepidemics. It might be politically convenient to ignore the growing HIV infection among gays, bisexuals, transgenders, sex workers and drug users. The government can always resort to populist moves – conducting raids on gay-sex establishments, pursuing policies that treat condoms as evidence of criminal activities, or rounding up sex workers and drug users. It will get good media mileage, or perhaps some votes, but it won't stop the virus from spreading.
Doing so, in fact, smacks of idiocy, a willful rejection of the growing evidence of what works and what doesn't in addressing the HIV epidemic. Thirty years of AIDS have produced a body of lessons that could and should guide the Philippines: the importance of promoting large-scale and evidence-based safer sex interventions, not just abstinence; encouraging voluntary HIV counseling and testing; improving access to treatment; care and support services for Filipinos living with HIV and AIDS; and removing discriminatory barriers to access to HIV services, including those that stigmatize those who are vulnerable to HIV infection.
These are not rocket science, but the application of these standards is already revolutionary because of the big leap in perspective that they require from the political leadership, especially from President Aquino himself. He has no choice but to confront this legacy: ignoring it, the approach adopted by his predecessor, will only add fuel to the fire.
For years, the country's HIV and AIDS programs have mainly been delivered by civil society groups and by government agencies that heavily rely on foreign donors. The government must step up its response by putting money and action behind its commitments to combat HIV and AIDS. It still can reverse and halt the epidemic, but the first step is to have the political will to do it.
Jonas Bagas is the civil society representative of the official Philippine delegation to the United Nations High Level Meeting on HIV and AIDS, which is taking place in New York from June 8 to 10, 2011. The meeting, which will gather more than 40 heads of state and ministers, marks the 30th anniversary of AIDS. Bagas is the vice chair of TLF Share, an NGO for the health and human rights of Filipino gays, bisexuals and transgenders.
This article was first published by the Philippine Daily Inquirer on Jun 10, 2011 and is republished with permission from the author. Jonas Bagas is also the Coordinator of the Akbayan LGBT Collective.