The Q! Film Festival, the largest of its kind in Southeast Asia, will screen 86 movies from around 25 countries.
Having faced harsh criticism and threats from Islamic hardline groups last year, the festival this year is keeping a lower profile with less exposure in the mainstream media and on social media networks. Even the festival's website will be updated less than a week before the opening to "avoid and give less-space to certain radical groups to grab information about the festival," festival co-director Meninaputri Wismurti told Fridae.
Organisers also say they are working directly with and have the support of Indonesia's Human Right Commission, Law Advocacy Help and other human rights NGOs including Kontras (The Commission for "the Disappeared" and Victims of Violence) and LGBT group, Arus Pelangi.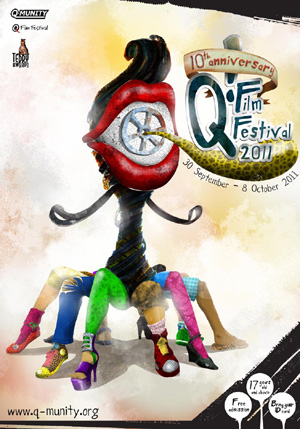 Attendees of the screenings have to register themselves as a Q! Film Festival member. Members have to be above 18 years old and the membership is only valid during the festival dates each year during which all screenings are free.
Highlights this year include Bad Girls. Cell 77, directed by Janusz Mrozowski from France/Poland. This film conveys the dynamics between female inmates and their talks about men and freedom. Claudette, directed by Sylvie Cachin from Switzerland tells the story of a commercial sex worker who was born as an intersex (posessing two sexes). HIV: Hey, It's Viral! directed Salome Chasnof from the US is an education video made by youths explaining about HIV and sexuality in a simple and fun way. …Dalam Botol, directed by Raja Azmi (Malaysia) tells the story about a man who went through sex reassignment surgery for his lover and how his life changes afterwards. Role Play, directed by Rob Williams (US) is about the meeting of two men from different backgrounds and their different sexuality problems. Q!FF will be attended by international directors such as Janusz Mrozowski and Raja Azmi Raja Sulaiman.
For screening schedules and venue details, visit the Q! Film Festival website.