In a speech to mark Human Rights Day, which is celebrated annually across the world on 10 December, US Secretary of State Hillary Clinton declared that protecting the rights of gay, lesbian, bisexual and transgender people is "now one of the remaining human rights challenges of our time" and compared it to the battles for women's rights, racial equality and religious freedom.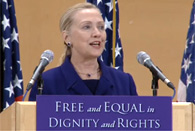 US Secretary of State Hillary Clinton
Speaking at the United Nations' human rights body in Geneva, she noted that obstacles to gender equality in much of the world "rest on deeply held personal, political, cultural and religious beliefs."
"Some seem to believe it is a Western phenomenon, and therefore people outside the West have grounds to reject it," Clinton said. "Well, in reality, gay people are born into and belong to every society in the world."
She challenged other governments to join U.S. efforts after President Obama directed U.S. agencies working overseas to help combat the criminalisation of sexual orientation and to enhance efforts to protect gay and lesbian refugees and asylum seekers.
The transcript of the speech can be found here.