Jennifer Chang and Lisa Dazols are a couple from San Francisco who embarked on a year-long world tour in June in search of gay people who are creating change for the LGBTQ community. Their project, Out and Around: Stories of a Not-So-Straight Journey, is a collection of their conversations with these "Supergays" around the world. Their trip will cover 15 countries across Asia, Africa, and South America, chosen because those are places where the LGBTQ movement is just starting to take shape, and they want to tell the stories of the people there who are leading the charge. Fridae will republish selected interviews on a regular basis. Readers can follow their journey on www.outandaround.com.
Just how far would you go to help out your community? This is what I asked myself when I visited Betu and Maya's home in South Delhi where they provide transitional housing for lesbian and bisexual women as well as transmen who find themselves disowned by their families or in danger after coming out. Through their organization, Sangini, Betu and Maya (pictured left) host an average of 20 "guests" a year in their home and at times risk their own safety to do so. While they rarely talk to local press so as not to disclose their location, they graciously welcomed us into their home.
When I ask Maya about stories that stand out for her she tells us: "The most dramatic situation was of two women who relocated from another city. The family of one of the two women was extremely well off. The father didn't leave a stone unturned to get his daughter back. He bribed the police to attack our house. It was a violent attack. They tried to break open the house with gas cutters and hammers. I was detained by the police for five hours. They dragged me out of the house and paraded me to everyone in the neighborhood." Shocked by this story, I asked them why they didn't have a security guard. Betu, weighing no more than 110 pounds and standing not taller than 5'3 tells us, "I'm a person who is not afraid of anything. I have a black belt. I used to work for security also."
Maya and Betu have worked hard with officials to gain support for their non-profit organization. Since the decriminalization of homosexuality in 2009, the law also stands on their side. They work closely with the women before they separate from their families to find any other alternative first. Sangini provides a monthly support group and a weekly phone hotline for women all over India. Maya tells us, "People call us for support. If they are in imminent danger and have to leave their homes, we plan it out. We ask them to get their documents and belongings. People bring their whole lives. It's quite traumatic for people to leave their house. Nobody wants to leave their home like this. There is a reason people stay at home. It is not only because they are forced to live there. It is because they love their parents."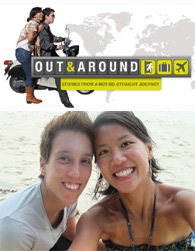 Lisa Dazols and Jennifer Chang (right) are a couple from San Francisco who are travelling around the world for a year interviewing "supergays" and blogging about them on their website www.outandaround.com.
As a house rule, Maya and Betu request that any guest first call their families to tell them they are safe and that they will not be returning home. They are then asked to turn off their cell phones so that their location cannot be tracked. Maya says, "In the beginning, some of the women have to stay inside the home as we assess for their safety. There can be a fear of being abducted. Once this is sorted out, we help them to sort out jobs and housing."
Maya reminds us that seeking safety is only the first step. Maya says, "Everybody wants to be good in front of society. Nobody wants to show society that they've run away from home. There are all these self-doubts and most people feel guilty when they come here. Our first intervention when they arrive is trauma counseling." Yet Maya proudly tells us that with time, their guests are able to gain their own independence. Their guests spend an average of two months in their home and almost all find their own jobs and set appropriate boundaries with their families.
Betu co-founded Sangini in 1997 because she recognized that queer women have more challenges in India than gay men. Most adult women live with their parents until they get married and gender inequalities get reinforced. Betu says, "Gay men have more freedom. They don't have to tell their parents where they are going. They can just say they are going to see a friend. Gay women have to leave a phone number behind, explain to her parents where she is going, and what time she'll be back. That freedom is not there."
So Betu and Maya continue to keep the doors of their guest rooms open an their house fills with visitors, epecially over the holidays. Betu gets to the heart of what motivates them to continue when she says, "It's really rewarding when we see women who have settled down and who are living with a partner, working, saving money and independent. For them we are their family now.
Sangini is a non-profit organization that does not receive support from the Indian government and runs of private donations. For more information you can financial support Sangini, you can contact Betu or Maya at info@sangini.org