The body of Nor Ain Shafnie Mohd. Azizi, 16, was found at a palm oil field at in Gua Musang, Kelantan last week, according to Kosmo!, a local Malay-language newspaper today. (The case has not been reported in the English-language media at the time of this writing and this report has been translated from the report in Kosmo!.) The police believes she was killed and burnt about two weeks ago before her remains were discovered by a passing lorry driver. Her remains were found about 500m from her house.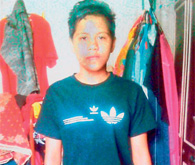 [Caption]
Gua Musang Police chief Superintendent Saiful says the police are still waiting for the coroner report to find out whether the "tomboi" (tomboy) was burnt alive or killed before being burnt.
"At this stage, we know Nor and her motorcycle were burnt. The police found the burnt human carcass including some personal belongings at the scene of the crime," he told Kosmo!.
According to him, the police are investigating the motive for the murder and did not refute the possibility that the killing had connections with drugs and people who were known to the victim.
Nor, who had left school, is known to have been missing after last seen leaving her home on 3 April.
Six men and two women aged 17 to 30 have been asked to assist in the investigation. Police chief Saiful says the police is in the process of apprehending several more suspects to assist in the investiations of Nur's murder.