On Sunday 29 April, Singapore's TV station MediaCorp did a live telecast of their Star Awards 2012 Show 2 at Marina Bay Sands.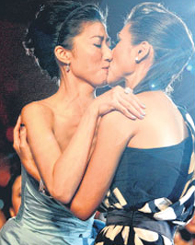 When the Top 10 Most Popular Female Artistes were announced, actress-host Vivian Lai was so overjoyed to hear her name that she stood up, embraced her fellow actress Kate Pang, and then kissed her on the lips before going on stage to accept the award.
For most viewers, this was a non-incident. There was no suggestion that the one-second kiss was anything more than a friendly gesture – both actresses have squeaky-clean reputations, and are married to men with children.
Nevertheless, local Mandarin daily Lianhe Wanbao did a sensationalistic article on the kiss. It noted that many of its readers had called the newspaper hotline to say they had been offended by the scene, regardless of how others might see women kissing women as "trendy".
Local English tabloid The New Paper also ran a story today, reporting the actresses' reactions.
Lai told reporters that the kiss had been completely unplanned, and the whole story had been blown out of proportion, "How I show my happiness is up to me to decide. Why should I watch what people say?" she said.
Pang agreed, saying the two women were close like "sisters". Judging from a poll conducted by the same newspaper, it appears that most people in Singapore feel the same – 62% of respondents thought that it was no big deal.
Shamefully, MediaCorp has stated that in its repeat broadcast of the awards show, footage of the kiss will be censored.
MDA involvement
As of today, a number of other news websites such as STOMP and AsiaOne have reported on a newer and apparently more troubling development in the story: the involvement of the Media Development Authority (MDA).
In a statement to STOMP, an MDA spokesperson said, ""Free-to-air broadcasters are expected to adhere to the free-to-air TV programme code. MDA is currently looking into this to see if there is any breach of our content guidelines."
As all queer Singaporeans know, the TV code is horribly homophobic. It states: "Information, themes or subplots on lifestyles such as homosexuality, lesbianism, bisexualism, transsexualism, transvestism, paedophilia and incest should be treated with utmost caution. Their treatment should not in any way promote, justify or glamorise such lifestyles. Explicit depictions of the above should not be broadcast."
Given our knowledge of the way MDA works, this "investigation" is actually fairly routine.
Whenever complaints or controversies emerge regarding the broadcast media, it is their duty to follow up.
This particular kiss could not be regarded by any sane mind as a promotion or justification of same-sex romantic relationships. Therefore, this reporter believes that no punitive action will be taken.
A personal response
And yet, as an activist, I almost want the MDA to take action. The institution has demonstrated its anti-gay prejudice so many times that I'd like to see what happens when it's exercised against straight people.
As you may remember, in 2006, it imposed a fine of S$20,000 on Starhub Cablevision (SCV) for airing an episode of Cheaters in which a man and his bisexual girlfriend reconciled their relationship by agreeing to have threesomes with women.
In 2008, it charged SCV S$10,000 for airing a commercial by pop singer Olivia Yan. This contained an extract of a music video in which she played a lesbian and shared a romantic kiss with actress Pei Lin.
The same year, it fined the organisation S$15,000 for an episode of home and décor programme Find and Design which featured two men in a committed relationship, converting their game room into a nursery for their new adopted baby.
Now, imagine what would happen if MDA were to impose a fine on Vivian Lai and Kate Pang – two attractive, young, heterosexual women doing something performing a gesture of sisterly affection.
The average Singaporean might actually be woken up to the injustice of the current TV Code.
They would realise that homophobia hurts straight people too. Maybe they'd write in to urge the papers to change the laws, even hold same-sex kiss-ins on live TV.
MDA wouldn't be so stupid, of course. But some damage has already been done. Lai and Pang's careers may suffer, and henceforth all celebrities in Singapore will have additional cause to feel nervous about displaying friendliness among people of the same gender.
This isn't any one organisation's fault. The Lianhe Wanbao, the MDA, MediaCorp, and the idiotic viewers who complained in the first place are all culpable. We, as a nation, evidently still have a neurotic problem with something as simple and beautiful as a kiss.