Imagining Gay Paradise: Bali, Bangkok and Cyber-Singapore
By Gary L. Atkins
Paperback 336 Pages
Published by Hong Kong University Press
People whose sexual-orientation or gender differ from those of the majority have always had to create their own island homeland, their place to belong. For most of history, and for most of us, this has been the internal bubble we inhabit inside the closet of our own minds.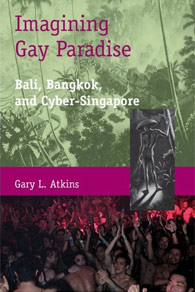 For the daring or the lucky, these homelands have taken concrete form and their denizens have been able to live among their fellows in the small permanent spaces carved out in the Castro, Greenwich Village, Soho and the other gay villages of the world's metropolises, or in the temporary night-time worlds of stage, bar and sauna. A very few of the most talented amongst us have envisaged and built their own worlds, places where, as Christopher Isherwood has put it, our tribe can live uninhibitedly. Some of these gay paradises have been in Asia.
Gary Atkins, Professor of Communications in the College of Arts and Sciences at Seattle University, examines some of these in his new book Imagining Gay Paradise: Bali, Bangkok and Cyber-Singapore. On one level, this is an account of a series of lives, intertwined by theme rather than personal history, for it seems that only the last couple in the series are likely to have ever met. On another level, the book is an examination of the response of a series of creative figures who, pushed to the margins in some way by the societies in which they were born, fought back and made their own lives, in the process affecting the lives of many our tribe.
Atkins does not make this book a chronological series of biographical tales, but intersperses them, one with the other, to bring out the way the history of such unconnected lives resonates with similar themes. Thailand figures largely with three characters, the most detailed of whose narratives is that of King Vajiravudh, Rama VI, who came to the throne in 1910. He was a man far from the mould of Thai royal manhood. His father, King Chulalongkorn, had over 150 wives and fathered over forty children. He was surrounded in his palace by a harem of 3,000 women. Vajiravudh preferred to surround himself with attractive young men and to spend his spare time writing plays and sponsoring the arts. He married unsuccessfully and died childless.
The second, and smallest story from Thailand is that of gay American journalist Darrell Berrigan, editor of the Bangkok World, who was murdered in scandalous circumstances by a gay pick-up in the back of a car in 1965.
The third is Khun Toc, founder and impresario of Bangkok's continuing gay paradise, one known to many of us, Babylon.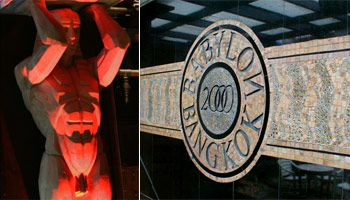 Atkins mixes past and present outside Thailand, too. Much of his book covers the life of German painter Walter Spies, the man who largely opened up Bali to the consciousness of the West before the Second World War, and who failed to escape with his life when the ravages of both Dutch homophobia and Japanese aggression devastated his personal gay paradise on the island at the start of the War.
Finally, Atkins details the life of Dr Stuart Koe, the founder of the electronic portal to a modern gay paradise you are reading at this very moment. Atkins chronicles the LGBT struggle in Singapore and describes the rise of Fridae, the nation parties, and battles for the LGBT community in Singapore and beyond.
Aside from his professional writings on journalism, Atkins has written before on slightly similar themes in his 2003 Gay Seattle: Stories of Exile and Belonging, which covers 100 years of gay men and women's imagining not just their 'coming out' in the Pacific North West, but their 'coming home.' This work received both a Washington State Book Award and, rather amazingly, a national Jesuit Book Award.
His background in media studies has given him a racy, journalistic style of writing that strongly and clearly carries his narrative lines. His prose is thankfully unencumbered by the impenetrable 'Queer Theory' style of English (a style in which vocabulary has acquired, alas, a function akin to that of rogue protein snarling the tangled knots of cells in an Alzheimer-afflicted brain). You can read Atkins with pleasure and without having to lug a dictionary around with you.
This is not to say that some elements of Atkins's prose do not present their own difficulties. He has the journalist's habit of trying to short circuit grammar and full exposition by brevity and sound bite, and this can affect a reader not prepared to give an author's style leeway in order to get at what he's trying to say. He also has several obsessions. Like Mr Dick in Charles Dickens' David Copperfield, Atkins has his own King Charles's head, and in Atkins's case it's Johann Jacob Winckelmann, the 18th Century German aesthete murdered by a male hustler after he had had time to found the modern study of classical form. Winckelmann obtrudes in the most unlikely and inappropriate places in Atkins's account. It is as if he were the only source of the ideals of male beauty recognised in the West. It is simply incorrect to attribute all western ideas of male beauty to 'Winckelmann'. It is also inappropriate to describe beautiful men as 'Winckelmann-style', as if Winckelmann himself represented an ideal of male beauty (this, of course, he did not, and this is a fault of Atkin's style rather than of his intention). Not far behind Winckelmann in terms of irritating repetition come Scriabin and Nosferatu, both interesting in the ideas and connections they at first embody, but rapidly becoming staler and staler as they are over-exposed. There is just too much attempt at cross-connection here.
I would counsel, though, not being put off buy these mental ticks, for there is a huge amount to be gained by reading this book, not least the very full and sympathetic coverage of the principal characters who created their own gay paradises. There is a world of real Asian gay history to be mined here inside the imaginative constructs of these gay paradises. You can mine this book with pleasure.
Atkins seems unsure whether he has identified any unifying cause for Asia's becoming the birthplace of such experiments in gay living. I think perhaps he has not. I have my own personal view, though, one totally subjective and utterly incapable of substantiation, and for which you must blame me rather than Atkins (though I think he may sympathise with my view). It is that both Asian and foreigner alike so see the magic in this incredible continent and its peoples that if they were called upon to locate a paradise on earth, it would be here. Only here, for instance, could Spies find Blake's vision:
Mutual Forgiveness of each vice
Such are the Gates of Paradise.
My heart, I confess, is with Vajiravudh, Spies, Khun Toc and Koe, and with the Persian poet Jami, whose words are immortalised on the walls of the Red Fort in Delhi:
If there is a Paradise on Earth it is this, it is this, it is this.
The next public discussion of Imagining Gay Paradise is scheduled for Saturday, June 23, at Seattle's Elliott Bay Bookstore. The event, at 2 p.m., is part of Seattle's LGBTQ Pride weekend.