Organisers of Viet Pride say some 180 people – while various media outlets have put the number at about 100 – pedalled through Hanoi on Sunday at the inaugural Viet Pride parade.
Although Fridae and other news outlets have reported that the bike ride is the first gay pride parade ever to be held in Vietnam, an International Herald Tribune blog reported that a "large gay parade, while not overtly political" was held in the resort town of Vung Tau, a city in southern Vietnam, a decade ago.
The 3-day Viet Pride festival is supported by the Center for Studies and Applied Sciences in Gender, Family, Women and Adolescents (CSAGA); Institute for Studies of Society, Economy and Environment (iSEE); and Information Connecting and Sharing (ICS); venue and in-kind sponsors Goethe Institute, Lebox Produktion (Sweden) and Hearst Entertainment (US); and in-cash sponsors Embassy of Sweden and Embassy of Canada.
Parade spokesperson Nguyen Thanh Tam told Fridae that the event had gone ahead "without any serious intervention" from the authorities but she declined to comment on whether any permits have been sought or given. News reports meanwhile have reported that the event did not have official permission.
She added: "There were no protesters against the parade. The feedback from the LGBT community was overwhelmingly positive and attracts lots of attention from media and public."
Although homosexuality is not illegal in the former French colony, it remains largely taboo as Vietnamese society is influenced by Confucian social mores that places emphasis on tradition and family.
Last month, the country's Justice Ministry announced that a special consultation about same-sex marriage was underway and is expected to be discussed at the National Assembly congress in 2013. Should it go through, Vietnam will be the first Asian country to legalise same sex marriage.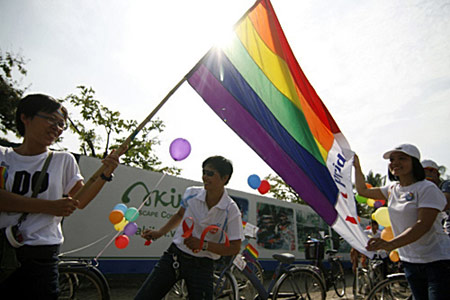 All photo courtesy of Viet Pride