You will not meet this particular Jason Chiu in Hong Kong, for Marshall Moore kills him off in the second of the short stories in his new collection, The Infernal Republic, but you will perhaps have met a few boys you fancied who would fit his description:
Everything about him said money: the Dolce & Gabbana cardigan over a T-shirt from agnès b., the Marc Jacobs bag at his feet, the accent that was more London than local. His fashionably tousled hair was too symmetrical to be the result of a bad night, too perfect. Marmoreal skin worthy of the light in a Vermeer completed the effect; he knew he was flawless and exfoliated accordingly. I saw rebellion in one detail, however. Gold studs adorned his left ear, nailed through the cartilage as well, which had to have hurt.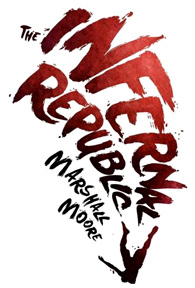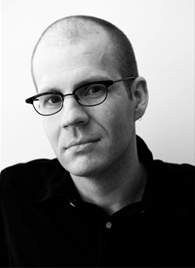 Marshall Moore
Having to hurt but still enjoying the ride is at the heart of many of the stories in this collection, which Moore, novelist and short story teller, has brought forth to mine and mock the zeitgeist, this time from his own new Hong Kong publishing house, Signal 8 Press. I caught up with him in Volume HEAT restaurant over a slight supper and talked to him about his life, his writing and his new publishing venture.
Despite the crystal-clear appreciation of at least some of Hong Kong's mores revealed in his new book, he has not been here that long. His roots are in eastern North Carolina, where they run deeper than most; his family believes it is descended from a union of the local American Indian tribes and the surviving settlers of England's Roanoke colony, lost between 1587 an 1590. He claims, too, that some French, Spanish, Portuguese, Welsh, Scots, Irish and Dutch blood mixes in his veins, something to which those of the biologically determinist persuasion might attribute the eclectically exotic timbre of his work. These southern origins, Moore thinks, have entered deeply into his style. The real southerners he knows pick up immediately on his use of language and the importance of place in setting the background to his fiction.
Through learning sign language to enable him to communicate with his deaf boyfriend, Moore worked at Gallaudet University, Washington DC's university for the deaf, living the while there and in Maryland. In all, he worked for fifteen years interpreting for the deaf and hard of hearing. Those of us who heard him read at one of this year's sessions of the Tongzhi Literary Group can acknowledge that this has given him a great clarity of diction and steadiness of pace which make him a classic narrator and a vivid, if drily droll, exponent of the eccentricities in his texts.
Feeling a need to get out of the States and see the world, Marshall moved to South Korea and taught English for three years at middle school and university there. He'd had some relationships with Asian men back home, so there was perhaps something more fundamental driving him across the Pacific; it's also something that has kept him on this side of the pond as he now shares his life with a Hong Kong Chinese partner, whom he met a year and a half prior to his next move from Korea to Hong Kong in 2008. He's stayed ever since, first as a teacher in Hong Kong's Vocational Training Council and more recently on the staff of the Hong Kong establishment of the Savannah College of Art and Design, which is housed in the old magistracy building in North Kowloon. Here he is once again teaching English.
He has had a love for the language since childhood, when he started writing. His first short story in print, Simon Says, was part of the collection The Ghost of Carmen Miranda published by the gay publishing house Alyson in 1998. After that, his stories appeared regularly in various collections and were gathered up by himself in 2004 in his first book of short stories, Black Shapes in a Darkened Room. This, though, was not his first book, for it was preceded in 2003 by his first novel, The Concrete Sky, a psycho thriller of homophobia and institutionalisation. His next novel, a satire on California's lifestyles, titled An Ideal for Living, followed in 2010 (and was reviewed in these columns on 22 September that year).
"Why now the leap into publishing?" I asked him. "Friends of mine had done this elsewhere," he answered, "and I had long been dissatisfied with the state of the industry, so when I reached Hong Kong and, after some investigation, found it was feasible to set up a publishing house here, my ideas crystallised." Technology has defeated geography, of course and has opened up the industry to publishing online to supplement or even replace the production of hard copies. Moore found a Hong Kong partner for his enterprise and together they established Typhoon Media Ltd and its imprint Signal 8 Press (named after the Hong Kong Observatory signal for the imminent approach of a typhoon). They have built up an international web of contacts to market and sell their books. Their focus, though not an exclusive one, is on writers working in the Asia Pacific region, and their list of writers so far includes Philip Huang, Donna Miscolta, Chris Tharp, Xu Xi and Marshall Moore himself.
"I have found, too, that I am a better editor than I am a writer," Moore added, a remark which seems to me more modest than descriptive of his skills, which, as you will see if you open the pages of The Infernal Republic, are considerable. This is a collection that will revive even the most jaded literary palate. Here you will meet the beguiling Georgina, Damien Hirst's shark; you and your cat Angus will sip chamomile tea while your house is shuttled through space; you will be imprisoned in a Saw-type health farm hell whilst you choose an abomination to improve your character; you will dispose of the dilemmas of your problem child by removing (and replacing for good behaviour) his limbs. Moore's gentle southern demeanour belies an imagination that he allows to run riot over the page like darkly blossoming creepers strangling a plantation mansion.
His mind may be an open field for future psychological research, but his prose is as sharp as scissors and he always offers something to amuse as it abuses. At times he can be graphically beautiful. Here he is in Holland, almost, but not quite, managing to spoil his prose with applied cynicism:
Amsterdam's finest hour comes at sunset. In the same way soft camera lenses flatter aging actresses, diminished sunlight limns the city buildings and canals. The water in the canals, also dark by day, no longer cries out for attention. You don't wonder "what would I die of, if I fell in?" The rich green leaves of the trees deepen. The first lights from the shops and houses switch on and gently rinse the scene with extra colors.
It is unsafe, though, to believe that the waters of that canal hide only carp, for one is never far from the snap of shark jaws in a book by Marshall Moore. Sharks, though, always possessed of a sense of humour and sophisticated style. Moore's is a macabre humour with a long pedigree, at least as far back as Lewis Carroll, whose Duchess could live with comfort in any of the worlds created by Moore. I end with a comparison between the song Carroll attributes to his Duchess:
I speak severely to my boy
I beat him when he sneezes:
For he can thoroughly enjoy
The pepper when he pleases
and Moore's description of teacher Philip, faced with the mother of his problem pupil Chaz:
"We've decided to detach his legs'"[…] Philip had attended a couple of workshops during staff development days at school, but couldn't bring himself to rip the limbs off the terrified test subjects. Time had passed. He had too much on his plate, and the details of his Modular Children refresher courses faded away. "Just for a while," she continued. '"Until he snaps out of it."
Yet, just as one could never imagine that in reality Carroll would ever have dreamed of laying a hand on the hair of any child's head, so one can see that beneath Moore's satires lies a sound morality. Hs tales are very moral indeed. Tease and shock us as he may, his guiding fairy is most definitely Mrs Doasyouwouldbedoneby not Mrs Bedonebyasyoudid.