The secular High Court in Seremban, Negeri Sembilan state, on Thursday rejected a bid by four Muslim male-to-female transgender persons who sought to have the court declare a Syariah law that prohibits men (as well as transgender women who are not officially recognised) from presenting themselves as women unconstitutional. The court further ruled that Muslims cannot be exempted from Shariah legal provisions.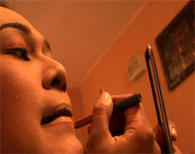 Scene from Pecah Lobang, a 2008 documentary about Muslim transgender sex workers in Malaysia.
Under Malaysia's dual-track legal system with Shariah courts administering certain matters for Muslims, nearly 62 % of Malaysia's 29 million people are Muslims and are subject to Shariah laws.
According to media reports, it is the first known effort to overturn an Islamic Shariah law. The applicants had sought to overturn Section 66 of the Syariah Criminal (Negri Sembilan) Enactment 1992. The section provides for a fine not exceeding RM1000 (US$326) or imprisonment not exceeding six months or both, upon conviction.
The applicants argued that Malaysia's constitution is supposed to uphold freedom of expression and forbid discrimination based on gender.
The case was lodged by Juzaili Khamis, 24, Shukor Jani, 25, Wan Fairol Wan Ismail, 27, and Adam Shazrul Yusoff, 25, who work as bridal make-up artists and typically dress as women.
The AFP reported that all four have previously been arrested for cross-dressing under Islamic law – administered by state authorities – which bars Muslim men from dressing or posing as women. Juzaili and Shukor currently face charges in court and if convicted, they face up to six months in jail.
Counsel Aston Paiva, the lawyer for the quartet says his clients have undergone hormone therapy to help them present themselves publicly as women but are unable to have their official documents changed to reflect their lived gender.
"They (applicants) have been identified to have a medical condition known as Gender Identity Disorder (GID). It is an attribute of their nature that they did not choose and cannot change," he was quoted as saying in a report in The Sun Daily on Aug 30.
"The undisputed medical evidence shows the applicants are biologically male but psychologically female. Thus, it [the law] is not applicable to them."
He added that the applicants cannot conform to Section 66 by virtue of their medical condition, without suffering psychological harm and trauma; and are asking the court to declare the law unconstitutional or by declare that Section 66 does not apply to people like them, who suffer from GID.
Last year, another High Court rejected a bid by a transgender woman to change the name registered on her identity card after undergoing a sex-change operation to become a woman. The 25-year-old former pharmaceutical assistant died weeks later, reportedly of heart problems.
---
Update, from a IGLHRC report Transgender Women's Constitutional Challenge To Sharia Law Fails in Malaysia (Oct 15, 2012):
PT Foundation, an HIV/AIDS organization in Malaysia, reports there are 10,000 mak nyahs (the local term for male transsexuals), in the country. Seventy to eighty percent of mak nyahs are Malay and Muslim while the remaining twenty percent are minority ethnicities. Most mak nyahs do not have gender reassignment surgery because it's too costly and requires travel outside the country. They fear too that their families will not carry out the Muslim burial rites if they are not viewed as a man or a woman.
Malaysian rights advocate, Thilaga, working in the Justice for Sisters campaign for the rights of mak nyah, says, "Transgender people don't report violations by police or religious officers because they don't expect justice. Often, they don't know their rights and lack resources to go to court to fight charges." The four applicants in the Negeri Sembilan case attest to this. Mohammad Juzaili was detained four times in 2010, charged three times, convicted twice and fined 1700 Malaysian ringgit ($550 US); Adam Shazrul was arrested twice, convicted once, and fined 800 ringgit ($260 US); Shukor Jaini and Wan Fairol were each detained twice.