Voters in Maine and Maryland on Tuesday approved same-sex marriage in local referendums on social issues, marking the first time marriage rights have been extended to same-sex couples by popular vote. The same measure is expected to pass in Washington state but the results are not yet final.
Same-sex marriage is not federally recognised, but was legalised by legislators or the courts in six other states (Massachusetts, Connecticut, Iowa, Vermont, New Hampshire, New York) and the District of Columbia.
According to CNN, voters in Maryland and Maine passed referendums by narrow margins cementing the right for people to marry, regardless of gender.
Maine had voted in a referendum against it in 2009, but reversed that decision with 54 percent in favour to 46 percent against.
The words man and woman "relating to the marital relationship or familial relationships must be construed to be gender-neutral for all purposes," Maine's act says. "Civil marriage laws allow gay and lesbian couples to obtain a civil marriage license," reads Maryland's.
Minnesota voters meanwhile turned down the choice to ban gay marriage by limiting the definition of marriage in the state constitution as "between one man and one woman".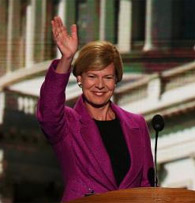 Tammy Baldwin of Wisconsin became the first openly gay person, and and first Wisconsin woman, to be elected to the U.S. Senate.
In another gain for LGBTs in the US, Tammy Baldwin of Wisconsin became the first openly gay person, and the first Wisconsin woman, to be elected to the US Senate.
Citing several LGBT advocacy groups, the CNN noted in a report that there has never been an openly gay or lesbian member of the US Senate. Baldwin is one of four openly gay House members, along with fellow Democrats Barney Frank, of Massachusetts; David Cicilline, of Rhode Island; and Jared Polis, of Colorado.
The report said: "Baldwin made no secret of her sexual orientation as she rose through local and state politics during the last two decades. When she was elected in 1998 to represent Wisconsin's second congressional district, she was the first out candidate to be elected to the chamber, said Chuck Wolfe, president and CEO of political action committee Victory Fund, which supported LGBT candidates including Baldwin this election."
President Obama is also notably the first acting president to support marriage equality. He came out in favour of gay marriage months before the election which pitted him against Republican rival Mitt Romney, who insists that marriage should be reserved for a relationship between a man and a woman.
During his first four-year term, Obama had also fulfilled a pledge to repeal the controversial Don't Ask Don't Tell (DADT) law banning openly gay servicemen and women from serving in the US military.