India has in recent years become one of the more popular avenues for gay male couples from around the world wanting to become surrogate parents due to the country's lax regulations and cheaper costs. However that is about to change as India's home ministry has issued guidelines that will now prohibit same-sex couples, unmarried and single foreigners from having an Indian surrogate bear their child. Under the new guidelines, only a foreign "man and woman" who have been married for a period of two years will be granted medical visas. They must also live in a location where surrogacy is legal, reports the Times of India.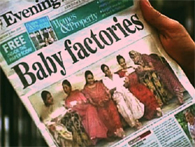 Surrogacy remains controversial issues as many issues related to surrogate motherhood, and the parental rights or custody of a child born as a result of a surrogacy have not been resolved by countries.
Surrogacy remains controversial and is banned in many countries including France, Sweden, Spain, France, and Germany. The Lancet medical journal notes that it is estimated that more than 25,000 children are now thought to be born to surrogates in India; 50% of these are for singles or couples from the West.
In India, the Supreme Court legalised the practice in 2002 and the country has since become the world capital of outsourced pregnancies, whereby surrogates are implanted with foreign embryos and paid to carry the resultant babies to term, according to a Time magazine report in 2010.
The San Franciso Chronicle reports that having a surrogate mother in India carry a child would cost a fraction of the US$60,000 to US$150,000 going rate in the United States.
The new guidelines are said in part to protect women from exploitation. The rules mean women wanting to act as surrogates must be aged between 21 and 35, and there are limits on the number of embryo transfers and live births they can undergo.
According to a Times of India report, many babies born out of cross-border surrogacy in recent years have been trapped in legal tangles between the home country and India. It cited a case in which a pair of twins borne by an Indian surrogate in 2009 for a Norwegian woman was stranded for over two years as Norway refused to accept the Norwegian woman as the biological mother of her child.
The home ministry now requires foreign couples to furnish a letter from their country's foreign ministry or embassy in India certifying that their country recognises surrogacy. The foreign country must also undertake to allow the child or children born to the Indian surrogate mother to enter their country as a biological child or children of the couple.
The Indian home ministry highlighted that the common practice of gay couples making surrogacy arrangements in India while on a tourist visa will no longer be accepted.
Aditya Bondyopadhyay, a gay rights activist and lawyer based in New Delhi, India, has called the new policy "homophobic."
He told Fridae: "This is a ban that is being decided at a policy level and on an area that does not require legislation, namely Visa Policy, which is an executive prerogative of the government... So effectively the government has said that India will not let same-sex couples, single persons and unmarried couples come to India on a visa and have a surrogate baby."
"All persons coming to India for surrogacy would have to get a medical visa and the requirement says that on applying for medical visas you have to declare the nature of medical help you'd need in India. Quite simply, if you say you are here for surrogacy, you would be denied a visa," he added.