This multi-hyphenated American celebrity chef has added one more thing to her already crowded plate – a restaurant in Singapore which is her first outside of the United States.
With the launch of Ocean Restaurant by Cat Cora at Resorts World Sentosa, Cat Cora has become the only female chef to have an outpost in Singapore joining a market saturated with celebrity chef restaurants by the likes of Guy Savoy, Daniel Boulud, Mario Batali, Joel Robuchon, Wolfgang Puck and Tetsuya Wakuda. Ocean will feature many of the Mississippi-born Greek-American chef's signature dishes with Mediterranean-Californian influences and an Asian flair.
The Culinary Institute of America graduate shot to fame on the Food Network's Iron Chef America, a reality cooking game show based on the Japanese cult classic, Iron Chef. She was the first and only female chef since 2005 until joined by chef Alex Guarnaschelli last year.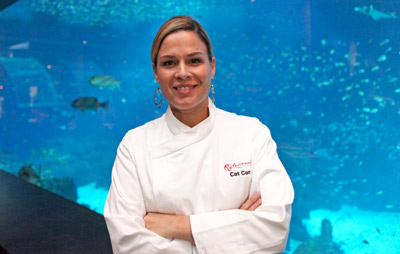 Cat Cora at her new restaurant Ocean Restaurant by Cat Cora
at Resorts World Sentosa in Singapore
The petite but feisty 45-year-old now runs five restaurants, two food and a cookware line and co-hosts Around The World In 80 Plates with Australian TV host-chef Curtis Stone which premiered on the Bravo cable TV network last year. It will premiere in Asia on the TLC cable channel on March 13.
Often photographed on the red carpet with her wife, Jennifer, of more than 10 years, the couple is in a domestic partnership in California where they live. They have four sons – three by Jennifer and the youngest by Cat in 2009. Aside from running five restaurants, two food lines, a cookware line and a soon-to-be launched footwear brand, Cat is also the founder of the charity Chefs for Humanity which promotes nutrition education, and provides hunger relief and humanitarian aid.
We met with the petite but feisty chef at her new restaurant – located in the S.E.A Aquarium in Sentosa – who tells us in her charming Southern twang about her family life, wanting to carry a baby, and how she feels she has a responsibility to speak out and help the younger generation.
æ: Have you always been out as gay even before your TV debut in 1999 (as co-host of Food Network's Melting Pot)? How do your experiences influence the charity work that you do today?
Cat: I came out when I was about 19 years old to my parents. I grew up in a very accepting family before I came out. But it's always difficult to come out especially when you're in your teens. It's pretty tough. I came out in a different time 25 years ago; things have definitely changed tremendously today. I think there are a lot of kids who face intolerance which is sad.
I try to do and have done some campaigns and fundraisers for different organisations in the US to help young gay teens that are troubled or that aren't getting acceptance or are finding a lot of intolerance so that they don't hurt themselves or do something that would be tragic. And to let them know that it does get better. Even though I grew up in Mississippi and it seems like a very, very oppressed area, I didn't feel really oppressed after I came out to my parents, that's probably because I had a very loving home. But I did face inner turmoil before I came out, it's really difficult not to be out and to be in hiding.
æ: As an openly gay chef in the US, have you encountered any difficulty in introducing your wife and children in any particular situations especially outside of the US? How has it been in Singapore so far and in countries where it might be an issue?
Cat: No, we've never have and I think part of it is because we have really been strong about it. A lot of times people feel uncomfortable is because they see that you're uncomfortable. If you just hold your head up and be proud of who you are – I'm proud of my family and I would never with my wife or children ever hide. The more that you show that, the more people accept you because you're not uncomfortable.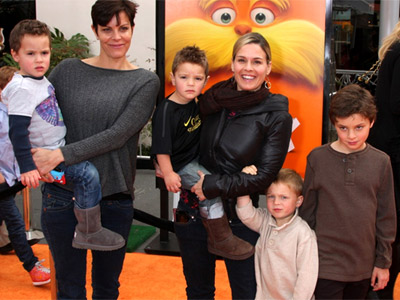 Cat Cora (right) with her wife Jennifer and their four sons at the
premiere of The Lorax
æ: You have been open about your family and how your children were conceived and having to legally adopt them. Do you feel it's your personal responsibility to educate people or are you generally an open person?
Cat: I feel like part of it is responsibility for the younger generation to let them know it gets better especially the ones that are struggling. I just live my life I don't feel like I live by example. People should feel like they can come out and be open and live their lives. What I think is a shame is that still in this day and age, that we have to come out and say we're gay.
æ: There has been much back and forth with Prop 8. Are you married or in a domestic relationship?
Cat: We feel as married as we're ever going to be! (If marriage was legal) that would be to legalise us and have a little ceremony around; it but we've had a big wedding in 2001 in California for 125 people. We both wore wedding dresses and all our family was there.
æ: How and why did you decide that you wanted to carry your youngest child?
Cat: I've always wanted to have a baby and have that experience. It was really about when and the timing, we always knew Jennifer was going to carry our children but then we had always talked about it. We wanted to have four and we're done, I think so!
æ: What is the most challenging aspect of your career?
Cat: The most challenging… no, I've a pretty fun career. Travelling maybe, the last year I've been able to coordinate it more because I'm home and could do my work at the same time. Absolutely the last decade has been non-stop travel like 200 days a year and that gets to be after a while a bit challenging. That was before Around the World in 80 Plates and when that came along, it just added on another six weeks in 10 countries.
æ: Since your grandfather and father were restaurateurs, food must have been a big part of growing up? What values do you try to impart to your own children about food?
Cat: I grew up in a Greek family and in the south so I had two very strong food-related cultures growing up, the cooking, eating and gathering. When we sit down to dinner we turn the television off, we turn our phones and all the electronics off, it's just about talking and spending quality time together. To me that's super important. We pray together and we do traditional things like that. Faith is important to me and quality family time; and we really try to bring that to our kids.
æ: You have a Science degree in Exercise Physiology and Biology. What made you decide you would become a professional cook?
Cat: I've always loved food and knew I wanted to have restaurants and wanted to cook. But I also wanted to get a college degree because I felt it was important to have one. That was my fall back plan and I haven't had to use it yet! At the time and this was the 80s, Food Network didn't exist, celebrity chefs really didn't exist. There was Julia Child and Jacques Pépin but that was it! And so I went to college and when I got out, I went travelling for a bit and then to culinary school.
æ: If you were to host an ultimate dinner party, which three guests would you invite?
Cat: Just three?! Probably political figures like Nelson Mandela and President Obama although I've cooked for him and his wife Michelle Obama. I'm very much about charity work and I think someone like Bill Clinton would really interest me because of the charity work he does, and the Dalai Lama. And some really great musicians like Bono and Mick Jagger. [Do they have to play for dinner?] It would be nice, they can give back. I cook for them and they play music for us. Charity! [Cat laughs.]
æ: Tell us more about Chefs for Humanity and what inspired you to found it?
Cat: I've always been involved in charity work since I was younger and throughout my career. To start a non-profit profit and a charity it's really something that you can't explain, there's a pull to do that. After the tsunami hit Asia in 2004, I really felt a pull to start an anti-hunger charity and emergency feeding relief charity so I started Chefs for Humanity. I've always had that desire to do charity work domestically in the US and also globally, there's so much need. And so we do that with Chefs for Humanity, we do work in Haiti, we've done work in Ethiopia and in other places.
æ: Did having children change any of your perspectives?
Cat: I think having children strengthens that and makes me want to make the planet a better place.
æ: Are there any other causes that are important to you?
Cat: Things that I've been involved in are raising money for gay rights and for gay youth, that always has been important to me. And for HIV/AIDS causes, I've just done Elton John's 20th Annual AIDS Foundation Academy Awards viewing party last year for about 1,000 people. There Katy Perry and friends bidded US$100,000 for me to cook for them. I also helped raised money for an organisation called The Dream Foundation that grants last wishes to terminally ill people and I've also done a lot of work for the International Humane Society. It's really about what touches me and those things do, hunger and figuring out what we can do to combat malnutrition around the world especially in developing countries, how are we going to get gay teens to not kill themselves, these are all important issues.
æ: How often do you plan to be visiting Singapore from now?
Cat: Probably two to three times a year. I'm hoping to be back in September, maybe with the family.
æ: Are there more restaurants in Asia or else in the works? What are you looking forward to in 2013?
Cat: Not that I know of everywhere else in Asia. Right now, I'm so focused on making Ocean a super success. In the States, we are opening more restaurants in airports which is a big thing right for me now because we need great healthy food in airports. I've another food line launching so I'll have two food lines. More merchandise, more shows. I'm writing a food memoir which is going to be out in 2014. And I'll have a shoe line launching – women's casual and high end shoe line that you can cook in and throw a dress on and go out to a dinner party. And more Iron Chef battles to come!
Ocean Restaurant by Cat Cora is located at S.E.A. Aquarium, Resorts World Sentosa.

Around The World In 80 Plates will premiere in Asia on the
TLC cable channel on March 13.