Launched last year, the Tokyo Rainbow Pride group is a new organisation that has taken over from its predecessor which organised the Tokyo Pride Parade which was held annually between 1994 and 2010, Hiroteru Inui, the head of the Public Relations team of the Tokyo Rainbow Pride 2013, told Fridae.
The parade last year attracted some 4,500 people and organisers say they are expecting 10,000 participants this year.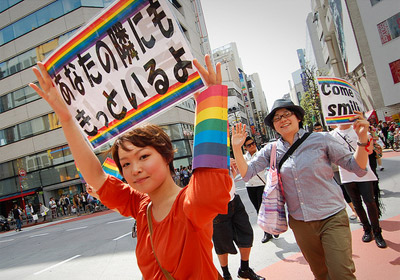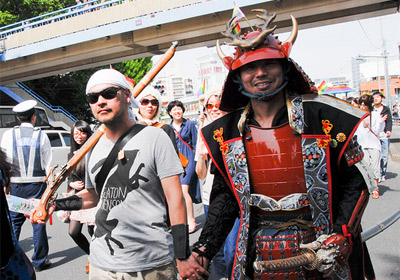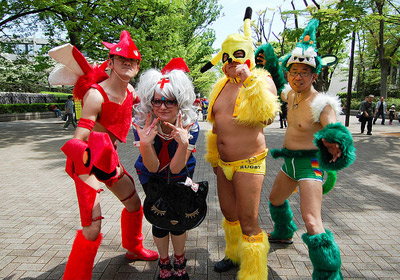 All photos from Tokyo Rainbow Pride 2012. Photos by Kanako Baba.
Click here to view more.
The parade on Sunday will start in Yoyogi Park at 12.30 pm before passing through the Shibuya and Harajuku districts. Registration starts at 9.30am for those intending to march.
The week-long Tokyo Rainbow Week is being held for the first time from April 27 to May 6 and coincides with the Golden Week holidays. Activities include symposiums, seminars, film screenings, social and outdoor events.
While there are no laws against homosexual activity, many do not feel comfortable coming out and are thus not visible in society, explains Hiroteru. He told Fridae: "There is still a strong sense of conformity to traditional family values in Japanese society, and as a result, many LGBT people are still in the closet."
He also highlighted that suicide rates among LGBT people in Japan are six times higher than the general public; and 65% of LGBT people have thought of committing suicide at least once in their lifetime.
"Mental issues are one of the pressing problems that LGBT people especially young LGBTs face, and only 10% of those suffering from depression are able to come out during counseling with their psychologists. Even then, there are not many clinics in Japan that are able to deal with gender and sexuality-related problems."
Politicians including the mayor of the Setagaya Ward, Nobuto Hosaka (Social Democratic Party) and the mayor of Shibuya, Toshitake Kuwahara (independent) have sent their messages of support. Organisers added that the Democratic Party of Japan (DPJ) and Social Democratic Party (SDP) have been supportive of the event.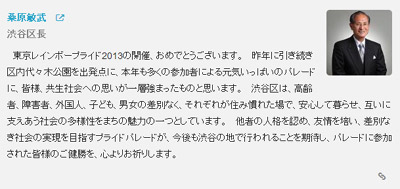 Message from the mayor of Shibuya, Toshitake Kuwahara
In 2003, Aya Kamikawa became the first and only openly transgender official (Setagaya, Tokyo ward) to be elected in Japan followed by Taiga Ishikawa (Toshima, Tokyo ward) and Wataru Ishizaka (Nakano, Tokyo ward), the first two openly gay male politicians to be elected in 2011. Kanako Otsuji, Japan's first openly lesbian politician in the Osaka Prefectural Assembly from 2003 to 2007, did not succeed in her bid to become the country's first openly gay national politician after losing the Upper House election in 2007.
Celebrities and public figures including Hamasaki Ayumi (singer), Sonim (singer), Hiroki Azuma (philosopher), Ira Ishida (novelist), Mitsuyo Kakuta (novelist) and Daita Tamase (track and field athlete) have also publicly supported the pride festival.
For the first time, organisers secured cash sponsorships from Alfa Romeo and Philips (Body Grooming) who will set up booths at the parade while in-kind sponsorships are being provided by Moet Hennessy, Red Bull and Audi. Hiroteru revealed that the event has yet to receive any sponsorship from a Japanese company as many tend to be hesitant in being associated with the LGBT cause.
According to the festival website, the embassies of Belgium, Brazil, France, Germany, Israel, the Netherlands, Sweden, the United Kingdom and the United States will participate in The World Supports You project to demonstrate their support by each hosting a booth at the parade.