The Singapore National LGBT Census 2013 is the first of its kind to be conducted in the city-state where there's an active and open gay scene although the law criminalises sex between men.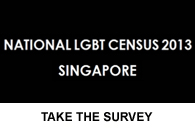 Jointly organised by Pink Dot Sg which organises the annual Pink Dot rally, queer women's group Sayoni and LGBT-affirmative counselling group Oogachaga, the survey was launched on May 9 and will run until July 15. The research team comprises volunteers from each of the groups, as well as independent volunteers.
In an email to Fridae, organisers say the key purpose of the census is to "narrow the knowledge gaps on the LGBTQ community in Singapore".
"While there are a number of studies that highlight the views of society at large towards LGBTQ individuals, the role of religion on such views, as well as LGBTQ representations on media, there is, at present, relatively little information on the general profile of LGBTQ individuals in Singapore," said the spokesperson for the survey. "The data collected will shed light on the community so that "decisions, private or public, may be informed more by data, less through stereotypes."
Pink Dot's Paerin Choa said the study is significant as it marks the community's first attempt to measure the well-being of LGBTQ individuals in Singapore. "We hope, through initiatives like this, to understand how we can serve our community better, and in so doing, endear more LGBT Singaporeans to this place that we call home," he added.
The 54-question online survey covers topics related to employment, education, housing, citizenship, well-being and health. The survey is anonymous and will take about 30 minutes to complete.
Currently each of the three groups involved conduct their own studies with Sayoni's National Survey of Queer Women, Oogachaga's survey on health and discrimination and Pink Dot Sg's post-campaign surveys.
Jean Chong of Sayoni said, "The findings gathered from this census will also complement our advocacy work whilst supplementing publications, such as Sayoni's CEDAW shadow report."
Oogachaga centre manager Bryan Choong added: "This study will provide us with information about the community, which we can use in programme planning. We hope to also share this with other social service organisations, so that they can be better equipped to work with their LGBTQ clients."
Organisers say they hope to get 3,000 responses in order to be able to run meaningful statistical analyses within each of the sub-groups.
To take the survey, please click here.