It is a concept that resonated with the organisers, as the event isn't just for the LGBT community but their family, friends and supporters, said Hideki Sunagawa, co-organiser of Pink Dot Okinawa.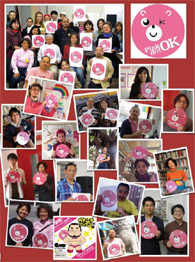 Top: Co-organiser Hideki Sunagawa with the Pink Dot Okinawa mascot, Pinkumaaru. Volunteers and supporters of Pink Dot Okinawa. Photos: Facebook
The idea came to Sunagawa, one of the two representatives of the event, after he watched a video of Pink Dot in Singapore last year and was inspired to organise one in the city where he lives.
This will be the first Pink Dot event in Japan and it aims to show solidarity for a more tolerant and inclusive society for the LGBT community in Okinawa. Similar to other Pink Dot events around the world, the Okinawa edition will have performances and activities, and participants dressed in pink will gather and form a circular formation.
Sunagawa has been a gay rights activist and HIV/AIDS community worker for 24 years and was the founder of Tokyo Pride. After moving back to Okinawa, he started Rainbow Alliance Okinawa in 2011. Through his lectures and seminars, he found that there is some interest in LGBT issues here. He decided to launch Pink Dot Okinawa, as it is a suitable option compared to pride parades.
"People (here) don't like to have such a strong approach. Having a gathering would be more a comfortable setting," he said.
Planning for the event started in January this year and the committee of ten members, along with its mascot Pinkumaaru, has been pushing the event through some fringe activities and small pre-events. Fundraising efforts have been quite a challenge for the team, as Okinawa does not have a culture of donation. However, Pink Dot Okinawa has garnered some support from small businesses, as well as the local newspapers.
Okinawa's capitial city, Naha, where the event will be held, also showed nominal support, which is said to be a very rare occurrence in Japan where the notion of an individual with Gender Identity Disorder (GID) (Seidōitsuseishōgai, 性同一性障害 in Japanese) is more accepted in society. Sunagawa explained that Japan is more likely to support a cause that is focused on GID than one that is on LGBT issues.
The organisers hope that the gathering will prove that LGBT support is not something unusual and that it would encourage people to be more inclusive as a society. Pink Dot Okinawa also hopes to show to the local LGBT community that there is support from many non-LGBTs.
"Many gay people don't think they should be visible or accepted because they are used to hiding and suppressing themselves. But if they know how happy and relaxed they can be if they are accepted as they are, I think they could lead happier lives. I am openly gay and my family members accept me and I'm much happier after that. So I want more LGBT people to have such experience living in such a society. Even if they don't take part in Pink Dot this year, I hope they will know there are many people who support us," Sunagawa said.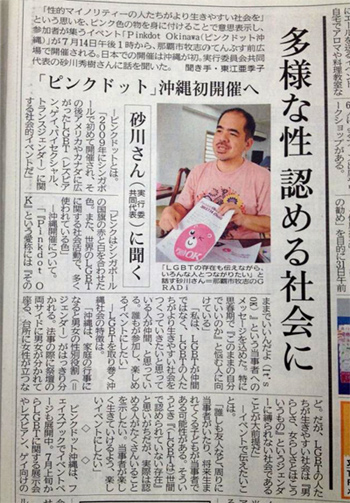 One of the two major local newspapers in Okinawa, Ryukyu Shimpo,
had an article about Pink Dot Okinawa on 28 March 2013.
Pink Dot will be the first public LGBT-affirmative event in Okinawa and the organisers hope the warm and friendly atmosphere of the inaugural event will capture and convey the message, even if it turns out to be a small-scale event.
Okinawa Prefecture is made up of a chain of islands, where the main island is located about 640 kilometers from mainland Japan. It has a population of about 1.4 million and a society with strong traditional family values. Most LGBTs choose to stay within the social structure that is expected of them; they get married and have children.
Even though traditional family values is strong in Okinawa, there is a higher degree of acceptance for non-traditional family arrangements compared to some parts of rural Japan. Okinawa has the highest number of single parent households, and the highest number of children from single parents, in all of Japan. Seeing that there is higher acceptance for such family arrangements, Sunagawa feels that Okinawa has the potential to be more LGBT-friendly: "I think in a society where there are a lot of such families, a person who is gay or lesbian can be more accepted."
Being the first Pink Dot event in Japan, organisers hope LGBT tourists from other Japanese prefectures and other countries will plan to visit Okinawa and support the event. Besides the main Pink Dot gathering, there will be Pink Dot parties held the night before.
Pink Dot first started in Singapore in 2009 in support of the lesbian, gay, bisexual and transgender (LGBT) community in Singapore. Various cities including Montreal (Quebec, Canada), St. George and Salt Lake City (Utah, US) and Kaoshiung (Taiwan) have organised local events of the same name.
Pink Dot Okinawa will take place on July 14, 2013 at Tenbusu Square (3-2-10 Makishi, Naha city, Okinawa) along Kokusai Street from 1pm to 5pm. The pink dot will be formed at 4.30pm. Peripheral activities will be held from June 16 to July 14. For more information:
Website: pinkdotok.jp
Facebook: facebook.com/pinkdotokinawa
Twitter: twitter.com/pinkdotok
Muneerah Bee is a freelance writer with an interest in news on global social and political issues.