At first, there wasn't going to be an art exhibition in this year's IndigNation. I thought this was a crying shame. After all, we'd held one for almost every edition of Singapore's annual LGBT Pride Festival, celebrating our gay, lesbian, bisexual, transgender and allied artists of all generations.
Then a couple of weeks ago, the artist Jason Wee sent me a Facebook message. It turned out he was in fact putting a show together; he'd just decided to keep it quiet for a while. Titled "No Approval", it's open from 15 to 31 August at Grey Projects, his private art space in the hipster enclave of Tiong Bahru.
The reason he kept the project under wraps is because he didn't want to get shut down by authorities. After all, the IndigNation art shows of 2006 and 2012 had fairly innocent works censored. This time, he says, "[the artists] had given us sex with man-beasts and cum-paintings. If we'd publicized this, we'd have had some issues."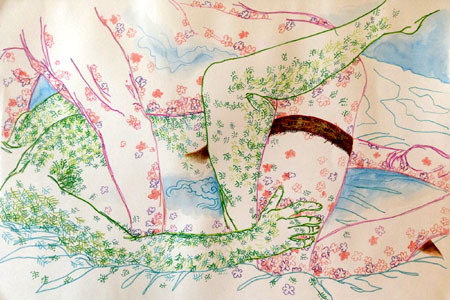 By Lee Gwo Yinn
The works he refers to are collage artist Lee Gwo Yinn's spellbinding drawings of copulating satyrs, Ten Years to Life in Prison and Untitled; as well as filmmaker/performance artist Loo Zihan's February 16- May 11, 2010, a series of splatters on canvas created using a mix of semen and UV ink, to be viewed under UV lights.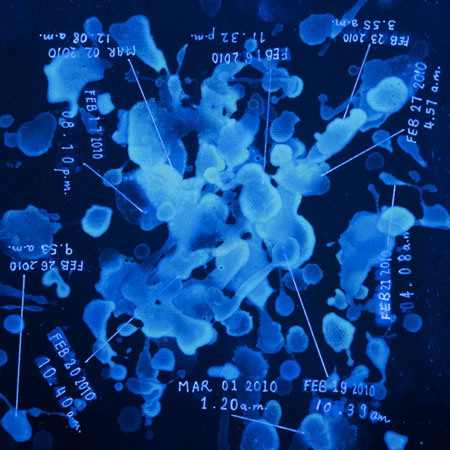 By Loo Zihan
These aren't the only provocative works on display. Look at Farah Ong's Tudung Series, a photographic self-portrait series that challenges stereotypes of Malay womanhood. In these shots, she poses under a transparent plastic hejab, bra visible, smoking a cigarette, or else sheltering the body of a woman under her veil.
Still, it's Marla Bendini's Quay to Martyrdom that really catches your eye when you enter the room. It's a shot of herself lying naked on a drain cover in Clarke Quay, breasts and cock fully visible, proclaiming her transgenderness to the country's tourists.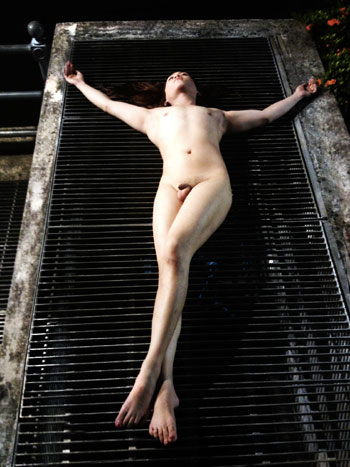 By Marla Bendini
Wee tells me that the unifying theme of the show is that it represents those of us who live outside heteronormativity. "It's in the wake of the gay marriage movement," he explains. "We seem to be moving towards straight ideas of what normal is. We want to create a conversation in the community about what normal means. "
This is why he's included these works that violate sexual taboos, reminding us that we're not all squeaky-clean family-loving PinkDot ambassadors. Yet it's also why he's included quieter works that resist sexiness and camp – work that critiques our conceptions of LGBT unity.
He points out, for instance, his "separatist" corner, which features Untitled, an old work by community artist Felicia Low: a print that multiplies yet masks her face with amber circles. There's also I'd Rather Not by newcomer Sarah Choo: a set of window blinds which you can roll up, only to reveal a picture of window blinds. There's no celebratory call to "come out" in these works – what's being demanded instead is a right to privacy.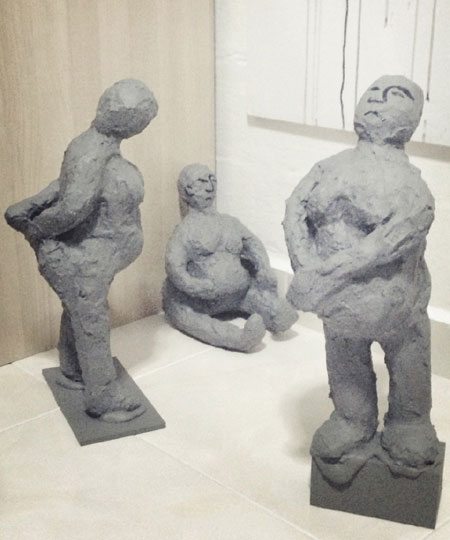 By Ezzam Rahman
Meanwhile, Ezzam Rahman and G, known to some of us as film collaborators, show us works that embody rejection from the mainstream gay community. Ezzam's Thwarted consists of two black statuettes, hiding in anguish in the corners of the room. G's piece is still creepier: an old coin-operated public phone, which plays recordings of men's laughter when you pick up the receiver. Its title is Would you laugh at yourself if one day you pick up the public phone and the whole world is laughing at you?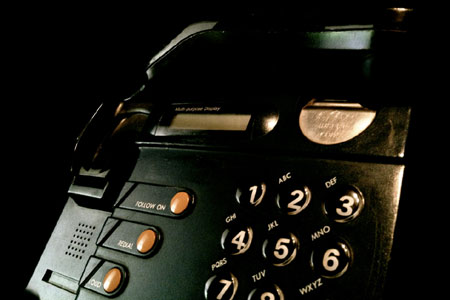 By G
Angela Guo's work is discomfiting in an entirely different way. Titled Beneath the Appearance of a Choice is a Much More Severe Order, it consists of a wall of black and white photos of children, which become layered when we put on the 3D glasses provided. An accompanying text describes the sexual and gender identities of these individuals in more detail – how a little boy is in fact a little girl who grew up to be straight, for instance. The labels of LGBT are, it hints, inadequate for describing our life experiences.
Not all the works in the show are winners, of course. With Pecah, for instance, Khai Rahim presents his status as a gay Malay man through a plate of curry puffs, some of which are filled with a queerly blue or green filling. It's a rather simplistic concept, saved only by the fact that the curry puffs keep on growing mouldy. Visitors are therefore treated to the spectacle of a fungal garden that's considerably more interesting than the original artwork.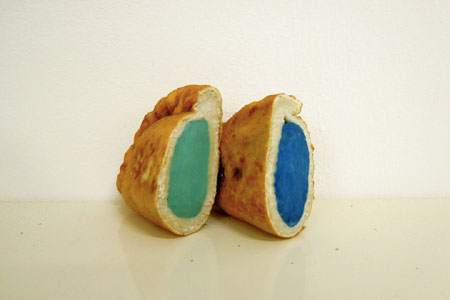 By Khai Rahim
But if you asked me what the biggest flaw in this show was, I'd say it was the space. Basically, the gallery is too small for these works, which have such big ideas behind them. When everything's squashed onto a few walls like this, it's too easy for a visitor to give everything a quick glance and leave without properly digesting the symbols.
One thing Grey Projects does have going for it, however, is the location. It's in the midst of a trendy district, where there's plenty to do before and after a viewing. Yet one has to climb through three horribly grungy flights of stairs to access the gallery.
The walk up isn't comfortable. But then, these works are not supposed to make us feel comfortable. These pieces are designed to make us cringe, and pause, and – most important of all – start asking questions.
No Approval is open from 15 to 31 August 2013, at Grey Projects, 6B Kim Tian Road 
Tiong Bahru 
Singapore 169246. For directions, visit their Facebook page. Admission is free. Send an e-mail to info@greyprojects.org to arrange a viewing. More information at greyprojects.org.