Inaugurated last week, the Pink Himalayan Centre, a whitewashed five-story structure in the Dhumabarahi district of the capital city, will also be home to the Blue Diamond Society, Nepal's leading LGBTI rights organisation. The organisation will relocate from its Lazimpat office where it has been based for the past 13 years since its founding.
According to the BDS, the Centre was built with financial assistance from the Nepal government, Norwegian government, Danish Embassy, US Embassy, and contributions from community members from in and outside the country.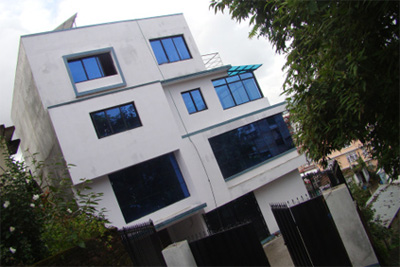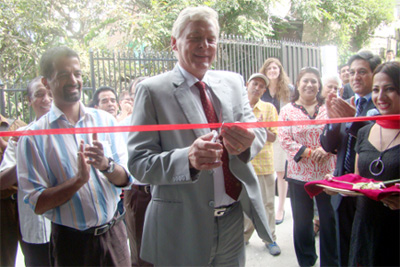 Sunil Babu Pant (left) with Norwegian Ambassador to Nepal Alf Arne Ramslien
The inauguration ceremony was attended by Norwegian Ambassador to Nepal Alf Arne Ramslien, Australian Ambassador to Nepal Glenn White, UNAIDS Country Coordinator Dr. Ruben F. del Prado, and U.S. Embassy Cultural Affairs Officer Marissa Polnerow.
The event last week also honoured Sunil Babu Pant, the founder and former executive Director of Blue Diamond Society and a Member of Parliament (2008-2012) who had recently resigned.
The blog post reported that Pinky Gurung, President of BDS praised Pant in her welcome speech for the immense contribution he had made to getting the LGBTI movement in Nepal off the ground.
H.E. Ambassador Ramslien of Norway who was the chief guest at the function, also credited Pant and his senior team for their "unparalleled dedication to the cause of marginalised sexual and gender minorities in Nepal."
The post added: "Pant said that the idea to build the centre six years ago came to him when HIV patients from the LGBTI community were being evicted from places where they were getting shelter and care. So BDS approached the Norwegian Embassy who provided funding to build this centre. It is built on the model of a similar centre in New York City in the United States."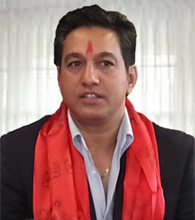 Sudeep Bahadur Singh, new executive director of the BDS
Pant added that this "will not just be a concrete structure but a true home for the community, a safe space where they can be comfortable and not have to worry about being judged and harassed." He BDS will be investing in arts, sciences and cultural activities.
The community centre has office space, a TV and radio studio, a cafeteria, a shelter, conference facilities, and space for vocational skill building classes. This center also has 'solar power back up' system, 'water harvest' system. The motto of the centre is to promote empowerment, learning, sharing and freedom.
Following Pant's resignation, Sudeep Bahadur Singh has been named the new executive director of the BDS.