Some 170 members of the LGBT community participated in the Gujarat LGBT Pride Festival in Surat on Sunday morning demanding rights equivalent to married couples as well as equal social acceptance in the society.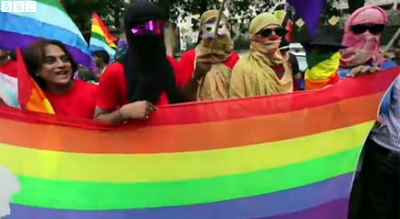 Marchers at the Gujarat LGBT Pride Festival on Sunday.
Photo: Screen shot of BBC video
The 3km-long parade from Court Complex at Athwalines to Kargil Chowk in Piplod, was organised by the LGBT community in Surat along with Swalambi Chuwal Mandal and Chuwal Gram Vikas Trust based in Ahmedabad.
The marchers, some of whom were wearing masks, demanded removal of Section 377 of IPC as well as legalisation of same-sex marriages and allowing the adoption of children by same-sex couples.
"LGBTs too have a right to live in this society and enjoy the rights that a citizen enjoys today. You can't isolate LGBTs just because they think and act differently. Till today, the society sees LGBTs as unnatural people," said Swagat Shah, one of the organisers, in an interview with Mumbai-based DNA newspaper.
The report quoted organisers as saying that more than 350 LGBTs had expressed interest to participate in the parade but the police only granted permission for just 200 members.
The organisers added that they are planning for a second parade in Ahmedabad in December 2013.
Gay pride parades are being held in an increasing number of Indian cities including Delhi, Mumbai, Hyderabad, Bangalore and Kolkata in recent years.