A new campaign titled "Stop Hurting. Quit Labelling" was launched last Friday. The campaign hopes to raise US$30,000 for Lawrence Wee Kim San who has applied to the High Court to declare that the Constitution's Article 12 will provide protection against discrimination on the grounds of gender and sexual orientation in addition to religion, race, descent or place of birth which are already provided for, according to a media release provided to Fridae. As of Monday, US$1,245 has been raised.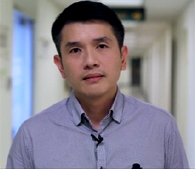 Lawrence Wee
Fridae had earlier reported that the application was made on 23 August 2013 by Wee who is represented by human rights lawyer M Ravi. In the application, the 40-year-old described the biased and prejudiced treatment he faced at the workplace – where he had worked from 2006 to August 2012 – as a result of his sexual orientation. He said that his only wish was to be "allowed to prove my worth at work, without fear that an immutable characteristic of mine becomes a millstone around my neck".
This is a separate from an ongoing case in which Wee, a former senior management executive, has brought a suit against his former employer, Robinsons, a well-known chain store in Singapore. He has alleged that he was forced into leaving his job because he is gay and discriminated against on the grounds of his sexual orientation. (Read more here.)
Wee's lawyer, Mr M Ravi, said in a media statement, "In 2011, at the United Nations Convention on the Elimination of Discrimination against Women (CEDAW) Review, the government declared that the equality of all persons before the law is enshrined in the Constitution, regardless of gender, sexual orientation and gender identity."
Singapore however does not have specific anti-discrimination legislation to protect LGBTs from discrimination in their work and life.
The committee includes labour rights activist Jolovan Wham; former politician Dr Vincent Wijeysingha, who recently came out as gay; and medical practitioner Dr Roy Tan. Supporters of the campaign include Braema Mathi, President of human rights group Maruah; Dr Yap Kim Hao, Pastoral Advisor of Free Community Church; Jean Chong, LGBT activist and co-founder of Sayoni; and Constance Singam, a veteran civil society activist in Singapore.
Organisers of the campaign say the case, which will have an impact for labour protection across the board, will represent the first major legal challenge to Singapore's labour legislation first enacted in the 1960s. The monies raised will be directed towards the legal fees and campaign costs which are expected to reach US$30,000. The funds will be placed in an escrow account and controlled and disbursed by T Ravi & Co., Certified Public Accountants, 101 Cecil Street, #24-10 Tong Eng Building, Singapore 069533.
For more information and to donate, visit www.indiegogo.com.